The result of our Lov.dating review: Our test on Lov.dating turned out to be an insufficient dating website.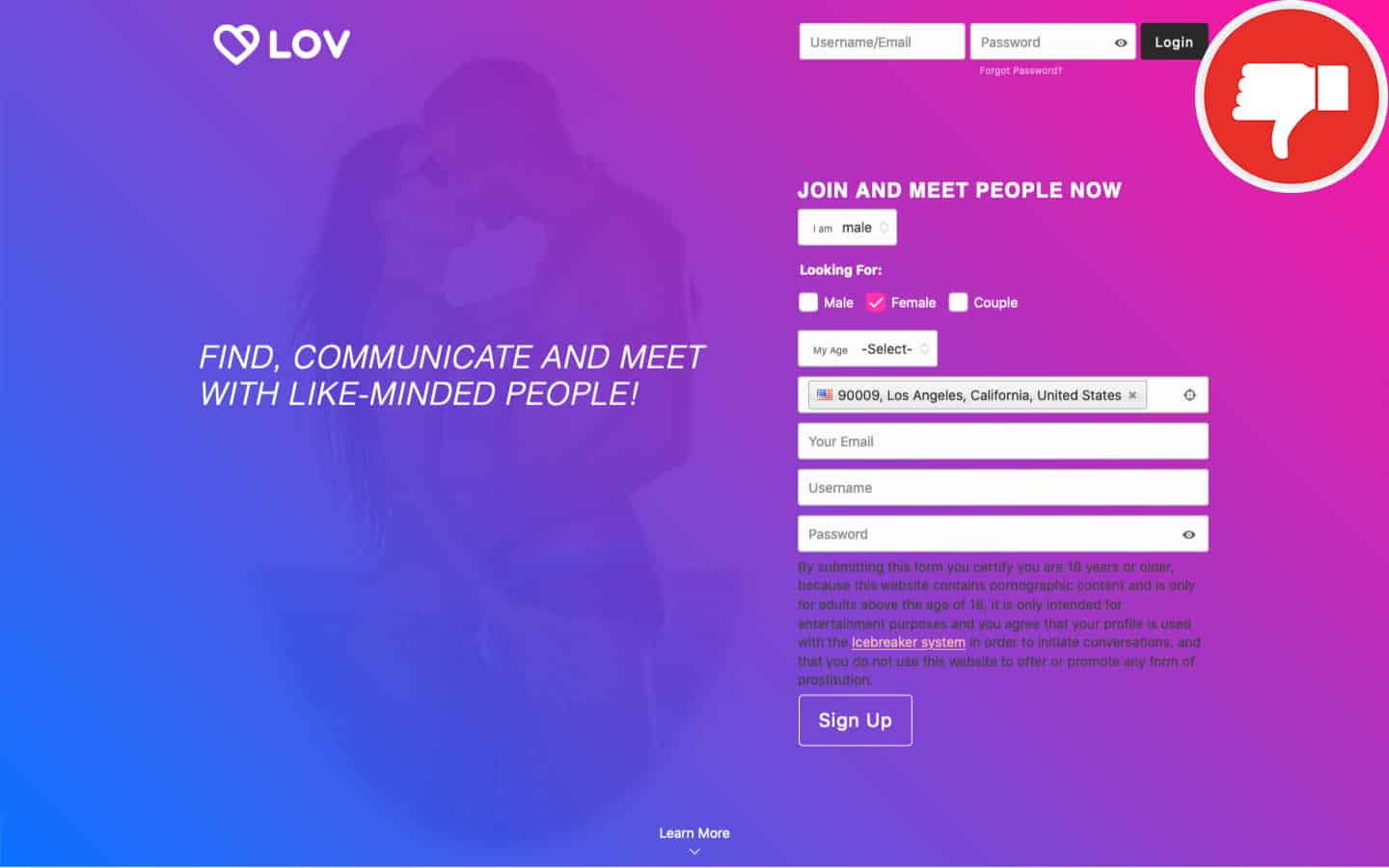 Report for Lov.dating review
The online dating portal Lov.dating looks like a solid choice at first sight. In general, the offer sounds great and convincing. However, on the landing page we read about automated messages which are called "ice-breakers". Plus, this site is for "entertainment" only which speaks of a fake chat scam.
The good thing is that those details are noted on the homepage. But it does not change the fact that this online dating website may use fantasy profiles to increase the income of the operator. The operator of this site is XsMobile Sp.zo.o. which is based in Poznan, Poland. There are several reasons that speak against registration on this platform.
Scroll down to read the details of our Lov.dating review.
Details of the Lov.dating review
Lov.dating does have a solid first appearance. The landing page of the online dating portal is good. On the homepage, we find some general information about the platform and its offer. In general, the offer sounds good. According to the details from the operator, you will have good chances to find a date. Plus, the members´ pool seems to be filled with interesting and open-minded people. So, if you are looking for fun and a friendly community, this seems to be the place to be. Also, the registration is simple. It only takes a little time to become an active member of this site. Moreover, registration is free for both female and male users.
This portal uses automated messages
The general offer of the online dating website sounds good. But there are several things that speak against this site. Firstly, this portal is for entertainment only, and it uses automated messages. On the landing page we read about so-called ice-breaker messages. Those messages will be sent automatically to new users. Of course, those messages lure new users into a chat. Moreover, the user must pay to reply to those automated messages. Costs will occur after the registration. A new member of this site must purchase a paid membership which is offered as a subscription. That makes the advertisement for free registration to be a misleading detail, to scam people. So, the user gets tricked at least a bit. Then, automated messages will entice a user into a chat for which costs will be charged. All in all, that does not sound like a great deal.
Are there fake profiles in the members´ pool?
The good thing is that the operator of the site notes the use of automated messages on the landing page. That might be the only good thing to mention this site.
We also checked the terms and conditions, and found the following note which might stand for a rip-off
You understand and agree that there is no guarantee that you will find a date, partner, or activity partner, or that you will meet any of our users in person. www.lov.dating'S SERVICES ARE OFFERED FOR ADULT ENTERTAINMENT PURPOSES ONLY.
Entertainment is an often-used synonym for a fake chat scam. Of course, the note mentioning entertainment purpose is not a piece of evidence for that. But, it might be a first hint that this site uses fake profiles as well. Those fake profiles could be used to send the automated messages. In the end, the user could have a chat with a fake profile. This would show a fictional person with whom a date is impossible. Plus, the user would not really know about it. If so, that would mean it is a cheeky rip-off.
We also did some research, but we did not find a note about the dating site itself. It seems that nobody had any good or bad experiences with this portal. But the domain makes it difficult to find any useful information which could also be a cheeky trick. However, the operator of the site seems to be well-known. We found some reports about the company. They have got a bad reputation. Also, the location of the operator does not appear trustworthy at all to us.
Contact details
XsMobile SP Z .O.O.
Ul.- Naramowicka, nr 217B
61-611
Poznan
Poland
support@xsmobile.net
How to cancel
To cancel your premium-membership, please send an e-mail to customer support.
The Conclusion from our Lov.dating review
The online dating website Lov.dating is for entertainment only. That is an often-used synonym for a rip-off with a fake chat for which proof is missing. However, this site uses automated messages as well, which is also not a good thing. The operator is based in Poland which also makes it suspect.  All in all, this site does not appear trustworthy enough to spend money here.
Let us know your Lov.dating experience in the comments as well.