Lixxez.com review
February 22, 2023
The result of our Lixxez.com review: Our test turned out to be an insufficient dating website.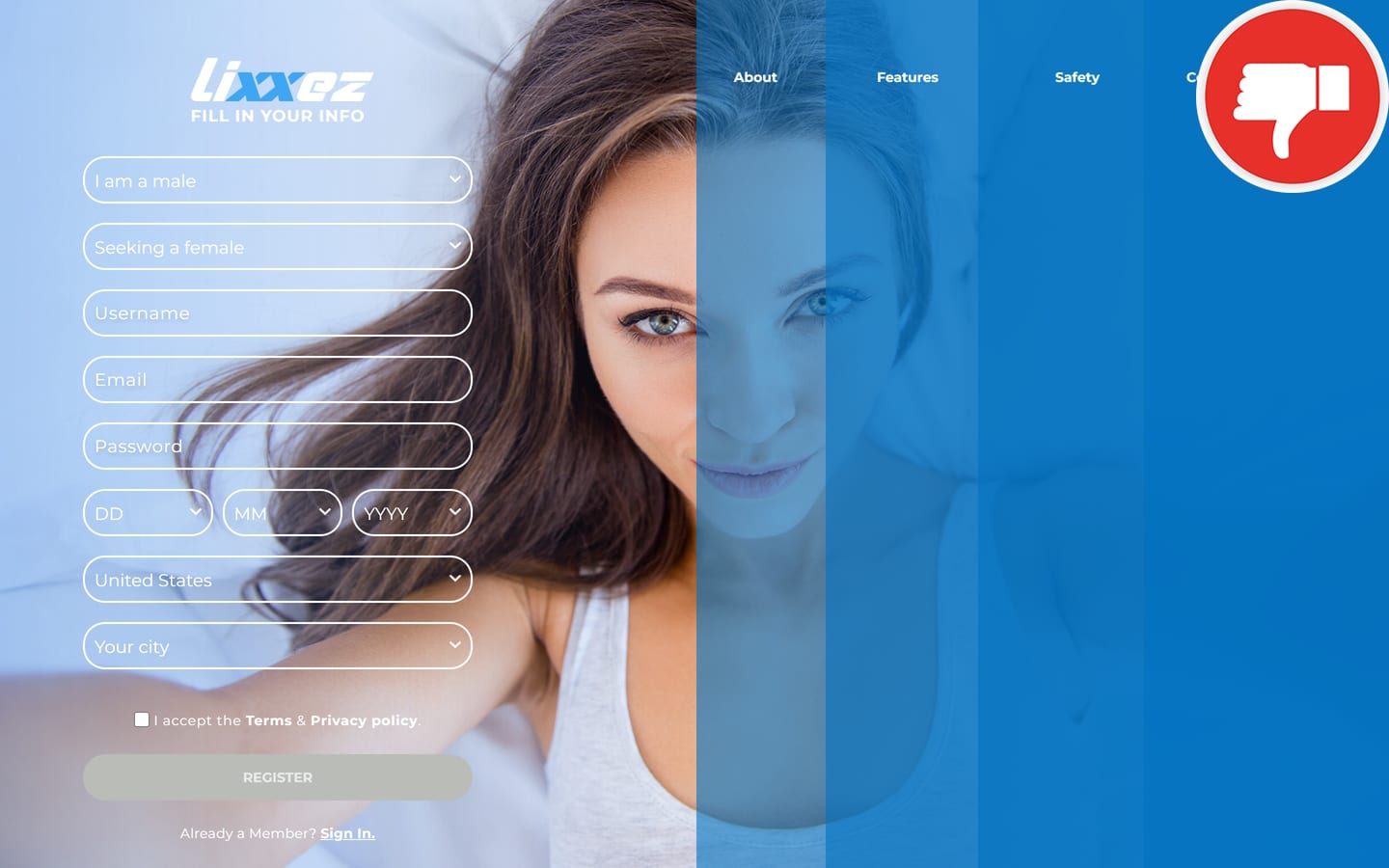 Report for Lixxez.com review
The online dating platform Lixxez.com presents itself as a simple interface with pretty-blue colours and a lovely lady with seductive cat eyes and an attractive smile. The site urges visitors to create an account immediately and start chatting with hot girls who are ready for beautiful erotic experiences. The site's homepage does not provide any information on how the site works. All it has is a sign-up forum.
This dating website is owned and operated by the company known as Take Two Digital Ltd, based in Paphos, Cyprus. This company also manages several other dating scams, which we have written about in our reviews that can be found on our platform. This operator has a reputation for generating online dating scams by having chatbots interact with the registrants.
Lixxez.com suggests that users may register for free to chat with attractive women who are ready to satisfy them. What it doesn't tell users is that they have to buy coins to have long chats with the fake girls. This is the rip-off scheme that this site tries to pull. Moreover, there are also hired "fake chat" operators who create fake profiles and engage real users. The chat experience here is nothing but a disappointment.
Scroll down to read the details of our Lixxez.com review.
Details on the Lixxez.com review
On the landing page of Lixxez.com, visitors can read about the side by clicking on any of the 4 options on the right side of the screen. This is where visitors can read about the site to get more information about it. The registration form is on the left side of the screen. Lixxez.com tries to attract users by putting an image of a beautiful lady on the backdrop of the landing page. All this effort made by the operator is just to make users believe this site is genuine, when it isn't at all.
Take Two Digital Ltd, which is the creator of Lixxez.com, is known for enticing innocent users who are looking for real dating sites. They will then lure unsuspecting users onto the chat page to scam them. The purpose of having "fake chat" operators is not to connect users with real profiles, but to trick them into spending money. Unbeknownst to many users at first, they are chatting with bots and are spending huge sums of money thinking they are chatting with someone real. It is a total rip-off.
The Coin System
As stated in the site's terms and conditions, users must pay coins to chat with members. For this, the site offers bundles of coins that can be purchased. Users will also receive 200 coins for free if they register. Once the free coins are used up, users must provide their credit card information to pay for the bundles.
Upon further investigation, we found that registered members can purchase coins any time they want. It is not a subscription rip-off because the site doesn't offer subscriptions. Users are free to buy coins whenever they want. All in all, the conversations on this site will never result in a physical meeting because these are only bots and chat moderators that are behind this well-oiled system.
The Following Text Was Excerpted from the Terms
The Company operates system profiles (i.e. profiles connected to Accounts which have been created by the Company and which are either operated by contractors of the Company who impersonate the persons portrayed in such profiles or by a system designed to interact with users) and expressly reserves the right to chat with users through such system profiles in order to enhance the users' entertainment experience. Physical contact with individuals behind such system profiles is strictly prohibited.
Fake Chat Rip-off
After registering on this site and chatting with the pseudo-girls, we were amazed at the speed and quantity of text that these "girls" produced within seconds. Every time we answer, they respond instantly. That is proof that there are no real girls behind these profiles. They are bots with well-edited programs that do the work.
The conclusion from our Lixxez.com review
After reading all the provided details from our review of Lixxez.com, you will agree with us that this platform is to be avoided. This site offers fake chats, coins to chat with members, and rather weird terms and conditions. It is edited by a dubious company, which does not have a good online reputation and no remarks about them can be found online. Therefore, to avoid a bad experience, we recommend you run away from this online dating scam.
Let us know your Lixxez.com experience in the comments as well.