LiveToLives.com review
November 18, 2022
The result of our LiveToLives.com review: Our test turned out to be an insufficient dating website.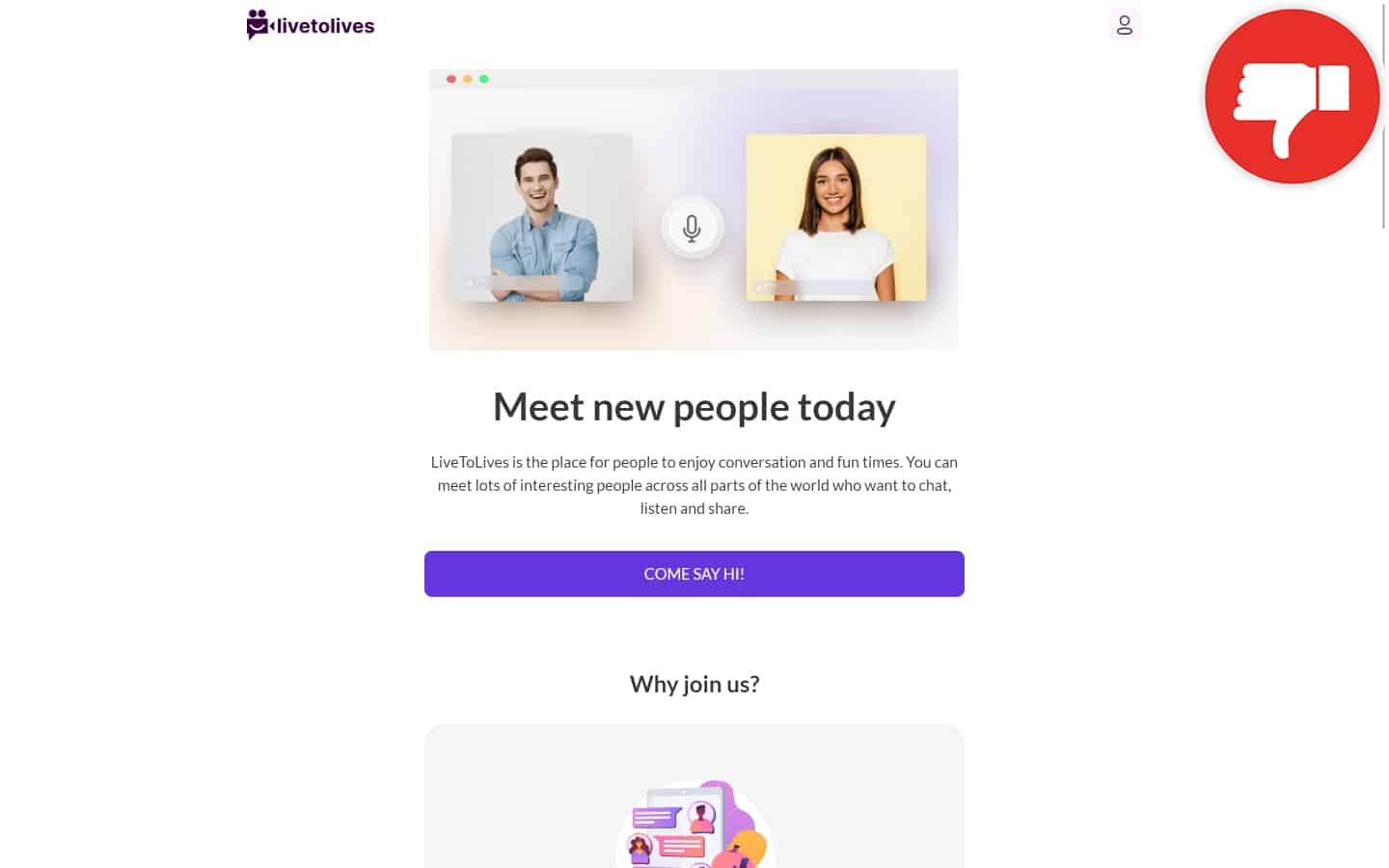 Report for LiveToLives.com review
LiveToLives.com defines itself as a place for people who enjoy conversations and having fun. The site promises that with its innovative features, users can meet lots of interesting people from all over the world who are ready to share their stories and try new experiences. According to the text provided on the landing page, this dating site is a dedicated space where thousands of lovely members are looking for someone to chat with and eventually meet. All users have to do is sign up and start having fun with new friends. Or so, that is what it appeared to be.
LiveToLives.com claims to be the perfect dating platform for users to have meaningful experiences, regardless of where they live. This website emphasizes the importance of using video chat to establish a better connection with new friends from the site. Everything looked legit at first, but after extensive research, it turned out that LiveToLives.com is just a scam with a fake chat service.
The member's area is filled with fictitious profiles with fake profile pictures. They are monitored by professional moderators who impersonate the people from the displayed photos. None of those people in the display pics are real, so they are definitely not interested in meeting real users. Chat operators engage in fake conversations to keep users entertained for as long as possible so that they'll end up spending money on the site. The company behind this sham of a website is LIVEL CORP from Wilmington, Delaware. This is the first review that we've written about this rip-off company.
Scroll down to read the details of our LiveToLives.com review.
Details on the LiveToLives.com review
LiveToLives.com presents itself by using an engaging landing page that doesn't show any erotic pictures. Our first impression of the site was that it was a safe and effective dating platform where users can easily find someone to chat with. The website seems to target audiences who are looking for friendships or serious relationships rather than casual sex experiences.
The homepage doesn't mention anything about cost-related information about coins or subscriptions. It invites all newcomers to create a profile and promises them that this would be all they need to immediately start chatting with other members. We created a test profile to verify if that claim was true. We found out that registering with a free basic profile doesn't allow users to communicate with other members. Omitting these crucial details is a clear sign that the site's operator doesn't have any good intentions.
Expensive and useless
In order to send messages or use the video chat function, users must purchase "coins." "Coins" are a form of virtual currency that is sold in bundles of different sizes. The more coins users choose to buy, the less they need to pay. Depending on the activity that users want to perform on the site, they would need a certain number of coins. Case in point, for every minute that users spend on a video chat, they need 600 coins. 600 coins roughly equal $2.
Users also have the option to become VIP members by purchasing a monthly subscription. This will give some additional, although minor benefits, such as being able to contact the most popular girls from the site. A VIP member still needs to purchase coins separately. Compared to similar platforms, LiveToLives.com is much more expensive. That is not a rip-off in itself, but it becomes one, for users are denied the possibility of talking to genuine people looking for sincere friendships or relationships.
The following text is from the Terms and Conditions
LiveToLives is an entertainment service offered for amusement purposes. You understand, acknowledge and agree that some profiles appearing on LiveToLives may be created or operated by LiveToLives or third-party contractors.
No one to meet
LIVEL CORP, which is the site's operator from Wilmington, Delaware, admits to using fake profiles to communicate with their members. Users are tricked into thinking that these are genuine people looking for sincere connections, when they are actually employees from the company pretending to be real users. That is because they try to lure users into an expensive chat. The chances of meeting someone in real life through this app are practically zero.
The conclusion from our LiveToLives.com review
The positive image LiveToLives.com started out with quickly turned into a huge disappointment. It is anything but a legit or safe dating platform. It is an expensive fake chat scam where users have a meaningless conversation with someone who doesn't have any interest in meeting them. Our review has proved that the site's operator employs professional moderators to deceive genuine members. All they care about is making money and not the interest of those seeking love.
Let us know your LiveToLives.com experience in the comments as well.