The result of our LatinBeautyDate.com review: Our test on LatinBeautyDate.com turned out to be an insufficient dating website.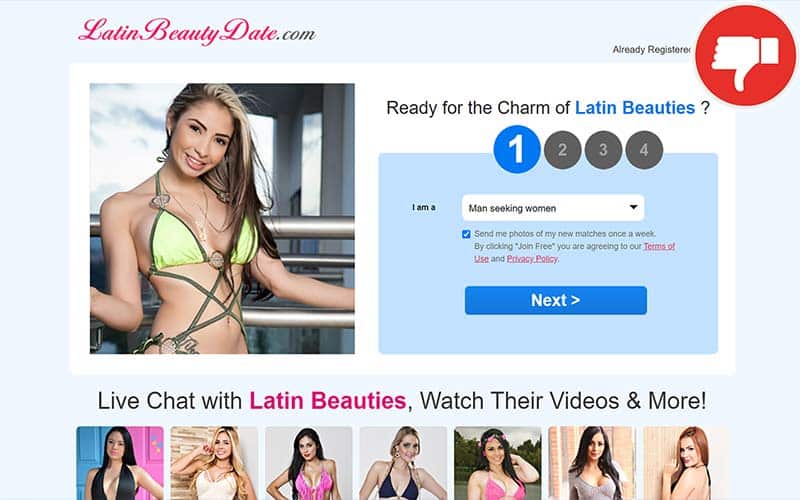 Report for LatinBeautyDate.com review
On the landing site of LatinBeautyDate.com, we can see several pictures of attractive Latin women. Obviously, these pictures belong to some models and not to real users of the platform. This is a very common trick, and therefore, we do not consider the use of these pictures on the landing page to be a scam.
The problem is that, once we start using the platform, the profiles that we found in the members' pool also use the same kind of professional photos. And this is a real problem, as these profiles are supposed to belong to real users. However, once we found out that the site is run by the operator Qpid Network, based in Hong Kong, we were not surprised at all. This operator is well known for using fake chat scams.
Scroll down to read the details of our LatinBeautyDate.com review.
Details on the LatinBeautyDate.com review
LatinBeautyDate.com is an online dating website specializing in Latin women. However, the chances of finding a real woman here, whether Latin or not, are very limited. The site is run by Qpid Network, an operator with a poor reputation. On the internet, it is not difficult to find reviews from former users complaining about fake chat scams. We also have written a few reviews about other platforms from this same operator, and all of them have been negative so far.
However, we could not find any written proof of this fake chat rip-off, as the operator does not mention anything about these fictitious profiles in the terms and conditions. Still, our own experience while using the platform is that most profiles on this website are fake. The pictures seem to belong to professional models, and the number of messages that we received immediately after registering is also very suspicious.
A fake chat scam
The reason for these fake profiles is simple. They are created to attract new users to engage in a conversation. However, the conversations on this website are not cheap. To send messages or photos or to use any other feature on the platform, the users will need to purchase credits in advance. The price of the credits may vary, depending on the package selected. Therefore, it is difficult to calculate exactly how much a chat costs on this platform.
However, when we consider that in most cases we will be chatting with fake chat operators or even with system bots, any price seems to be too expensive. Luckily there is no need for a subscription to use this page, and as the payments for credits are non-recurrent, we can be sure that there is no risk of a subscription rip-off.
The conclusion from our LatinBeautyDate.com review
Our experience with the platform LatinBeautyDate.com was negative. In our review, we have found out that the page is filled with fake profiles. The operator does not mention anything about these fictitious profiles in the terms and conditions. However, we still consider this site to be a fake chat rip-off, and we recommend avoiding it.
Let us know your LatinBeautyDate.com experience in the comments as well.