InstaLuvs.com review
May 16, 2022
The result of our InstaLuvs.com review: Our test turned out to be an insufficient dating website.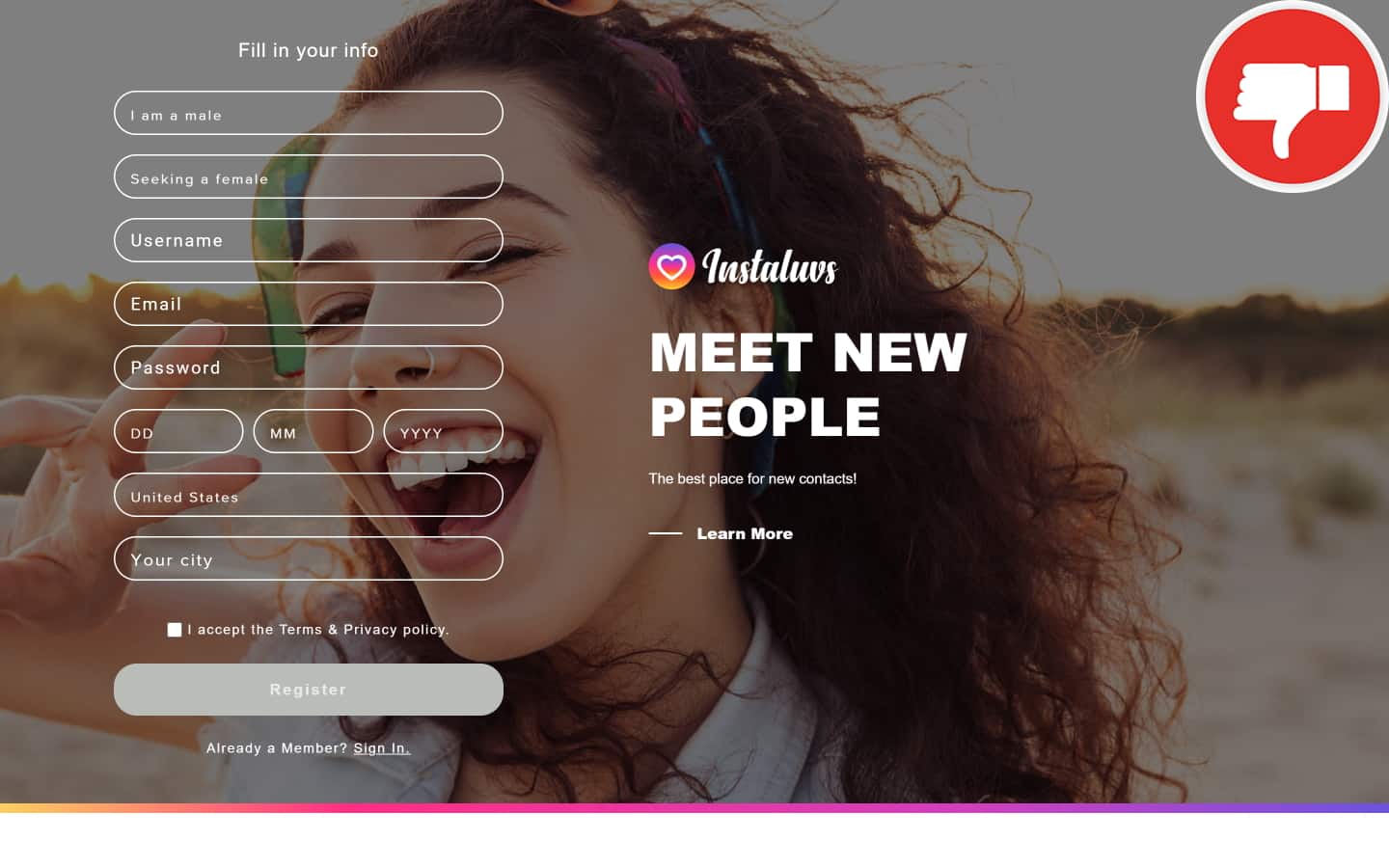 Report for InstaLuvs.com review
Outwardly, InstaLuvs.com seems to be an ideal place, not just for chatting, but to find dates. Even better, the site promises to pre-filter your results based on your location. As a dating site, it also boasts that it is "the fastest growing online community of users looking to have fun". Simply register for free and start chatting; everything is secure. InstaLuvs.com seems to be a great choice, but we delve deeper, and the truth emerges.
The operator of InstaLuvs.com is Meet Us Media Ltd, from Cyprus. They run an entire stable of scam websites out of an apartment, in the suburbs of Nicosia. Our review shows that InstaLuvs.com operates with fake chat moderators who run fictitious profiles, to rip off their unsuspecting users.
Scroll down to read the details of our InstaLuvs.com review.
Details on the InstaLuvs.com review
The online portal InstaLuvs.com advertises itself as a rapidly-growing and popular place to find anything from a chat to a date. The landing page looks sleek and efficient, and registration is a cinch. Scrolling down reveals some erotic content. It would appear that this is a place for hook-ups too. But what makes this site look so good is the promise that results will be pre-filtered by location. You can chat with or meet someone near you.
The findings from our review reveal that the truth is completely different. The site draws in its users via a fake chat system. No surprises here, as the company behind the site, Meet Us Media Ltd, from Nicosia in Cyprus, operates other websites which use exactly the same tactics.
The following is included in the Terms and Conditions
The Company operates system profiles (i.e. profiles connected to Accounts which have been created by the Company and which are either operated by contractors of the Company who impersonate the persons portrayed in such profiles or by a system designed to interact with users) and expressly reserves the right to chat with users through such system profiles in order to enhance the users' entertainment experience. Physical contact with individuals behind such system profiles is strictly prohibited.
An expensive entertainment experience
The company clearly states that they use paid moderators with made-up profiles to engage with clients.  They go on to say that it is prohibited to have physical contact with them. It is a scam. There are no dates to be had, no meetings, and no face-to-face encounters. Sadly, this will not be apparent to everyone who registers, as everything looks so seamless and professional. By the time a user's suspicions are aroused, it will be too late.
A costly rip-off system
What makes the InstaLuvs.com experience so much worse is that to communicate with these moderators, users must first purchase "coins", which is a virtual currency. Chat messages can be sent by using these coins. But every message sent will deduct money from the user's overall credit. As you can imagine, it is easy to splurge, yet the website is not worth spending a dime on.
As genuine as the moderators may appear to be, our review shows that any chat with them will be fake. It will not be possible to meet in person. Far from being profiles written by singles, these are the work of professional chat moderators. They are paid by the site to rake in as much money as possible, through an elaborate scam.
The conclusion from our InstaLuvs.com review
For all its promises, InstaLuvs.com is no more than so many other such sites. It is a rip-off, along with a fake chat service. Chatting will just burn up money and waste time as well. Profiles appear genuine, but they are not. Fakery abounds, and the system is run by the company's fake chat operators. Their only purpose is to get users to spend a long time chatting, and thereby take their money.
Let us know your InstaLuvs.com experience in the comments as well.