HouseOfMilfs.com review
November 25, 2022
The result of our HouseOfMilfs.com review: Our test turned out to be an insufficient dating website.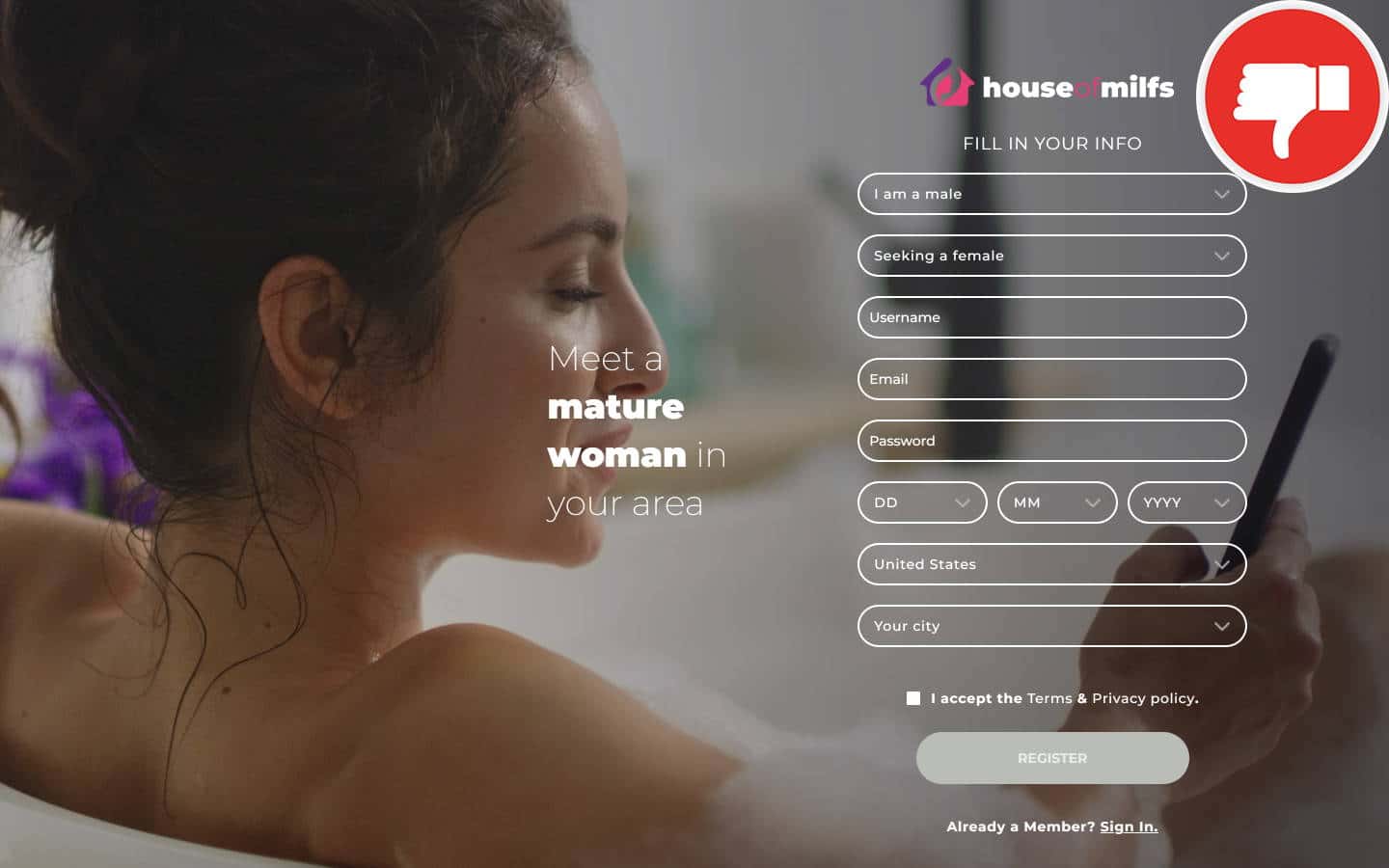 Report for HouseOfMilfs.com review
HouseOfMilfs.com invites users to sign up and meet mature women in the area. On the landing page, we can read that this platform has already matched thousands of hot ladies with their partners. Visitors to the website are encouraged to enjoy a variety of older women seeking younger men, as well as young guys looking to date an experienced MILF. HouseOfMilfs.com describes itself as an exciting and trusted environment where you can find exactly what you're looking for, whether it is a romantic date or just a hookup.
HouseOfMilfs.com claims to be the perfect place to get in touch with older women for unlimited pleasure and hot experiences. They promise that a quick registration is all that users need to open the door to a world of lust and excitement. Thousands of ladies ready to make your dreams come true are already waiting in the member's area. Unfortunately, none of this will ever happen.
HouseOfMilfs.com is just a scam with a fake chat service. Most of the profiles that users will interact with are fictitious. Unbeknownst to users, these accounts portray real users when they are actually fantasy characters. They don't associate with any genuine members. As a result, finding someone to meet in real life through this site is virtually impossible. The company that operates this rip-off is Meet Us Media Ltd, which is based in Nicosia, Cyprus. We have already written several reviews about them before this one, so we can call them out for their questionable techniques.
Scroll down to read the details of our HouseOfMilfs.com review.
Details on the HouseOfMilfs.com review
HouseOfMilfs.com seemingly provides potential subscribers with a lot of good reasons to sign up. The landing page grabs the attention of any reader due to the impressive number of members they supposedly have. According to what was written on the landing page, thousands of profiles that belong to real women use this service every day to find pleasure with younger partners. Another highlight of this site is that those who have difficulty starting up a conversation can take advantage of the large collection of funny stickers to break the ice.
If users were to worry about their privacy, HouseOfMilfs.com supposedly puts the users' minds at ease by promising them the most advanced system for securing and encrypting messages used to protect their privacy. Therefore, they guaranteed that this site is a safe experience for each member. To find out whether these claims were real or not, we created a test profile, carefully read the terms and conditions, and searched the internet for past users' reviews. It turned out that HouseOfMilfs.com is very different from what it looked like at first sight.
Nothing is real
The site's operator openly admits to using system profiles created by the company to interact with its members. These accounts are managed by professional moderators who impersonate a paying customer or by a piece of software designed to replicate a human conversation. Even though HouseOfMilfs.com informs users about the fake chat, it is still a scam because these accounts have no form of indication to lets users know which profile is real and which is not.
Therefore, we strongly advise our readers not to trust anybody from this site. All the messages that users have received are probably fake. The chances of arranging an actual date with a hot mature woman are close to zero on this site.
The following note is from the Terms and Conditions
The Company operates system profiles (i.e. profiles connected to Accounts which have been created by the Company and which are either operated by contractors of the Company who impersonate the persons portrayed in such profiles or by a system designed to interact with users) and expressly reserves the right to chat with users through such system profiles in order to enhance the users' entertainment experience. Physical contact with individuals behind such system profiles is strictly prohibited.
High costs for nothing
The purpose of this rip-off is to encourage users to spend money on the platform. Costs on HouseOfMilfs.com originate from coins, which are virtual items that users need to be able to communicate with other members. Every sent message requires 40 coins, which equals roughly $2. As we have already proved, these outrageous costs will never lead to any physical encounter.
The same thing happens on every website run by Meet Us Media Ltd. This company from Nicosia, Cyprus, has already received countless negative reviews from former users that have wasted hundreds of dollars without getting anything back.
The conclusion from our HouseOfMilfs.com review
Thanks to a well-designed landing page, HouseOfMilfs.com makes a great first impression. At first, it seemed like a great website for seeking sexual encounters with exciting Milfs. Upon further inspection, however, it turns out that this is nothing more than a blatant scam. Users are tricked into believing that they are chatting with hot mature ladies wanting to hook up, whereas instead, they are just spending a crazy amount of money to talk to fantasy characters.
Let us know your HouseOfMilfs.com experience in the comments as well.