Hookupers.com review
October 11, 2022
The result of our Hookupers.com review: Our test turned out to be an insufficient dating website.
Report on Hookupers.com review
Hookupers.com made a good first impression with its modern design of the landing page that has a picture of an attractive woman. We saw that we could register for free through the landing page. We had the feeling that this website would be filled with interesting singles. Plus, we calculated our chances of finding a date here and it was high. Even the name of the platform sounded more than promising. We had a good feeling about this site. Sadly, this good feeling did not last for long.
The landing page did not provide a lot of information. We did not know how many people had joined this website. Usually, a dating website informs new users as to what services the site would be offering, but none of that was mentioned. Another important piece of information that was missing was if there were any charges for using the website. Due to our vast experience with dating platforms, we can confidently say transparency is important when running a site where payment is involved. Transparency shows how reliable a site is, but this website doesn't appear to have any transparency.
The company that operates this site is Digital International Inc, which is based in Majuro, Republic of the Marshall Islands. We already know of this website's operator. This company is also infamous on the internet. We did some research and found a lot of reviews about the operator and this dating website. Former users did not have a good experience with this operator. The reputation of the company and its online dating website is bad. Hookupers.com is just one of many scam dating sites operated by Digital International Inc.
Is Hookupers.com a rip-off?
Hookupers.com is a scam that uses fake chats to encourage users to purchase a subscription. We found some reviews on the internet by former users who mentioned the use of fake chats. These fake chat scams are not operated by "fake chat" operators. This site uses auto-generated ice-breaker messages which are automatically sent to new users who had recently joined. The ice-breaker messages are used to lure new members into a trap. Users need a premium membership in order to reply. These paid memberships are subscription rip-offs.
We will now explain how users get ripped off by this scam. There are a lot of negative aspects to mention about this site. Firstly, what the website advertised was false, which we found irritating. The name of the dating site was also misleading because you will not be able to hook up with a real person here. This platform uses fake profiles, and fake profiles represent a fictitious person. There is no way to identify these fake profiles, so people easily fall for the trap. However, this site does mention the possibility of meeting interesting matches.
Using this site will only limit you to an online experience. Real-life dates and cost-related features are not even mentioned on this site. Cost may be issued during the process of registration. While we were registering, we received offers for two different subscriptions. One was for a premium membership, and one was for a free trial membership. Normally, you should never make an early purchase for a subscription without giving the trial run a go. In this case, however, the free trial membership is the true scam for it will automatically convert into a monthly paid subscription without warning.
However, it is possible to skip payment while registering. After completing the registration process, a new member will receive many messages in no time. We received six messages within the first two minutes after selecting our free membership. It was obvious that these messages were not real. They were clearly ice-breaker messages and were not sent by an actual person.
Under the right conditions, ice-breaker messages are actually a great feature. We know some reliable websites that use them. They can be great for taking the initiative in an online conversation. However, on this website, ice-breaker messages are used to scam users. A typical user wouldn't be able to identify ice-breaker messages if they have never experienced them before. The goal of these messages is to get oblivious users to reply to these messages. To reply, users are required to purchase a subscription for this site, regardless of who they may be chatting with on this platform.
Evidently, our profile will also continuously send automated ice-breaker messages to other profiles. We would only be charged if we were sending a normal message. The ice-breaker messages are used for encouraging users to purchase a membership and to start with a free trial membership. This is a cheeky offer, for the trial premium membership cannot be terminated on time. The deadline for termination is 24 hours. As the trial premium membership subscription runs for 24 runs as well; the deadline is too short.
Scroll down to read the details of our Hookupers.com review.
Registration on Hookupers.com
Hookupers.com offers free registration for women and men. The whole process is very simple and can be completed within a few minutes. This website is a casual dating portal, so there is no complex matchmaking system that would require a lot of personal data. Due to this, only minimal information will be requested during the registration process. We entered a valid e-mail address, a password, our gender, and our age.
After providing our information, the process of registration was nearly completed. In the next step, we saw offers for premium memberships. Two normal premium memberships and one trial premium membership were offered. At this point, we had a bad feeling about the site. Speaking from our personal experience with websites like this one, trial membership looked like a trap to us. This kind of offer does not make a good impression.
We had not even entered the website for reviewing and already we were asked to purchase a subscription. Of course, this does not make the website sound trustworthy. We recommend that our readers never make a purchase too early on a website without careful inspection. Especially not for a subscription. It might just end up being a trap. We will be explaining more interesting details about the subscription later in this review.
It is possible to skip the payment and continue browsing the site. In the last step, we had the chance to upload a profile picture. However, it is not mandatory to upload one. Once again, this website does not give us a good impression again. We created a profile without providing any piece of information, nor did we upload an image. Additionally, email verification is not obligated for users as well.
In the end, we felt that this website is not reliable, nor faithful to its promise to hook users up with someone. You don't have to provide much info for your bio, and you don't have to verify your account through an email. As a result, using this site will put you at high risk of encountering fake profiles, and having your personal data leaked. Furthermore, the trial premium membership that they offered was the worst part of the registration process.
Members' area on Hookupers.com
The process of registering took us less than a minute to finish. We only had to provide minimal information about ourselves, and a profile picture was not required. Even the verification process was optional as well. After we had skipped the premium membership offer, we entered the platform. Our first stop was the members´ area, where we saw a lot of profiles. In general, the profiles looked very appealing in appearance; some profiles had sexual content.
The platform does not offer a lot of features to use, nor does it have a lot of areas to explore. All we saw was the members´ area, our notifications, the inbox, and our profile settings. Within a few minutes, we already knew all the sections of the website. Thanks to the design of the interface, the handling was smooth and easy to use. However, we want to mention that the website's design had no visual highlights.
Now, we must mention a few of our thoughts about this website's community. To us, the profiles looked great at first glance, which lead to a good first impression. However, after giving the profiles a second look, it became clear to us that they were fake. Our suspicions were confirmed when we received many messages right after registering. This website uses fake chat scams to increase the income of the site operator.
Before we explain the use of fake chat scams, we want to go over the use of fake profiles on this platform. Profiles from the website did not appear to be real, because the information from their bio did not match the person in the profile pictures. Additionally, some profiles looked like they belonged to professional models. The women in the profile pictures were stunning and the images were of high quality. Evidence of fake profiles was missing, but online reviews mention fake profiles on this site. It seems we're not the only ones who think HookerUpers.com has fake profiles.
The profiles appeared to be fake and moderated, but "fake chat" operators were not employed. It would be incorrect to assume that regular chatbots are used as well. This website uses a type of bot called ice-breaker messages. These messages are used for connecting a user profile with another user profile by automatically sending an ice-breaker message to either user. Every registered profile sends an automated message to all other members on this site.
After registering, we received plenty of ice-breaker messages. To the untrained eye, these messages seem to be regular messages. It would be easy for new users to assume that real people sent these messages, but it is not so. In the terms and conditions, we found more information about this special kind of message. The landing page did not provide any piece of information about ice-breaker messages, nor anything else for that matter. There wasn't even a little hint for us. As a result, users of the platform would not know about ice-breaker messages.
The duties of a "fake chat" operator are replaced by the ice-breaker messages. The subscription trap is set in motion when one ice-breaker message from this website is convincing enough to catch the attention of a new user. The user will then need a premium membership to reply. If the user purchases a subscription, they have already been ensnared by the trap.
Terms and conditions of Hookupers.com
Extract from the terms and conditions from the Hookupers.com website. Current status of the terms and conditions as of October 11, 2022.
We may allow our Members to choose to send the same message (an "Icebreaker") to a number of other Members, who are selected by an automatic algorithm in order to allocate the attention and activity among members of our Service.

You may cancel at any time your subscription to Premium Features or special bonus offers to avoid your membership automatically renewing by sending us email at support@hookupers.com or by contacting our customer support through the descriptor that you will see in the credit card statement. Should you wish to cancel your automatic renewal, you need to request cancellation at least 24 hours prior to the end of a paid subscription period.
Costs on Hookupers.com
The platform claimed that registration is free on Hookupers.com is free, but never specified if you would be charged afterward. During the registration process, we were offered subscriptions for premium membership. There were two normal premium memberships available. This website offers a monthly or quarterly paid premium membership. Additionally, there is a subscription for a trial premium membership. The trial membership runs for one day and is free. It is possible to skip these offers, so the site actually does offer free registration. Some may even argue that testing the trial membership would still be considered free registration.
However, the trial membership is a cheeky trap. It runs for one day, and the deadline for termination is 24 hours. Therefore, all kinds of subscriptions must be terminated at least 24 hours before the term ends. This is simply not possible with a subscription that runs exactly 24 hours. The trial premium membership will automatically extend to a long-term subscription. On this website, the rates of the subscriptions remain the same. The monthly and quarterly premium membership both cost 1.40 USD per day.
On the internet, we found information from former users giving their experience with this rip-off with a subscription trap. Former users said that the trial premium membership is a cheeky trap. Furthermore, it would seem that the website's operator makes the termination process complicated for users. We found reviews mentioning how the operator ignores and declines letters of termination. On top of the cheeky impossible 24-hour deadline, the company makes sure that users will not be able to cancel further subscriptions.
This website is a waste of time and money. The profiles on the site appear to be fake. Moreover, the main reason why users purchase premium membership is the cheeky use of ice-breaker messages. Payments can only be done with a credit card. Your credit card will be charged more often than you want it to. This is because of the difficult process of termination. Additionally, we have to mention the irritating display of the costs.
The rates appear to be low at first glance, but 1.40 USD per day is not cheap at all. The premium membership for one-month costs 42.00 USD and the premium membership for three months costs 126.00 USD.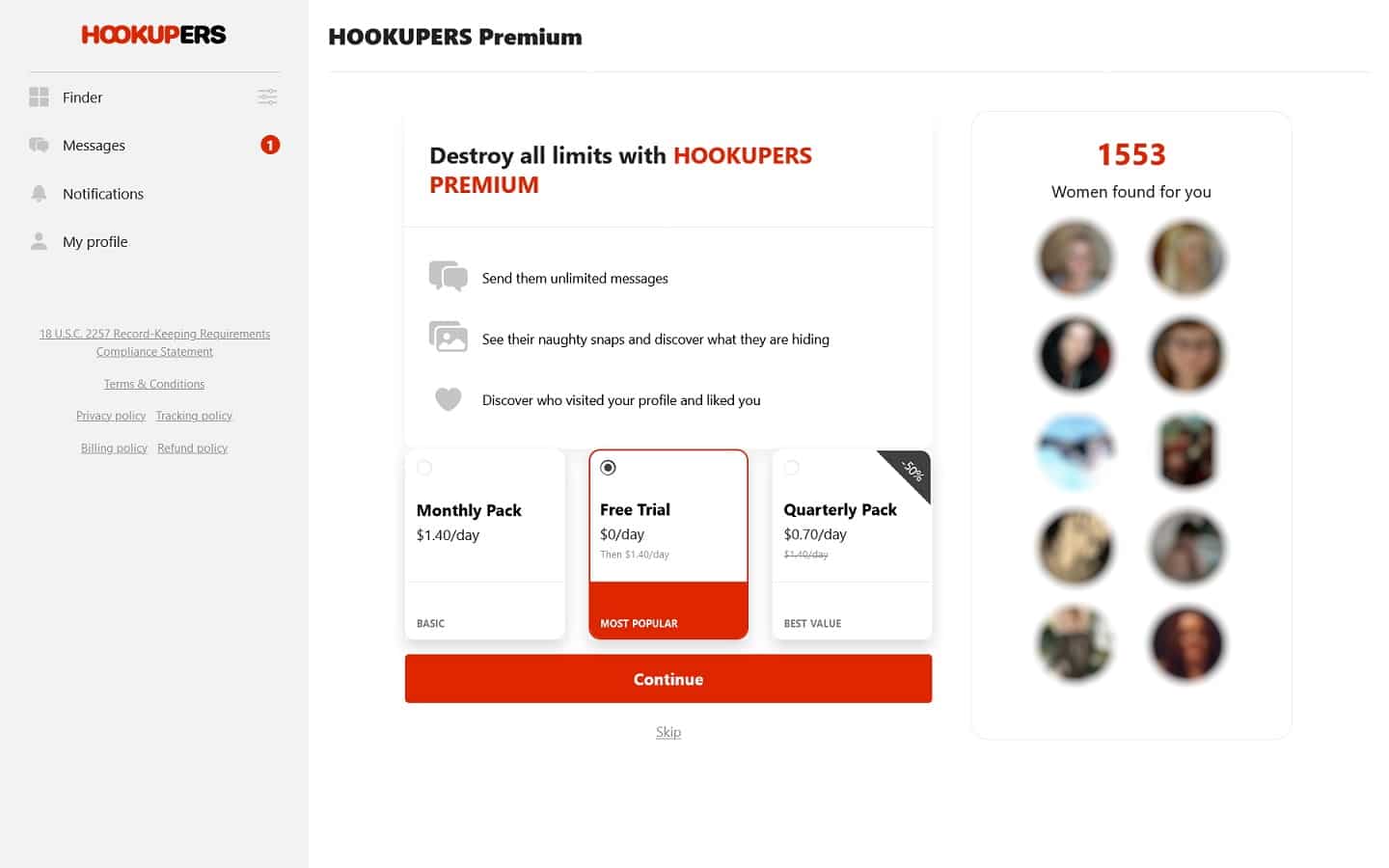 Conclusion from our Hookupers.com experience
The online dating platform Hookupers.com is a rip-off. This website uses ice-breaker messages to lure new members into a subscription trap. Right after registration, new members receive many messages. During our review, we received more than 20 messages within less than one hour. This is a clear sign of a scam with fake chat. On this website, "fake chat" operators are replaced by special automated chatbots called ice-breaker bots.
The ice-breaker messages have a certain purpose. They encourage new members to join a chat. For users to reply, they must first purchase a subscription for a hefty price. As mentioned before, the subscription is a waste of time and money. From what we experienced on this site, all the profiles are fictitious. Former users mentioned the same findings in their online reviews. The free trial membership is the actual subscription trap on this site. Without warning, it will renew to a daily charged premium membership that runs for either 30 or 90 days.
There is no way to avoid an automatic renewal as the deadline is too short. Additionally, we found online reviews explaining how difficult the process is for terminating a subscription on this platform. The site operator is Digital International Inc, which is based in Majuro, Republic of the Marshall Islands. As we see it, the location makes us suspicious of this company already. We know of this company already. Plus, we found some reviews about them on how they are well-known for their cheeky scams with fake chats and subscription traps.
Contact data of the operator of Hookupers.com
Digital International Inc
Trust Company Complex
Ajeltake Road, Ajeltake Island
Majuro, MH 96960
Republic of the Marshall Islands
support@hookupers.com
FAQs for Hookupers.com
Here you can find the FAQ (Questions and Answers) for the dating website Hookupers.com
What has attracted positive attention to Hookupers.com ?
The website has an appealing design and the offer sounds interesting.
What has attracted negative attention to Hookupers.com ?
This website uses ice-breaker messages to increase the income of the site operator. The subscription is a cheeky trap.
What can I do on Hookupers.com with a free account?
A free account allows one to get to know the website and read messages. Caution: the website also offers a free trial membership. The offer sounds interesting, but it is a trap.
Can I really meet someone on Hookupers.com ?
According to our experience, it is not possible to meet someone on this website.
Is there moderators or bots on Hookupers.com ?
This website does not employ "fake chat" operators. However, ice-breaker messages are used, which is a certain type of chatbot that will automatically match users by sending out messages to break the ice.
How can I cancel my account on Hookupers.com ?
To terminate your premium membership, please contact customer support via e-mail.
Let us know your Hookupers.com experience in the comments as well.