Granny-Sex-Finder.com review
December 9, 2022
The result of our Granny-Sex-Finder.com review: Our test turned out to be an insufficient dating website.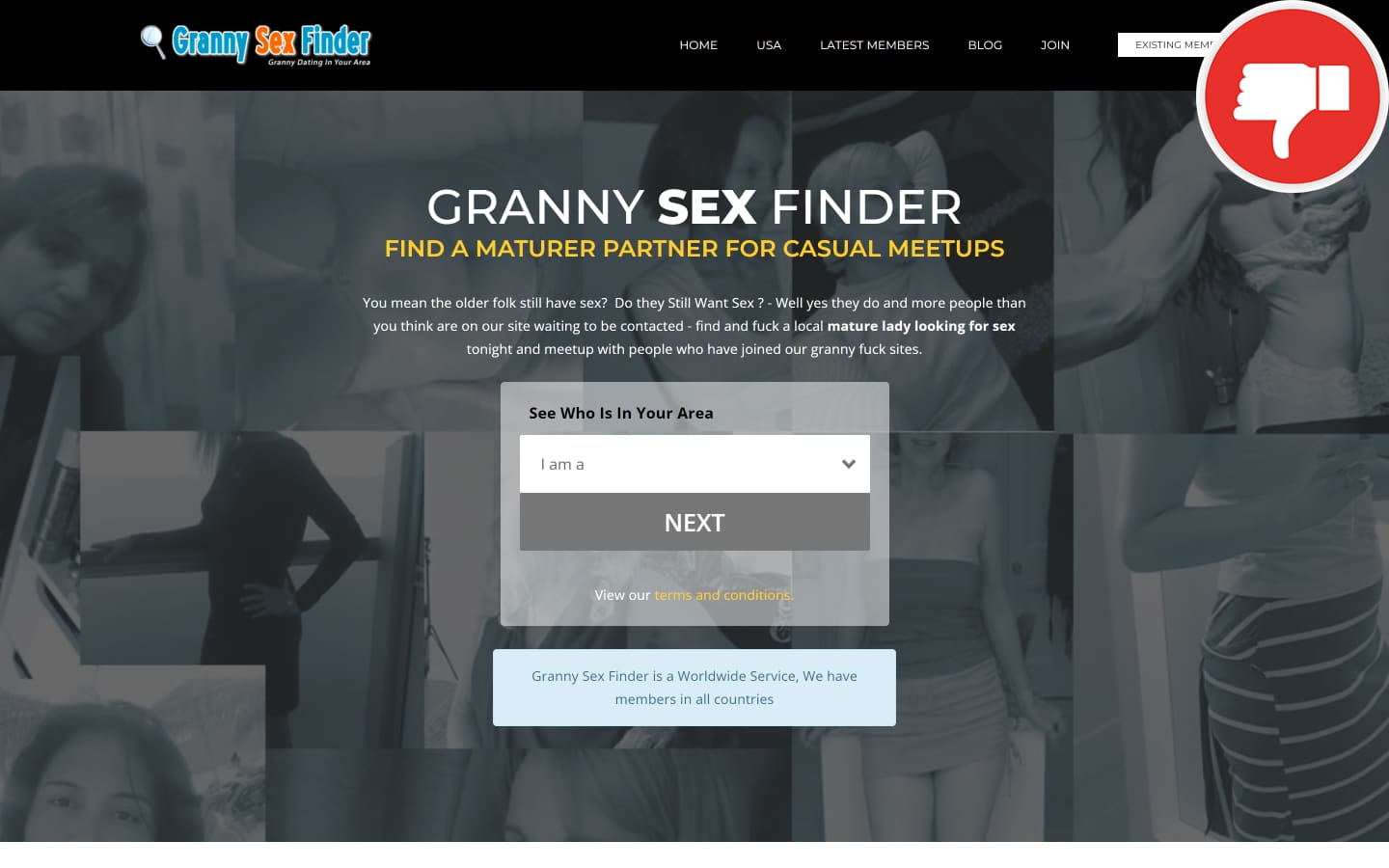 Report for Granny-Sex-Finder.com review
Granny-Sex-Finder.com claims to be the perfect dating platform to meet mature people for casual meetups. Older folks are still having sex, and Granny-Sex-Finder.com promises that more people than you think are using this service to find a local mature lady looking for sex. According to what we read on the landing page, this website has members coming from every area of the country. Regardless of where you live, there is always an older lady willing to hook up and fulfill your wildest fantasies.
If you are looking for a free local sex service to find mature women in your area, Granny-Sex-Finder.com promises to be the ideal platform. They guarantee to have thousands of members for you to search and meet. Everyone is here for the same reason: to find someone for casual erotic experiences. On the surface, everything seems legit and safe. Unfortunately, our review will show the exact opposite.
Granny-Sex-Finder.com is nothing more than a fake chat scam. Most of the profiles that you'll interact with don't correspond to any genuine member. They are maintained and managed by professional moderators whose job is to lure you into a dangerous recurring subscription. We are already familiar with the company responsible for this rip-off, which is Cintilet Ltd, from Dublin, Ireland. All the reviews that we have previously written about them have been highly disappointing.
Scroll down to read the details of our Granny-Sex-Finder.com review.
Details on the Granny-Sex-Finder.com review
The landing page of Granny-Sex-Finder.com looks quite promising. Potential users are provided with several good reasons to join the platform. First of all, each profile is manually checked to ensure people are authentic. Or at least, this is what is stated on the homepage. If you keep reading our review, you'll learn that the company itself creates fake profiles that are not even identified separately in the system. Therefore, there is no way to distinguish them from genuine ones, admitting that there are any.
Granny-Sex-Finder.com also guarantees that your privacy is their number one priority. You don't have to be an expert in online dating to realize that this is a lie. The initial page is full of pictures of the latest members. These photos are not even blurred, which means that anybody with an internet connection can easily recognize these people without even registering. This is far from being a good privacy policy.
T&C are important
As we always do, we carefully read the Terms and Conditions, searching for clues of possible rip-offs. We strongly recommend all our readers never skip this crucial legal document. You need just 5 minutes to save yourself from wasting time and money on a dangerous dating platform such as Granny-Sex-Finder.com.
The following note is from the Terms and Conditions
We do not guarantee that all the profiles found in Search will belong to our users, as we reserve the right to create profiles which are maintained and managed by our employees ("Staff Profiles").
Fake profiles
Granny-Sex-Finder.com acknowledges that at least some of the profiles in the member's area don't belong to any real user. These accounts are controlled by fake chat operators that impersonate a fantasy character. The purpose of this scam is to push you to buy a premium membership, without which you wouldn't be able to send messages.
These memberships renew automatically. We know from experience that this often leads to a costly subscription rip-off. Even though we didn't find any evidence that this is a trap, we would never trust the site's operator, which is Cintilet Ltd from Dublin, Ireland. This company constantly receives negative reports from former users of this and other platforms that they run.
The conclusion from our Granny-Sex-Finder.com review
At first sight, Granny-Sex-Finder.com looks like a safe and effective dating website to find mature women for hot encounters. After extensive research, however, we cannot recommend you sign up here. The member's area is full of fictional profiles created by the company to lure you into a premium membership that could turn into a subscription trap. Since it's impossible to date a fantasy character, finding someone to arrange a real-life date is highly unlikely.
Let us know your Granny-Sex-Finder.com experience in the comments as well.