The result of our GoGrannyDating.com review: Our test on GoGrannyDating.com turned out to be an insufficient dating website.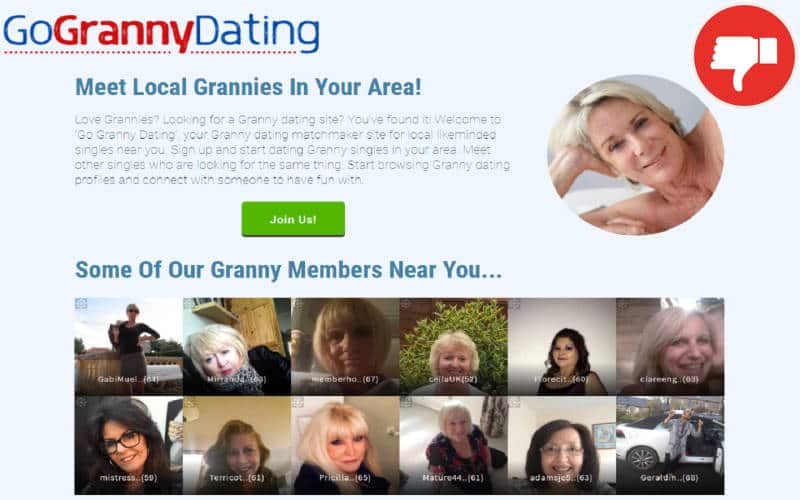 Report for GoGrannyDating.com review
The dating site GoGrannyDating.com advertises with free registration and attractive granny members who live in the same area. To prove this point, the operator presents us with photos of good-looking women in their 50s and 60s, who seem to be members of this site. We remember one or two of these profile photos from other scam dating sites. We believe that these profiles are fake and there is proof stating that the operator makes use of fictive profiles.
"Test dating profiles" are mentioned in the terms and conditions. Those are fake profiles used by company employees to improve the user experience. However, to avoid suspicion, the operator does not mention that the company employees use these profiles to start several conversations. Using the chat requires you to purchase a paid membership which extends automatically. GoGrannyDating.com is operated from Blue Mouse Ltd from Castletown in the Isle of Man.
Scroll down to read the details of our GoGrannyDating.com review.
Details on the GoGrannyDating.com review
GoGrannyDating.com seems to be a great site for finding dates with mature women who happen to live nearby. Also, according to the front page, this operator also provides users with excellent customer support. It seems rather odd that a dating site as good as this seems to be is not at all popular. We have a hard time even finding a single user review for this site. There is a reason why GoGrannyDating.com has so many good-looking members. They are fake.
Instead of mentioning the existence of fake profiles, the operator mentions so-called test dating profiles in the terms and conditions. We have encountered this term many times before and know exactly what it means. These fictional profiles are used by fake chat operators, employees of the operating company. The idea behind these moderated profiles is also mentioned in the terms and conditions.
Excerpt from the terms and conditions
From time to time, the Company employees (or employees of its parent or affiliated companies) may create test dating profiles for the purpose of checking and testing the functionality of our Website and Service to improve the quality and user experience for its Users.
The real identity of the other members
Testing the functionality of the site is not the only purpose of these test dating profiles. By using them, the company employees can stay undercover. This allows them to seduce the users in the chat, where a VIP membership is needed to exchange messages. As a VIP member you pay a monthly fee. The VIP membership extends automatically but can be cancelled at any time prior to the next renewal term.
The operator behind this rip-off is Blue Mouse Ltd from Castletown in the Isle of Man. This island is a common base for operators of scam dating sites like this one. We have already reported about our experience with Blue Mouse Ltd in a few previous reviews. It seems that you always need a VIP membership just to chat with moderated fake profiles.
The conclusion from our GoGrannyDating.com review
GoGrannyDating.com is not your average granny dating site. You can never know for sure if the person you are talking to is even a mature woman to begin with. There is evidence which proves that some of the profiles are controlled by company employees. It is their task to entice the users into a chat. This can only be unlocked by upgrading your membership. This site is another rip-off.
Let us know your GoGrannyDating.com experience in the comments as well.