GetThursday.com review
November 22, 2022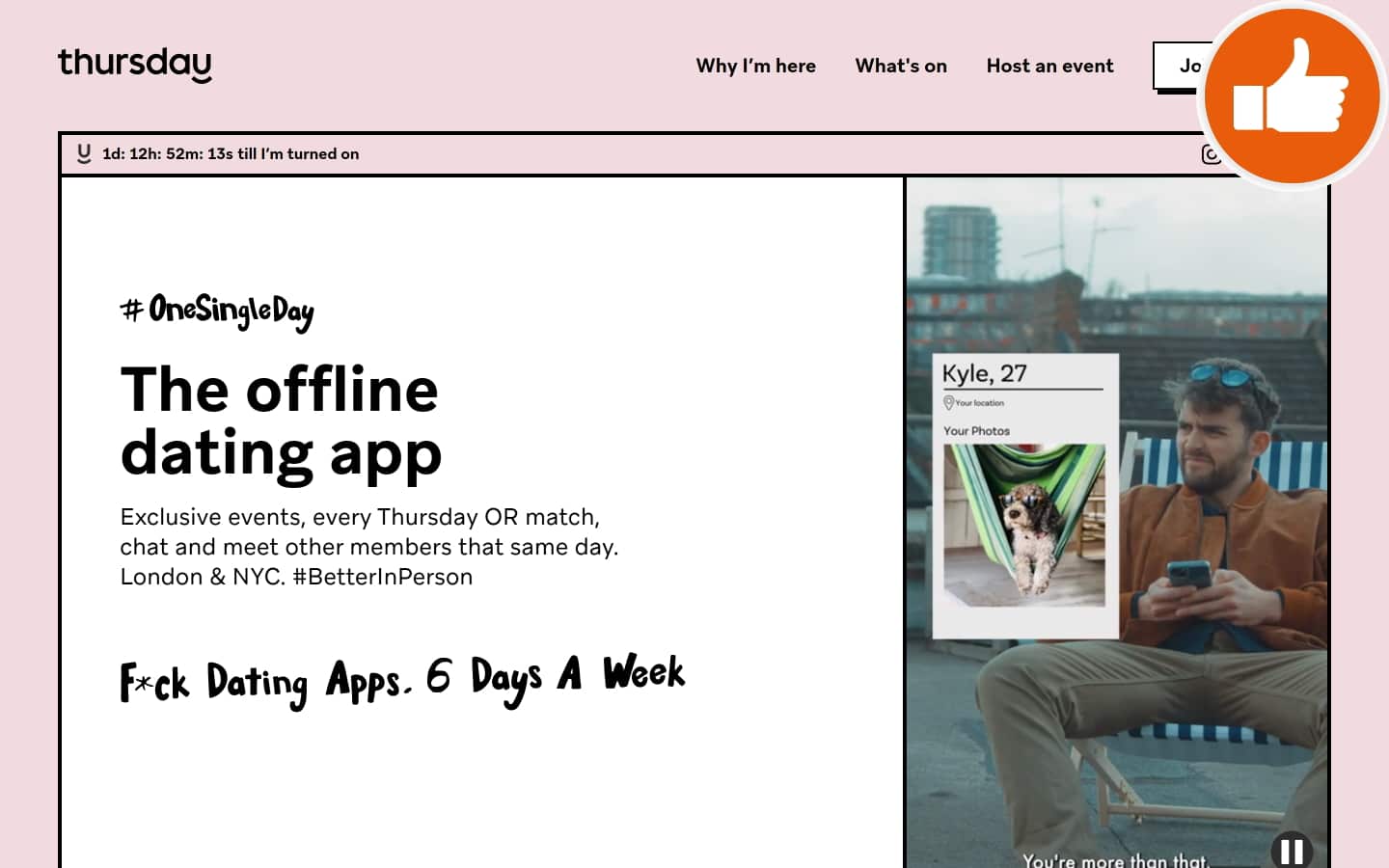 Not available in all US cities
Report for GetThursday.com review
GetThursday.com is a website that urges users to download its online dating app which is available for all mobile devices. The dating app is called "Thursday," and it is supposed to be a reliable dating app with a very special service. It is only available for use once a week, on a Thursday as the name of the app implies. This kind of application has some positive and negative effects. Furthermore, the app is not available for all cities in the US. Perhaps this is the perfect app for meeting new people and maybe finding true love.
Thursday is a very special online dating app with a unique feature. We did some online research and mostly found positive reviews about the app which showed us it that its services are reliable. As a result, we can exclude any kind of scam. The profiles on the app are real, which means that there are no "fake chat" operators, and the risk of falling into a subscription trap is zero as well. However, this app has some disadvantages as well, which are directly connected to the app's services.
The dating app Thursday is only operational on Thursdays, which is why this app is not that popular. The application goes offline every other day of the week, making every Thursday the app's highest activity rate by default. Due to those factors and that the app is still unavailable in most parts of the United States, finding a match through this app is low according to former users who experienced the site first-hand. However, it is certainly worth a try. The operator of the app is Honeypot Dating Ltd, which is based in London, UK.
Scroll down to read the details of our GetThursday.com review.
Details on the GetThursday.com review
The online dating app GetThursday.com is a solid choice for online dating. We want to point out the most important fact right away. This app is not a rip-off. The contents of the app are real. There are only a few fake profiles, but those were not created by the operator of the app. There are no fake chat operators. Also, the risk of a scam with a subscription trap is zero. Therefore, there is a real chance of meeting the love of your life. According to the experience of former members, this app is a reliable dating service.
However, there are also some negative aspects we must mention as well. According to reviews on the internet, the chance of meeting a match is low because the app is low in popularity. Low popularity leads to a low number of members. Moreover, there is a general problem with this app. The app is only available on Thursdays, making it offline every other day of the week. Most of the time, this one-of-a-kind dating application is useless. However, the user's activity on a Thursday is very high.
Meet interesting people
After doing some online research we mostly found positive reviews about the app. The app is reliable. However, based on what former members have experienced during their time on the app, it is not a true dating service. For them, it seemed more like an app for meeting friends rather than for dating. The app does not have a solid matchmaking system and the profiles are not very detailed. Additionally, in comparison, the app is far more like a social media platform.
On this app, users will see events and happenings, but only in a few cities, which might be another negative aspect. However, if you live in one of these cities, this app is a fun and solid choice to meet new people. The app operator is Honeypot Dating Ltd, which is based in London, UK.
The conclusion from our GetThursday.com review
GetThursday.com introduces the app Thursday. Thursday is a reliable online dating app that is not a rip-off. There are no "fake chat" operators or fictitious entertainment profiles. There is also no subscription trap. We found mostly positive reviews about it, but this app is only online once a week and is only available in a few cities in the US. Should a user live in one of the listed areas, this app would be a good alternative to making new friends and meeting interesting people.
Let us know your GetThursday.com experience in the comments as well.