GaysTryst.com review
March 30, 2022
The result of our GaysTryst.com review: Our test turned out to be an insufficient dating website.
Report on GaysTryst.com review
At first sight, GaysTryst.com comes off as a rather professional dating site. There is a large photo of a good-looking man on the landing page. This site is for gay guys who want to find dates with other men. Apparently, we have come to the right place to interact with gay people from all around the world. We always search the web for the reviews other users have published. It turns out that most users have many positive things to say about GaysTryst.com. However, based on our experience, many scam sites work with fake reviews.
We find out that Apricot Digitals LLC is the company in charge of GaysTryst.com. Our previous experience with the operator from Sofia, Bulgaria, was not all that good.
Is GaysTryst.com a rip-off?
GaysTryst.com is a so-called fake chat scam. This means that either bots or fake chat operators are part of this site. Normal users receive plenty of messages right after signing up but need a paid membership to use the chat function. The seductive messages originate from these fake profiles. The users are lured into a subscription trap. For this reason, GaysTryst.com is a subscription rip-off as well.
The cheap trial membership is what makes this subscription rip-off successful. You do not realize that you must cancel it, or it transforms into an expensive subscription. Several users refer to this fact in their reviews. We are not surprised to find out about this anyway. We have had the exact same experience on another scam site run by the operator before.
In the terms and conditions, we find evidence that proves the usage of a certain promotion tool. The operator sends template messages on behalf of certain users. Apricot Digitals LLC reserve the right to pick the members of their choice. By setting up attractive fake profiles, they turn this feature to their advantage.
Scroll down to read the details of our GaysTryst.com review.
Registration on GaysTryst.com
Signing up on GaysTryst.com is a piece of cake. We are required to enter basic information about ourselves. This includes our gender, our location, and our age. In addition, we require a mail-address as part of the site's verification process as well. Further details are optional. If we want, we can add some more profile information and upload a profile picture. To save time, we decide not to share any more information.
So far, we have not received any information concerning the usage of fake profiles. However, as soon as we enter the members' area, a few questions do come up.
Members' area on GaysTryst.com
After having finished our registration, suddenly a pop-up window shows up. We are being informed about a special kind of trial membership. We dismiss this information at first and have a look at the other members on the site. Luckily, we find plenty of guys who happen to live nearby. Many of them are online as well. We can use the search function and view the other profile photos without any problem. When it comes to viewing additional photos, we are required to upgrade our membership for money.
For some reason, our inbox starts filling up quite rapidly. Several guys call us "handsome" and ask us out on a date. Our profile is anything but attractive. Without even having uploaded a profile photo, finding someone to chat with should be quite difficult. This is where we start questioning the legitimacy of the other members. After doing additional research, we concluded that this site is full of fake profiles. They are bots which have been equipped with a certain tool to broadcast seductive messages. This way the operator can advertise for the expensive membership.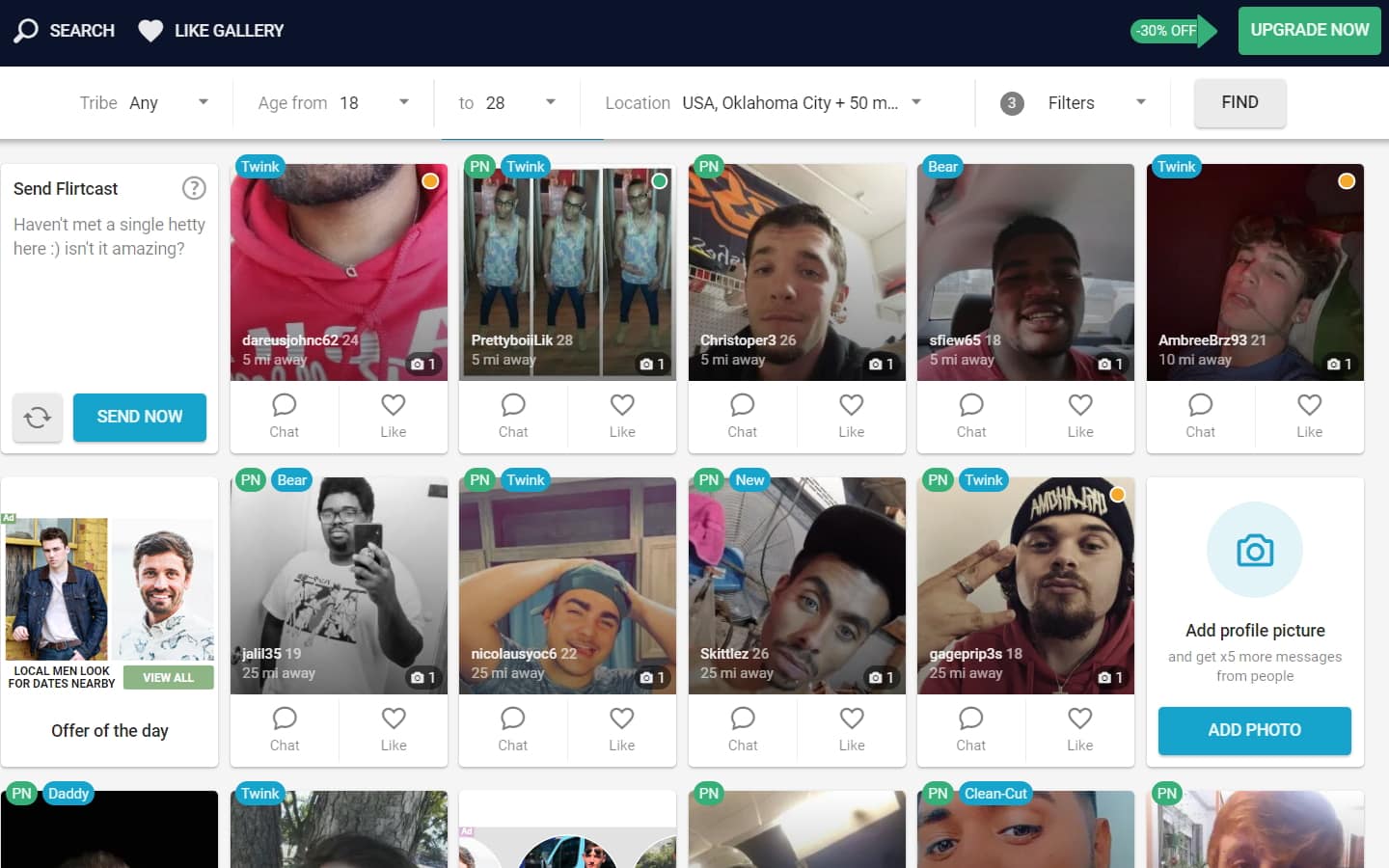 Terms and conditions of GaysTryst.com
Extract from the terms and conditions from the GaysTryst.com website. Current status of the terms and conditions as of March 30, 2022.
We may from time to time offer users the ability to 'Promote My Account' through Account Settings. Activating this service will mean that we will automatically broadcast custom messages created by any user, or selected from a default list of template messages, to other users. We reserve the right to select members to use the Promote My Account service.
Costs on GaysTryst.com
At first, all the paid memberships appear to be surprisingly cheap. The operator informs us about the price per day, to cover up the real costs. The weekly membership costs you 0.39 USD per day. The monthly membership comes at a daily price of 1.06 USD. The longest option is the membership of three months, which costs 0.54 USD per day. All these memberships can be paid using a credit or debit card and extend automatically. A cancellation is required to prevent this from happening.
The cheapest and shortest membership out there is the trial membership. For only 0.99 USD you get to try out all the premium features for one day. The issue here is that this trial membership transforms into the monthly subscription. To stop this from happening, you must submit a cancellation within this single day. Many users forget about this, or never knew about the renewal in the first place. This kind of rip-off is common on many scam dating sites.
Conclusion from our GaysTryst.com experience
Our experience with GaysTryst.com was not pleasant. The dating site does not give you what you are looking for. It is hard to find any real people in the members' area. Most of them are either bots or fake chat operators that are used to seduce the real users. The only purpose is to make the paid memberships more appealing. Members without the so-called full membership cannot use the chat function. All the positive user reviews online don't seem legit. They fail to represent the true nature of this scam site. Here, you are only lured into a subscription trap.
The company in charge of the platform is Apricot Digitals LLC. Our previous experience with them was already negative, and it turns out that GaysTryst.com is just another scam.
Contact data of the operator of GaysTryst.com
Apricot Digitals LLC
83-85 James Bourchier
1407 Sofia
Bulgaria
support@gaystryst.com
FAQs for GaysTryst.com
Here you can find the FAQ (Questions and Answers) for the dating website GaysTryst.com
What has attracted positive attention to GaysTryst.com ?
The landing page made a solid first impression. GaysTryst.com is very easy to use.
What has attracted negative attention to GaysTryst.com ?
Most of the members are fake and part of a rip-off. They advertise the paid membership. The seemingly cheap trial membership is what makes this site a subscription rip-off.
What can I do on GaysTryst.com with a free account?
You can use the search function, view other member profiles, and see their profile photos.
Can I really meet someone on GaysTryst.com ?
After signing up for the paid membership, you can interact with different members. Unfortunately, pretty much all of them are fake.
Is there moderators or bots on GaysTryst.com ?
There are countless fake profiles in the members' area. A certain promotion tool brings them to life.
How can I cancel my account on GaysTryst.com ?
You can cancel the membership under "My Settings". You should do it sooner rather than later. Otherwise, you will end up in a subscription trap.
Let us know your GaysTryst.com experience in the comments as well.