FoxyHookups.com review
October 27, 2022
The result of our FoxyHookups.com review: Our test turned out to be an insufficient dating website.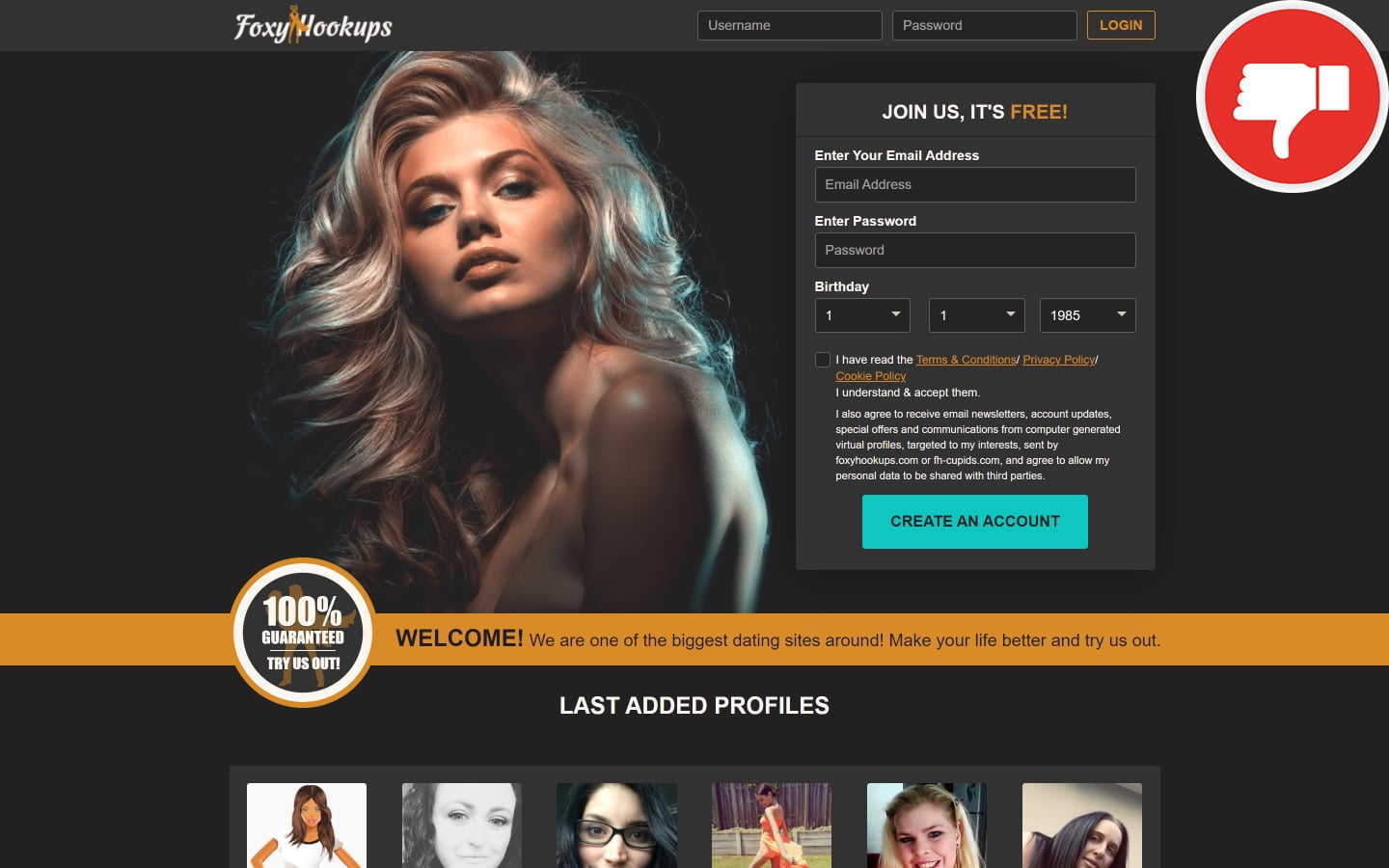 Report for FoxyHookups.com review
FoxyHookups.com promotes itself as one of the largest dating sites around. The landing page invites all visitors to join for free. They guarantee that signing up will make your life better. According to what we read; this is a thrilling world of online flirting. Here, you can reveal your incredible flirty side, chat, find and meet, thousands of fun-loving singles, who are looking for erotic experiences. A quick and free registration is everything that stands between you and your wildest dreams coming true.
At first sight, FoxyHookups.com looks like a great dating platform to connect with open-minded people, who are interested in no-strings-attached sexual encounters. But upon further inspection, it turns out that your experience on this website might quickly turn into a nightmare. FoxyHookups.com is, in fact, just a scam, with a fake chat and a subscription rip-off.
Our review will prove to you that the member's area is full of fictional profiles, which are created with the only purpose of luring you into a trap. To unlock the chat features, users are required to verify their age, by providing a credit card. FoxyHookups.com promises that this is a free procedure. But, in fact, they are signing you up for a recurring membership, which is almost impossible to cancel. The operator of this platform is Web Consultancy, who are based in Mahé, in the Seychelles.
Scroll down to read the details of our FoxyHookups.com review.
Details on the FoxyHookups.com review
FoxyHookups.com advertises with a solid offer. They define themselves as one of the most effective dating platforms on the internet. Allegedly, the member's area contains thousands of profiles of real singles, who are seeking passion and lust. Hundreds of new people join this exciting community every day.
The best news is, that FoxyHookups.com seems to be 100% free. The landing page does not mention anything about costs, subscriptions, or credits. It simply invites you to set up your account and start searching for your next hot experience. To find out whether these claims are real, we created a test profile, checked the internet for past user's reviews, and carefully read the Terms and Conditions. Our findings are quite shocking. FoxyHookups.com is a blatant rip-off.
No one to meet
Most of the profiles presented by FoxyHookups.com are fake. They are created and controlled by either professional moderators, who impersonate a fictional character, or by computer programs designed to simulate a human conversation, the so-called "chatbots". In either case, this is a fake chat scam. Since there is no way to distinguish real profiles from fictional ones, you can never trust anybody here. Therefore, your chances to arrange an actual erotic encounter are close to zero.
Here is the proof from the Terms and Conditions
Please, note that while using Our Services You may sometimes interact with automated online accounts and/or fictitious profiles, which its interactions have been generated by or with the assistance of automated programs or scripts, or by real persons that have been contracted or employed by Us.
Do not fall into the trap
Right after registration, new members receive many enticing messages from these fake profiles. At first, users can reply, but after a couple of minutes, the chat features are disabled. To continue sending messages, age verification with a credit card is required. Web Consultancy, which is the site's operator from Mahé, in the Seychelles, promises that no charges will ever be made, but this is a lie.
Providing a credit card, means signing up for a free trial membership. This will then be automatically converted into an expensive monthly subscription. According to past users' reviews, canceling this subscription is impossible because the company ignores any termination request. FoxyHookups.com is not only a fantasy chat service, but also a subscription rip-off.
The conclusion from our FoxyHookups.com review
FoxyHookups.com attracts thousands of new members by promising them that here, they will be able to fulfill their wildest fantasies, without having to pay for anything. After extensive research, we can guarantee that none of this will ever happen. Quite the opposite. Those who decide to sign up for this untrustworthy dating platform might easily become the victims of a fake chat scam, and a subscription trap. Therefore, we recommend you not waste any time and money on FoxyHookups.com.
Let us know your FoxyHookups.com experience in the comments as well.