FlirtyCuties.com review
June 30, 2022
The result of our FlirtyCuties.com review: Our test turned out to be an insufficient dating website.
Report on FlirtyCuties.com review
According to its landing page, FlirtyCuties.com is home to single women looking to find guys for fast dates. Furthermore, this dating site's advertising offers free registration. It really seems there is nothing negative to say about FlirtyCuties.com. We want to learn more. Since the information provided on the landing page isn't enough, we create our own account.
The operator of this site is InfraWeb Solution Ltd. This company is located in Hong Kong. After doing a bit of research, we discover this site used to be operated by Norfex Holdings Ltd from the British Virgin Islands. Apparently, the site operator has changed its company name as well as its location. This looks a bit suspicious. Our previous experience with Norfex Holdings Ltd has been extremely disappointing.
We fear this site isn't any better. It is almost impossible to tell what kind of experience other users have had on this site. This is through a lack of online reviews.
Is FlirtyCuties.com a rip-off?
All that glitters is not gold: a precept that certainly applies to FlirtyCuties.com. This seemingly perfect dating site is nothing but a rip-off. We are soon confronted with the fact that using this site to find dates is expensive. Chatting is the most essential function provided by almost every dating site. In this case, we need paid membership just to send messages while chatting. The other profiles in the members' area are fake and moderated. The operator wants to make sure you always have someone to talk to. This makes it easier to sell one of its paid membership options.
You should definitely not go for the cheap trial membership option. It seems this trial membership option expires after one day and then changes into something completely different: an expensive monthly package. This kind of subscription rip-off can be seen on countless scam dating sites.
Scroll down to read the details of our FlirtyCuties.com review.
Registration on FlirtyCuties.com
It doesn't take long for us to sign up. We can use the registration form on the landing page to create an account in no time. Luckily, we don't really have to share too many details. We are only required to state our name, mail address, gender and age. As part of a verification process, we need to click the activation link in a mail we receive later from the operator. Nothing here really surprises us.
Apart from the e-mail verification, nothing in the entire registration process is very safe. It would not be that difficult to create fake profiles on FlirtyCuties.com. You don't even need a profile photo to sign up successfully here.
Members' area on FlirtyCuties.com
Like most other dating sites, this one has a search function to find potential matches. We can select the age and location we prefer and receive corresponding results. We can also view profiles currently online. Most other members have profile photos. This makes finding the right dating partner easier. Apparently, we are the center of attention. We receive several messages within just a short period of time.
Right after completing registration, we find a message in our inbox. Something about this seems wrong. We didn't put much effort into creating a decent profile but somehow still manage to attract a lot of good-looking girls. This is where we start questioning the legitimacy of the other member profiles. They appear fake to us.
We try to reply to one of the many messages in our inbox. As we click on the chat function, we are redirected to the site shop. Unfortunately, we can't send chat messages without paid membership. Some messages in our inbox are not visible to us. Once again, this is a problem paid membership can solve. A lot of fake chat scams work exactly in this way. Seductive fake members entice you into paying out money. If you believe these other members are real, you are more likely to invest your money in this site.
Terms and conditions of FlirtyCuties.com
Extract from the terms and conditions from the FlirtyCuties.com website. Current status of the terms and conditions as of June 30, 2022.
To boost interaction between our members and in order to notify them of newly registered matches and their activity (i.e. registration, photo upload etc.), we may, from time to time, use an automatic pop-up notification system and other communication channels e.g. inbox or instant messages to send Activity Notifications to you […] and some auto generated Activity Notifications may require an upgraded Paid Membership in order to see the content of message and reply to it.
Costs on FlirtyCuties.com
In the site shop you can purchase "full membership". Only users who buy this membership can send an unlimited number of messages and view all photos. Membership of FlirtyCuties.com is extended automatically. If you don't want to be a full member any more, you need to cancel your membership before it is renewed again. We are actually not shown the whole price for membership. The operator only informs us about the price per day. This makes it difficult to understand how much money we are actually going to lose. You pay with your credit card.
All membership options come with the same benefits. They only differ in their length and price. Trial membership is the cheapest but also the most dangerous option. For 0.99 USD trial members get to try all the site's features for one day. This trial membership option is also part of a subscription and needs to be cancelled within 24 hours. Trial membership isn't just renewed; it turns into an expensive form of membership at 59.97 USD per month. This very important detail is only mentioned in the fine print.
InfraWeb Solution Ltd wants users to purchase trial membership without knowing what this changes into. FlirtyCuties.com is yet another subscription rip-off operated by this Asian company.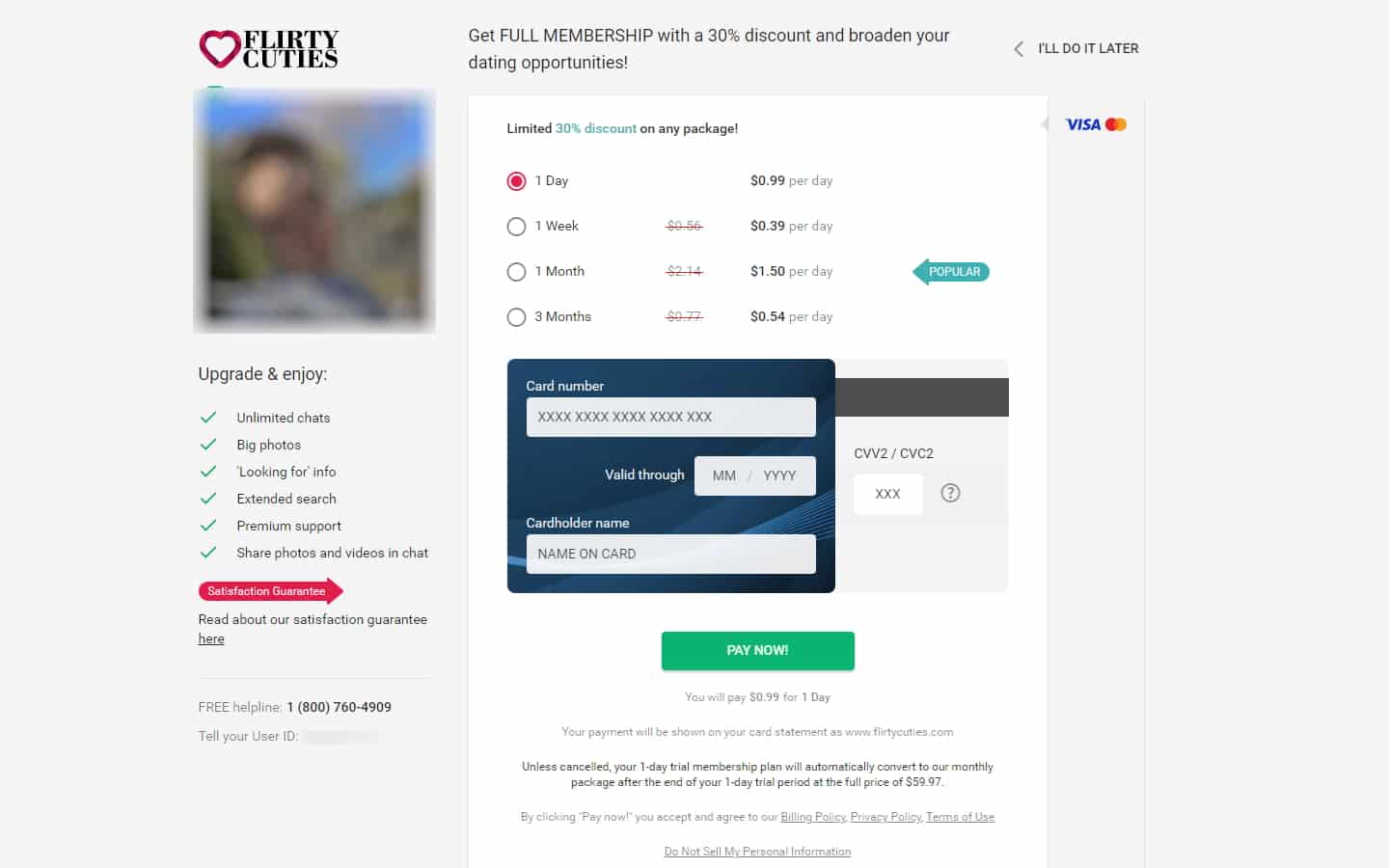 Conclusion from our FlirtyCuties.com experience
FlirtyCuties.com is not the right location to arrange dates with interesting men and women. Due to the lack of online reviews, we can only assume this site is not that popular after all. However, you will receive a lot of messages as soon as you register. These messages are either computer-generated or sent to you by fake chat operators. With all this attention, the chat function suddenly becomes much more interesting.
Before you can chat with other users, you need to purchase full membership. Trial membership may seem a cheap alternative but unfortunately it is just part of a cheeky subscription scam by the operator InfraWeb Solution Ltd.
Contact data of the operator of FlirtyCuties.com
InfraWeb Solution Ltd
Suite 1601 Kinwick Centre
32 Hollywood Road
Hong Kong
support@flirtycuties.com
FAQs for FlirtyCuties.com
Here you can find the FAQ (Questions and Answers) for the dating website FlirtyCuties.com
What has attracted positive attention to FlirtyCuties.com ?
The design of the landing page looks simple but elegant. The operator gives us plenty of reasons to consider signing up.
What has attracted negative attention to FlirtyCuties.com ?
We can't reply to any of the numerous messages in our inbox without spending money. The cheap trial membership option is actually a scam. Furthermore, most other 'members' are just bots.
What can I do on FlirtyCuties.com with a free account?
You can read some messages and visit other profiles with free membership.
Can I really meet someone on FlirtyCuties.com ?
It might seem as if you can easily arrange dates with different members, but in reality you won't get to see any of the latter in real life.
Is there moderators or bots on FlirtyCuties.com ?
Yes, the site is full of bots. The operator uses them to promote its paid membership options.
How can I cancel my account on FlirtyCuties.com ?
You can cancel your account under "My Settings".
Let us know your FlirtyCuties.com experience in the comments as well.