FlirtyCupid.com review
February 19, 2023
The result of our FlirtyCupid.com review: Our test turned out to be an insufficient dating website.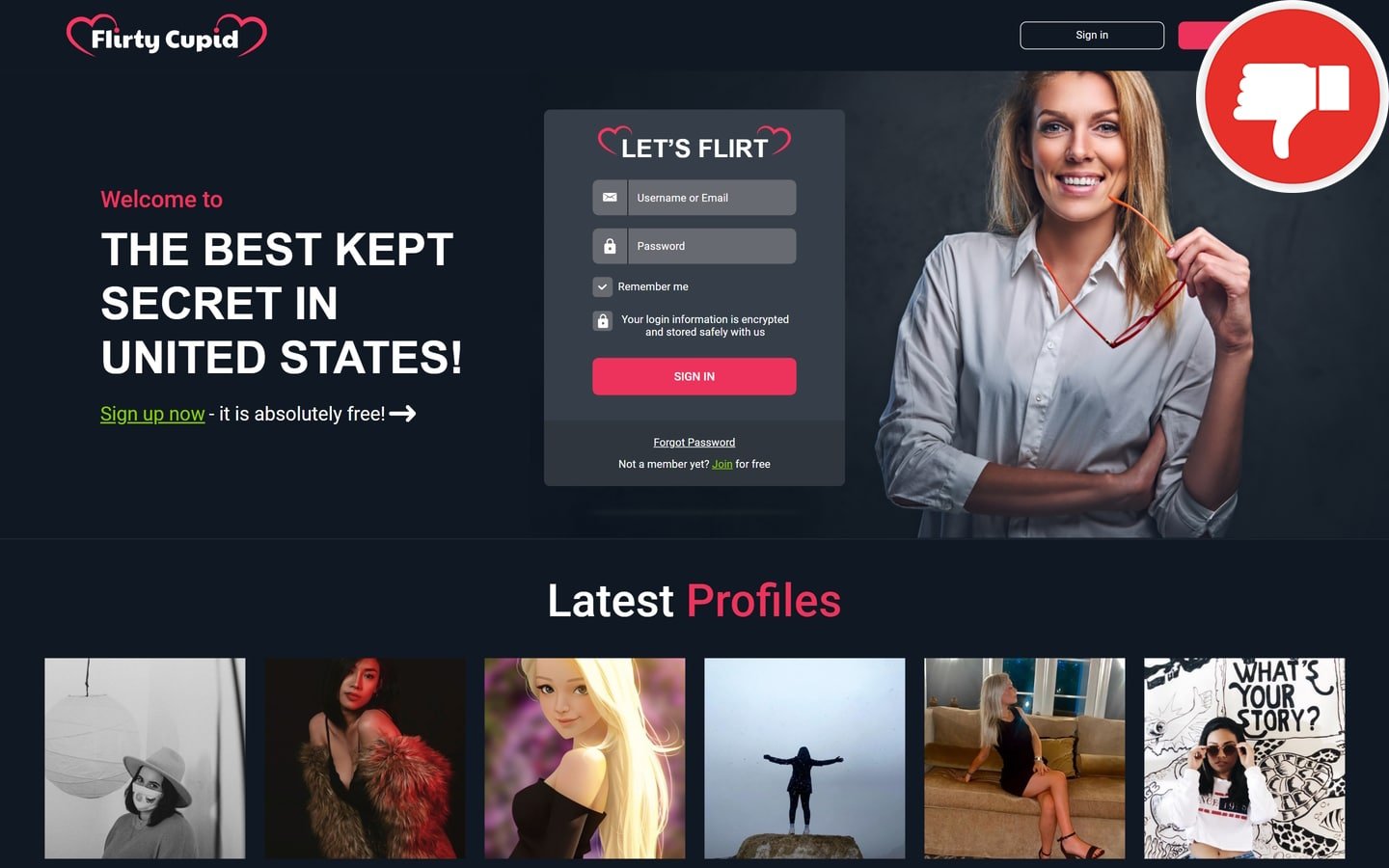 Report for FlirtyCupid.com review
The website FlirtyCupid.com attracts us with their description, that it is the best-kept secret in the USA. However, the starting page does not tell us much about the website, other than the fact that registration is free of charge. Next to the sign-up forms, we see a picture of an attractive young woman. Below that, there are some sample pictures are displayed. Supposedly, these are the latest users who have registered on the site. However, to contact them, we must first create an account.
For our review, and to have our own experience of a possible rip-off or scam, we first take a closer look at the Terms and Conditions. This website is operated by Bogato Group Inc, from Utah, in the USA.
In the Terms and Conditions, we quickly come across the statement, that so-called "host profiles" are used here. These hosts are explicitly commissioned by the site to chat with users, to encourage greater participation. These host profiles only serve as entertainment. A real meeting with a person who operates these profiles is never possible. Thus, it can be clearly determined that these are fake chats. This is a rip-off and scam dating website.
Scroll down to read the details of our FlirtyCupid.com review.
Details on the FlirtyCupid.com review
Unfortunately, the FlirtyCupid.com starting page only gives us very sporadic information. We do not even get to know who exactly this dating site is suitable for. Instead of information about the website, on the starting page, we find a relatively large number of profile pictures of users who have recently registered.
The large number of different user profiles that we can see here, seems quite promising at first. To be able to chat with these users, we must create an account. Before that, however, we check the Terms and Conditions and the enthusiasm we had previously gained, quickly vanishes.
Fake Chats and 7 days' notice to cancel
Here, we find the information that host profiles are used. These profiles are commissioned by the operators of the website, which, in this case, is Bogato Group Inc, from Utah, in the USA. They aim to encourage real users to spend more time on the site, or even invest money on it. However, real contact with these profiles is never possible. So, we are dealing with fake chats. The fact that paid memberships are automatically extended, if they are not cancelled at least 7 days before expiry, is also a negative point. This indicates a possible subscription scam.
This is what we found in the Terms and Conditions
You do understand, acknowledge, and agree that some of the initial user profiles posted on this Website may be fictitious, and will be associated with our Website Hosts, ("Hosts").
Expensive membership and messaging costs
To have our own experience with this website, we create an account. Immediately after registration, we receive the first messages from interested users. Without having filled in any other personal information, this is a clear sign of these host profiles. If we want to see more than just one picture of the profiles, we need a membership.
Silver, Gold, and Platinum are the three membership options. Silver costs $12.95 per month, and Platinum costs $53.70. This also allows us to send 5, 10 or 15 messages a month for free, depending on the option chosen. Once these are used up, we must buy "coins" to send messages. So, we must dig deep into our pockets again. We can pay up to $229.99 for 250 messages. Two expensive payment plans, and host profiles with which no contact is possible, are a very clear sign of a rip-off and a scam dating site.
The conclusion from our FlirtyCupid.com review
Our review of the FlirtyCupid.com website is negative. The fact that host profiles are used here, is already enough reason not to use this site. In addition, there are two different systems for memberships, and for writing messages. Coins, which are required for messaging, are very expensive. Also, in the end, you probably only write to host profiles. The fact that the membership must be cancelled 7 days before renewal, is another negative point. All this shows us that you better stay away from this website.
Let us know your FlirtyCupid.com experience in the comments as well.