The result of our FlirtMatures.com review: Our test on FlirtMatures.com turned out to be an insufficient dating website.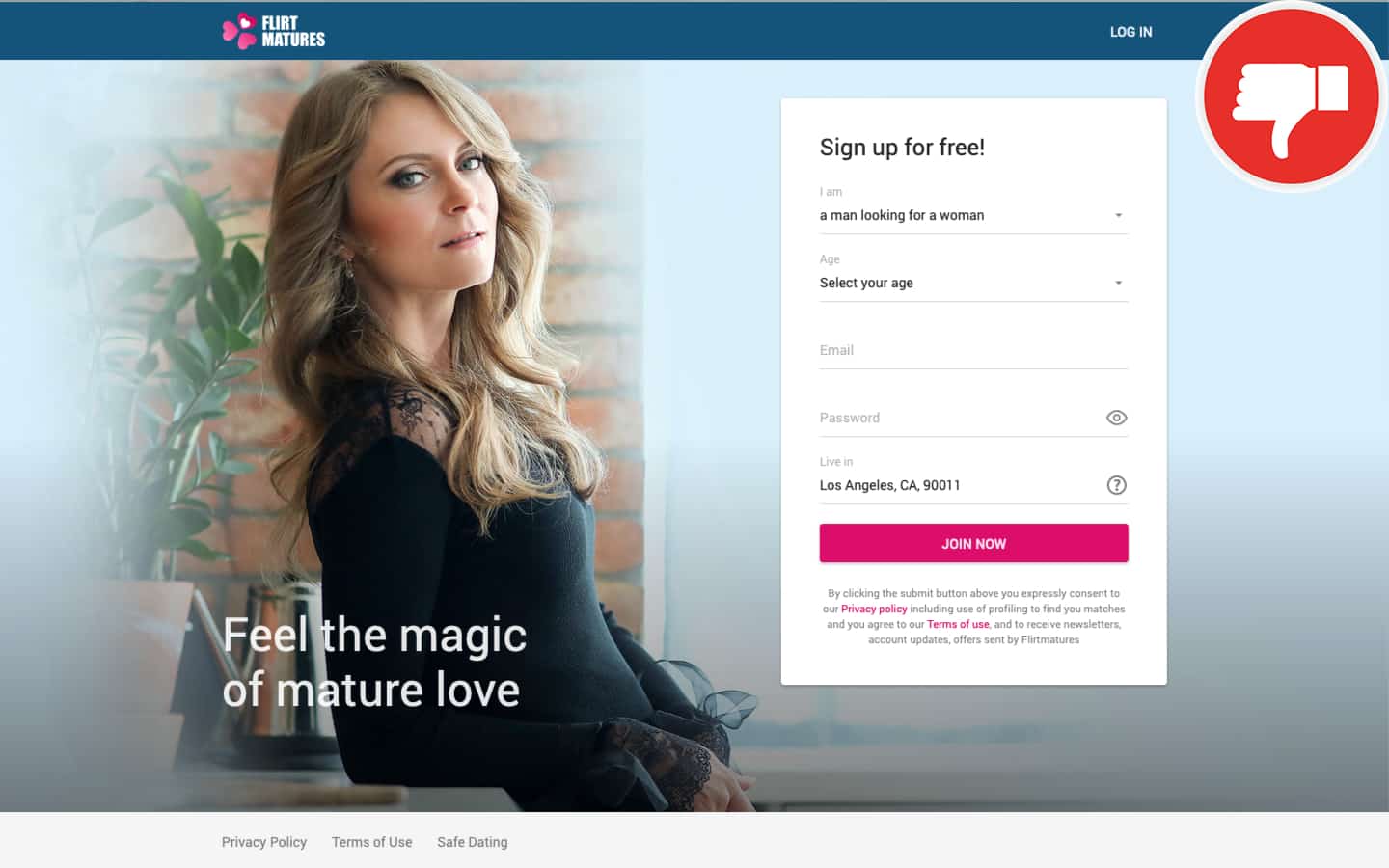 Report for FlirtMatures.com review
The online dating website FlirtMatures.com offers free registration and mentions that this is one of the best places to find a date or love. The landing page advertises with a large members' area which is full of active members. But we did some research, and it turned out that the website is a rip-off with a subscription trap. Some bad reviews from previous users also show us that it is a fake chat.
The website FlirtMatures.com uses fakes operators. They will get in touch with the users to generate as many messages as possible. The users must pay a lot of money for every sent message. They will never have a real date. The operator, Porticato Media LTD., is well known for its rip-off dating websites.
Scroll down to read the details of our FlirtMatures.com review.
Details of the FlirtMatures.com review
The landing page of FlirtMature.com shows an attractive woman and explains that you will be able to find a hot date on this platform. That sounds very interesting, but as the landing page does not show any further useful information, we did our own research. During our research we also gathered many bad comments about this site. We can confirm that FlirtMature.com is a scam by subscription trap.
The landing page advertises with wrong and misleading information. For example, the free registration is true. But is not mentioned that the use of the website comes with high costs. After registration, the user will have a basic-membership, which is free. But this kind of membership is useless because you cannot read or write any messages. To take any action on the website, you need to buy credits, which are really expensive.
A look at the terms and conditions
"Please be aware that when you subscribe to any package, including the trial period, you will become liable for automatic renewal billing. This means that the minimum duration of your contract will be for the initial period you select (E.G. 1month), and this will automatically renew until you cancel your service."
 We also read in the terms and conditions that the operator can use your personal information, profile, and pictures, on their other websites. If you register on FlirtMatures.com, your profile will be shown on all the different dating sites of the network.
"You authorize us to reproduce and broadcast the information contained in your profile including your name, photograph, "chat up line", description etc. Throughout all or part of our Group Companies for the purposes of delivering the Services to you and for marketing and other purposes as explained in more detail below under section 6(B) our right to use your content for our own purposes."
Fake profiles are not mentioned in the terms and conditions of FlirtMatures.com. But we found many bad reviews which made it clear that they exist. Many people claim that this site is nothing more than a cheeky rip-off and that it is not possible to find a real person.
The operator of FlirtMatures.com is Porticato Media LTD. This company is based in London, England. They are well known in the online dating business. They operate many dating websites and all of them are a scam.
Contact details
Porticato Media LTD
Nwms Center 31 Southampton Row
Office 3.11
London
England
support@FlirtMatures.com
Tel: 1800014563
How to cancel
You may cancel your subscription and membership by visiting the "My Account" section of the site  and following the relevant link to Remove Your Account. Or you cancel by telephone or email:
Tel.: 1800014563
email: support@flirtmatures.com
The Conclusion from our FlirtMatures.com review
FlirtMatures.com is a rip-off with a subscription trap and seems to be a fake chat as well. Both this website and this operator have a terrible reputation. A subscription will extend automatically. It will be complicated to cancel it. We do not recommend this website.
Let us know your FlirtMatures.com experience in the comments as well.