Flingster.com review
July 12, 2022
Many users from many countries

Takes time to find a chat partner

Hardly any fun without VIP membership
Report on Flingster.com review
Flingster.com is a video chat dating site that can be used by members from all over the world. Any adult can sign up free of charge. According to the landing page, you can also "play" without paying. This means that anyone can video chat with randomly selected members from different countries. In the "FAQ" section, we learn that optional VIP membership is available. We want to find out whether or not this site is just a subscription rip-off.
The operator of Flingster.com is Skyline Media LLC. The company is based in Sheridan in the United States. Apparently, the operator is not that well-known. The dating site itself on the other hand has at least received some attention. This is something you would expect from a dating site that claims to have close to 10 million users worldwide. Several people have published reviews of this site. Most don't consider Flingster.com to be a scam.
Is Flingster.com a rip-off?
Flingster.com doesn't appear to be a rip-off. You can use the essential video chat function without having to upgrade your membership. The VIP membership only comes in handy when you want to receive additional filter options. It is linked to a subscription that can be cancelled at any time.
We can't say for sure if all of the site's members are genuine. We were talking to real people while using the video chat feature. The lack of female members seems to indicate that the operator does not create fake profiles. The high number of users appears to be fake at first. However, you must take into account that literally anyone can just join the site and start chatting almost immediately.
Scroll down to read the details of our Flingster.com review.
Registration on Flingster.com
Registration can be completed within just a few seconds. You can use your Google account to sign in right away. Those who don't have a Google account can use their email address to create an account. Flingster.com sends a verification mail to your mail address, which can then be used to activate your account.
There is no need for you to give any kind of information about yourself. Our age, sexual preferences and free time activities are evidently of no concern to Flingster.com. Furthermore, we are not required to upload a profile photo. This actually makes sense here. The main feature of this site is random video chatting. This means you can see your chat partners and ask them anything you want to know.
Members' area on Flingster.com
Flingster.com doesn't work like most other dating sites. There is no members' area where you can select various filters to find interesting profiles in your area. This dating site requests permission to use our camera and microphone right away. Then we can start playing by clicking the start button.
We are then connected with a random member who also wants to have a video chat session. If we want to chat with someone else, we just click on 'Next' to chat with a new partner. You are not required to activate your camera. There is a text chat which allows you to communicate without having to speak.
It transpires that most other members don't want to show themselves. The vast majority are actually male. If you are a male user trying to find a woman, you will need to spend some considerable time. Most guys are not interested in talking to other guys and immediately end chat conversations with us. This can be quite frustrating.
There is a feature that allows you just to connect with women. Unfortunately, this feature requires VIP membership. VIP members can also use a private chat facility, search for members in a specific area, and hide ads on the site. However, you have to pay for a subscription to become a VIP member.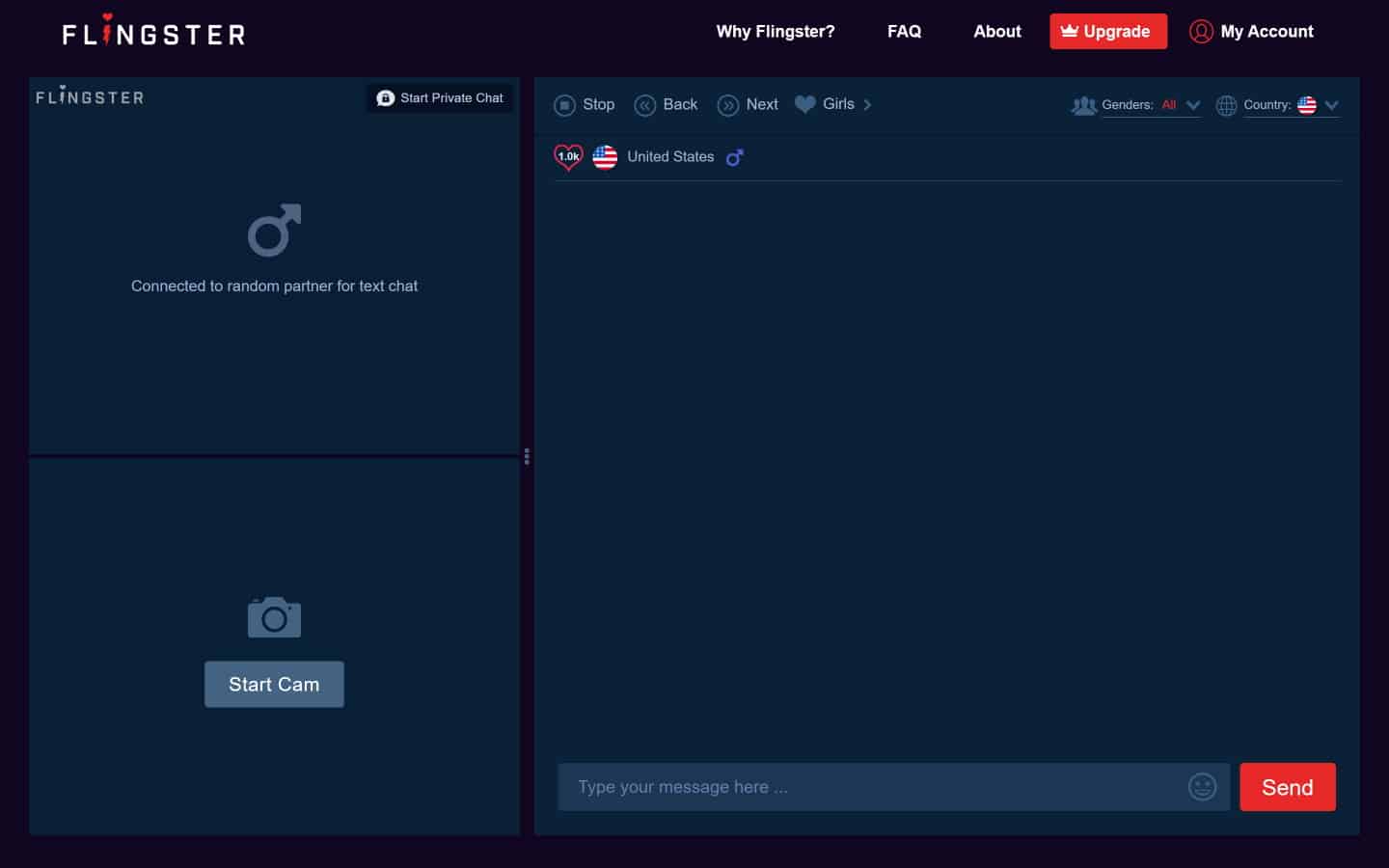 Costs on Flingster.com
A membership upgrade entitles a user to a number of benefits. We can choose from three different types of membership. All entitle you to become a VIP member. They only differ in their length as well as their price. If you go for the longest option, you are granted a higher discount. The shortest option comes with no discount at all. The operator wants to make sure we go for the longest option right away. In our experience, this is what many dating sites do.
You can pay using your credit or debit card. If you purchase the longest membership option, you can even pay using bitcoins or ether. All paid membership options are renewed automatically. You can cancel them at any time to stop this happening. This is why we don't regard this site as a subscription rip-off. However, we are not convinced that purchasing the membership upgrade is really worth it.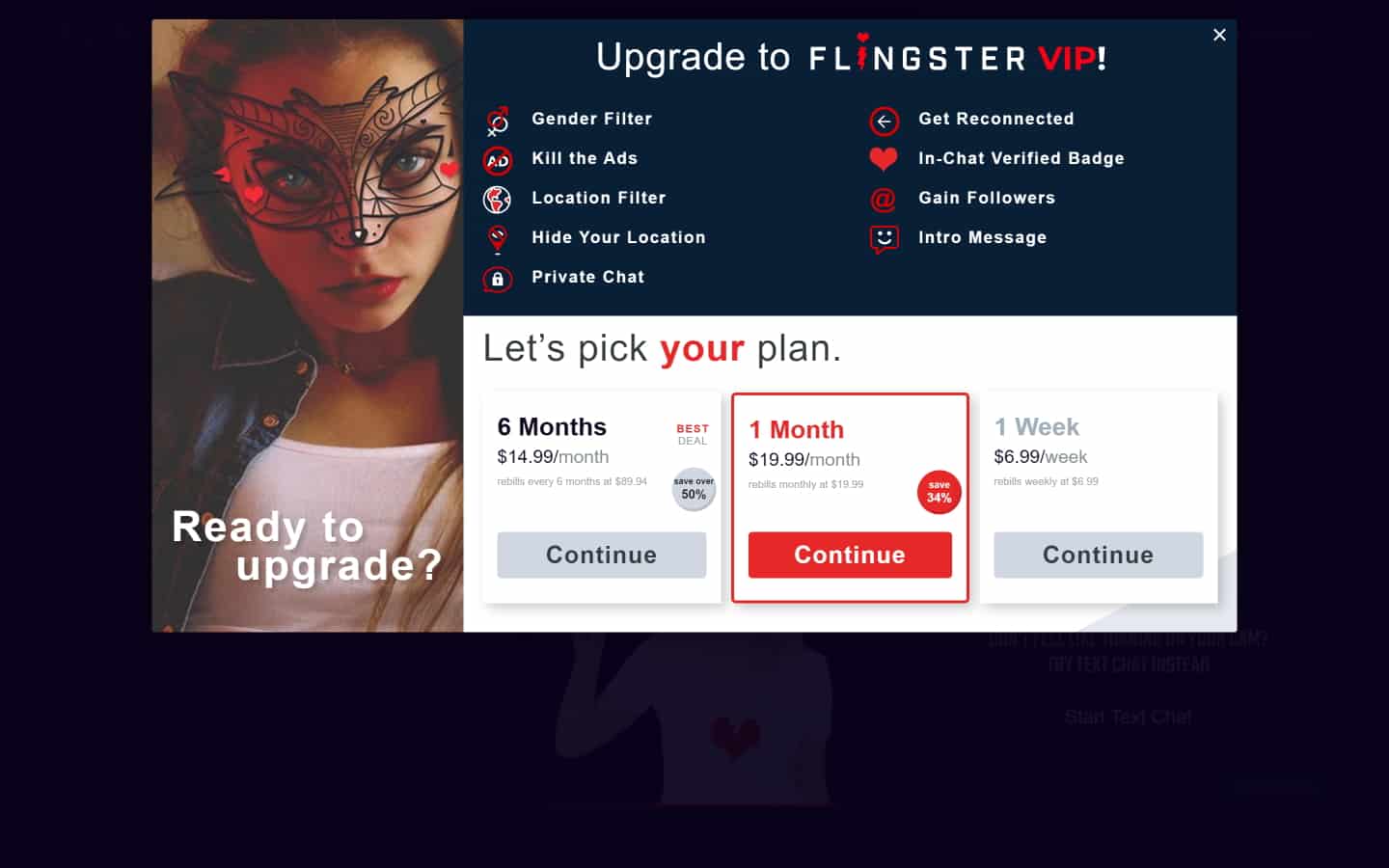 Conclusion from our Flingster.com experience
Flingster.com doesn't appear to be a scam site. According to several online reviews, other users have come to the same conclusion. Nonetheless, our experience on Flingster.com wasn't all that great. You will have a hard time finding any female members in video chats. This site might have a lot of members.
The problem is that most don't use their camera and just bypass you if you are male. Skyline Media LLC is aware of this and offers a premium feature that just connects you with female members. Paid membership versions make using this site more fun. We do however believe you can get more for your money on other dating sites.
Contact data of the operator of Flingster.com
Skyline Media LLC
Suite R
30 North Gould Street
Sheridan / Wyoming
United States of America
info@flingster.com
FAQs for Flingster.com
Here you can find the FAQ (Questions and Answers) for the dating website Flingster.com
What has attracted positive attention to Flingster.com ?
We like the general idea behind Flingster.com. You can video chat with people from all over the world. The large number of users is quite impressive.
What has attracted negative attention to Flingster.com ?
Most members use the chat function without turning their video on. It is difficult to find someone who really wants to chat with you unless you are a woman. Many site features require VIP membership.
What can I do on Flingster.com with a free account?
You can use the main chat feature free of charge. This means you can chat with random strangers from different parts of the world without paying.
Can I really meet someone on Flingster.com ?
Yes, you really can meet people on Flingster.com. Don't expect to find anyone near you, since you will be talking to people from a range of different countries. Most people you can meet here are male.
Is there moderators or bots on Flingster.com ?
We didn't encounter any bots while using Flingster.com. It is possible that some people could sign up here to scam you. We can only advise you to be careful.
How can I cancel my account on Flingster.com ?
You can delete your account under "My Account". Just go to the link at the foot of the page.
Let us know your Flingster.com experience in the comments as well.