FetLife.com review
April 5, 2022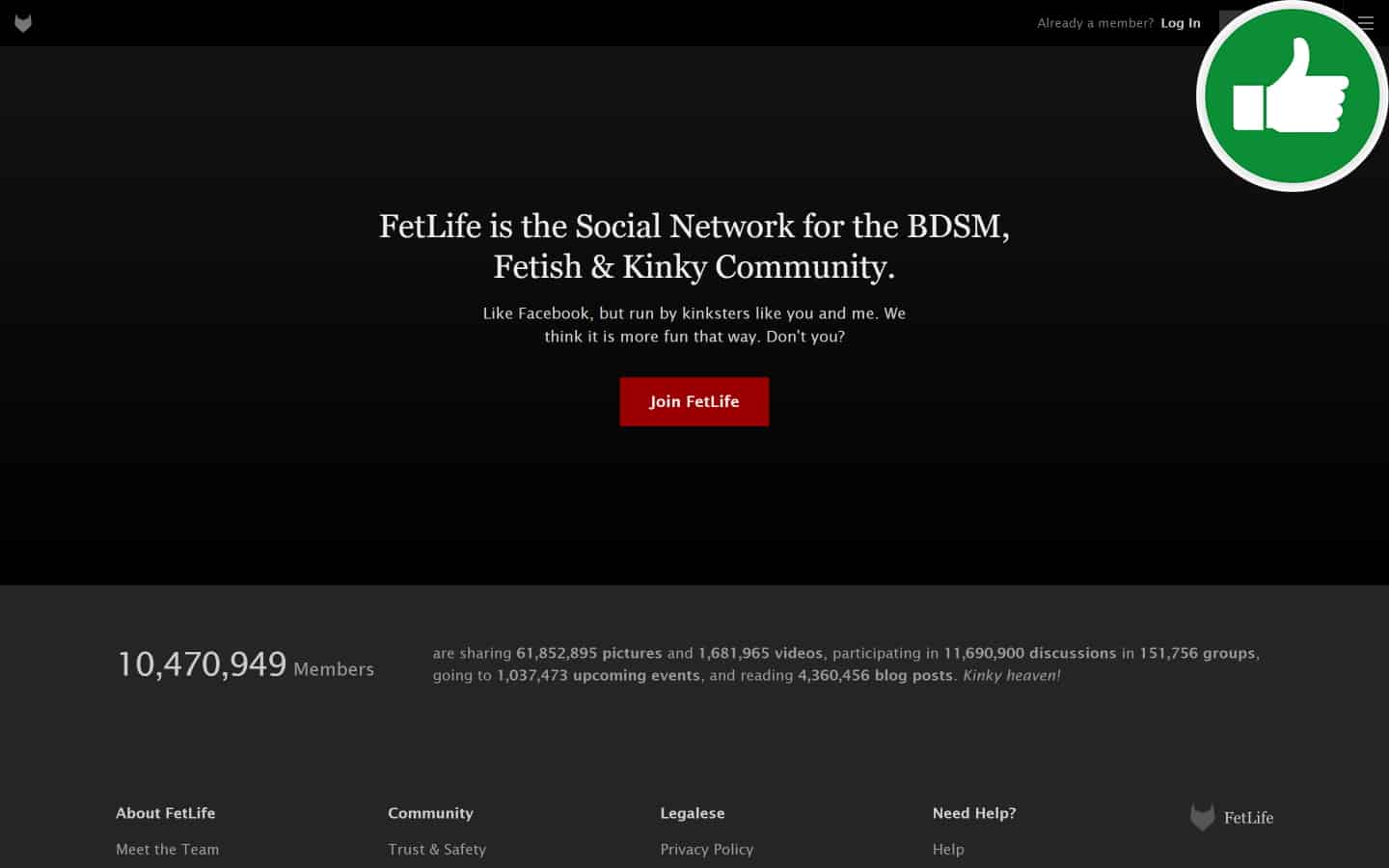 Trustworthy and well-established

Videos only available to paying members
Report on FetLife.com review
FetLife.com describes itself as a social network for BDSM and fetish-enthusiasts. The website is well-established and has a good reputation on the internet. It is home to more than 10 million members worldwide. For this review, we signed up and took a closer look at the site's features, contents, and members. We studied the terms and conditions and searched the web for user experiences and online reviews. Fortunately, we found nothing to suggest that FetLife.com is a scam or rip-off. On the contrary, it seems trustworthy and reliable, and appears to be a very popular choice among the kinky community.
The operator of FetLife.com is BitLove Inc, who are based in North Vancouver, in Canada.
Is FetLife.com a rip-off?
The website FetLife.com is not a rip-off. Our research shows that the site does not use any self-created fake profiles to lure users into any paid services. Also, it does not offer any questionable subscription plans. Most of the site's features and services can be used for free. But users who wish to get the maximum experience and gain access to all content, can also opt for an inexpensive upgrade. FetLife.com is safe and trustworthy.
The terms and conditions are quite lengthy and comprehensive. Studying them carefully, we did not find anything suspicious or questionable. In fact, the opposite is the case. Everything is very transparent, clear, and straightforward. Moreover, in the footer of the landing page, one can even find additional information on topics like "trust and safety", "transparency", "content guidelines", and more.
Altogether, we were very impressed by how professional and transparent FetLife.com is. They obviously do not have anything to hide and are sincerely proud of their services. In our experience, operators of scam websites and online dating rip-offs are always trying to cover up their cheeky strategies. Here, however, there seems to be no necessity to cover up anything.
Scroll down to read the details of our FetLife.com review.
Registration on FetLife.com
Registration on FetLife.com is rather simple and straightforward. After completing a short and basic registration form, users must enter a valid e-mail address. Furthermore, users are required to enter their phone number to receive a registration code and must then verify their e-mail address. Even though the whole process is a little more complicated than on other comparable websites, it only takes a few minutes.
FetLife.com specifically points out that users will only receive a registration code once through their phone number, but will not have to worry about regular messages, notifications, or promotions. Supposedly, this procedure is necessary to ensure a safe environment for the community. Fair enough.
Members' area on FetLife.com
As FetLife.com is a social network rather than an online dating website, there is no "traditional" members' area. The site is like the most popular and well-known social networks out there. Users can browse through their timeline, send friend requests, create posts, upload kinky photos and videos, create, and join groups, and much more.
Under "explore" they can see the latest and most popular public posts. Most of the action seems to take place within the various groups, which are targeted at members with specific interests. It is designed to help users find exactly what they are searching for. Obviously, most content is in some way related and connected to BDSM and all kinds of fetishes.
Costs on FetLife.com
Signing up on FetLife.com is 100% free, and most of the site's features and tools can be used without paying a single penny. However, there are some limitations. Whilst public photos can be viewed by every member, videos cannot. Those who wish to watch videos and gain unlimited access to several additional features, FetLife.com offers a paid "I Support FetLife badge". At only 5 dollars a month, this badge is rather inexpensive. Moreover, FetLife.com offers numerous payment options and there are no automatically renewing subscriptions. Consequently, users do not have to worry about subscription rip-offs or similar scams.
Conclusion from our FetLife.com experience
FetLife.com is a great choice for those who are interested in getting in touch with BDSM and fetish-enthusiasts from all over the world. The site is a well-established social network with lots of features, interesting content, and more than 10 million registered members. Whilst most of the site's features are free, an inexpensive upgrade unlocks additional tools and content. For the best experience, the upgrade is recommended.
Our review shows that there are no rip-offs or scams to be feared here. We did not discover any obvious fake profiles, and there are no risky subscriptions to be worried about. Also, FetLife.com is perfectly transparent, does not advertise with false promises, and does not seem to hold any negative surprises. As we see it, the platform is absolutely trustworthy and can be recommended.
The operator of FetLife.com is BitLove Inc, from North Vancouver, in Canada.
Contact data of the operator of FetLife.com
BitLove Inc
Suite #125
718-333 Brooksbank Ave
North Vancouver, British Columbia
Canada
FAQs for FetLife.com
Here you can find the FAQ (Questions and Answers) for the dating website FetLife.com
What has attracted positive attention to FetLife.com ?
The website is feature-rich, has a large member base, and is absolutely transparent and trustworthy.
What has attracted negative attention to FetLife.com ?
Some features are not free.
What can I do on FetLife.com with a free account?
Create a personal profile, create posts, create, and join groups, communicate with other members, and more.
Can I really meet someone on FetLife.com ?
Is there moderators or bots on FetLife.com ?
No, there are no moderators or bots.
How can I cancel my account on FetLife.com ?
You can easily delete your profile through account settings.
Let us know your FetLife.com experience in the comments as well.