ExtremeChat.com review
September 5, 2022
The result of our ExtremeChat.com review: Our test turned out to be an insufficient dating website.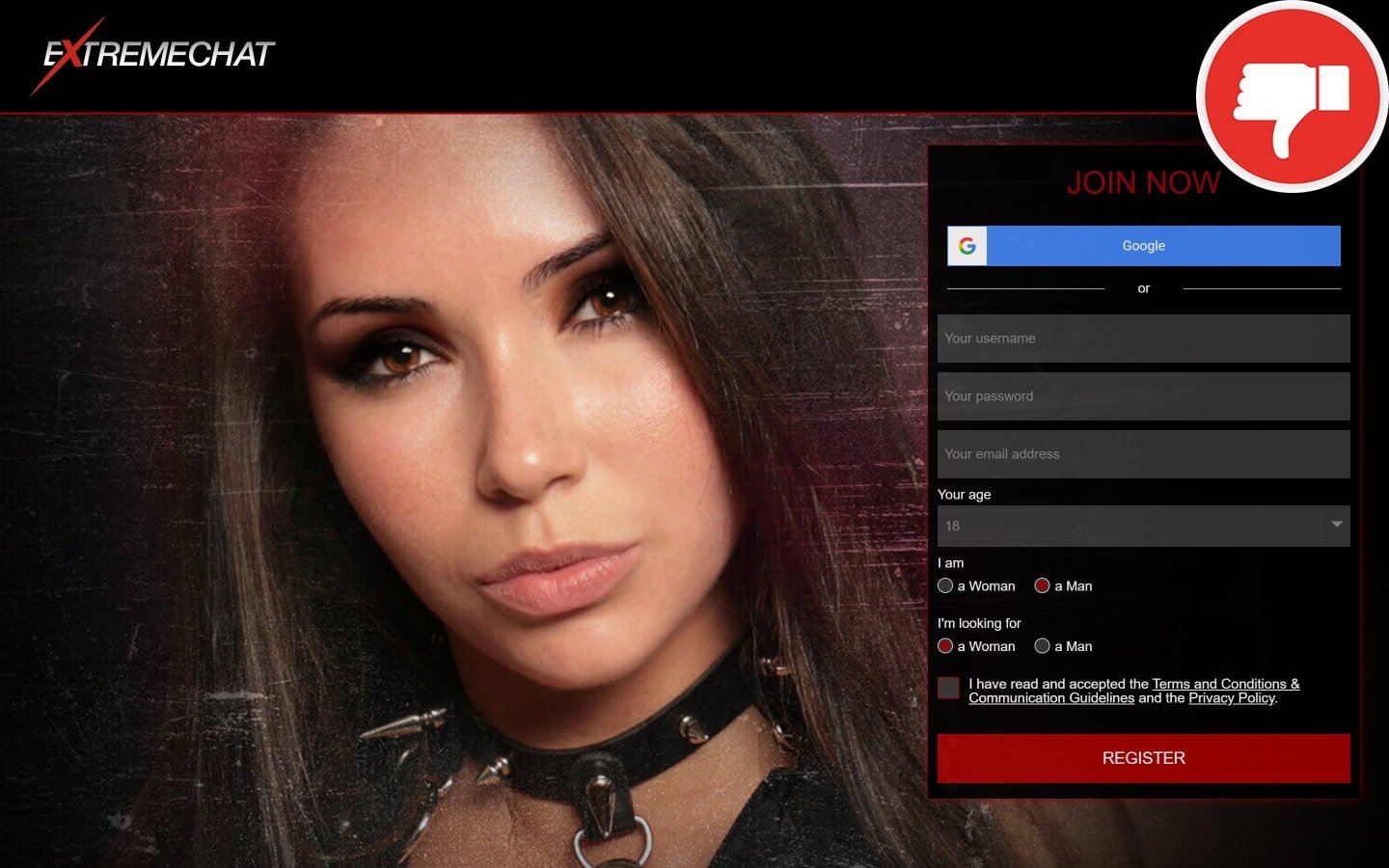 Report for ExtremeChat.com review
The dating platform ExtremeChat.com addresses all those people who are looking for somebody to chat with about their fetishes and fantasies. The landing page promises its users that it is a place where they can talk about anything that gets their blood pumping. Allegedly, everything is simple at ExtremeChat.com. According to them, you just need to sign up and you'll immediately be able to connect with thousands of open-minded members who, like you, are interested in extreme sexual experiences. Let's find out if this platform is legit or not.
ExtremeChat.com presents itself as the best dating website to find like-minded people willing to share their wildest dreams. The landing page doesn't provide a lot of information. However, it appears quite clear that their main target is BDSM lovers who are looking for casual sex encounters. The company that operates this site is Abacus online Global kft, which is based in Budapest, Hungary.
We don't have much experience with this company. Therefore, we didn't really know what to expect from them at first. Thankfully, our review will show you that ExtremeChat.com is just a fake chat scam that should be avoided. Most of the profiles that appear in the member's area are fake. Their only purpose is to rip off genuine members by luring them into buying expensive coins, which are necessary for sending messages.
Scroll down to read the details of our ExtremeChat.com review.
Details on the ExtremeChat.com review
The landing page of ExtremeChat.com presents itself with a poor design that doesn't shine with originality. The picture of a beautiful girl with a leash around her neck makes it quite clear who the target audience is for this site. Apart from that, there is nothing really interesting on the page. If we scroll down to the bottom, we will find a link to the "Help" section. Here in this section, potential subscribers have some additional information.
To access the member's area, you would need to create a profile. In order to do so, you must complete a simple registration form that consists of just 4 mandatory fields: username, password, email, and age. After that, you will receive a confirmation link in your email. This step is not mandatory, but if you decide to do so, you will be granted 100 coins that will allow you to test the platform for free.
The coin system
Coins are virtual items that users can exchange for messages or other services. They can be bought in bundles of different sizes. The price of a single coin seems ridiculous, but there is a catch. Every single message that a user sends will require 50 coins, which approximately equals $1.5. The internet is full of reviews from people who have wasted a real fortune on this site in just a few minutes. Every conversation can quickly turn into an expensive experience.
Selling expensive coins to users is not a scam if the site is a genuine dating platform. It becomes a scam when members don't get anything from what they've paid for. Users are tricked into thinking that after buying coins, they'll be able to chat with other real users from the site. Unfortunately, they'll mostly be interacting with professional chat operators who are impersonating a real user from the platform. As a result, it's mostly impossible for genuine users to meet someone for an actual date through this site.
The following excerpt is from the Terms and Conditions
Abacus uses professional animators and operators for the entertainment of the Users, who are not identified separately in the system. This Service is provided in the highest quality. Real meetings are not possible with these operators. Users can only send them messages within the portal.
Who is responsible for this fraud?
Abacus online Global kft is the dating service provider for ExtremeChat.com. They are based in Budapest, Hungary, a major hotspot for scammers who runs untrustworthy dating platforms.
The conclusion from our ExtremeChat.com review
After extensive research, ExtremeChat.com turned out to be a blatant rip-off. The member's area is packed with fictional profiles that don't belong to any real user. These accounts cannot be distinguished from genuine ones, for ExtremeChat.com does not disclose this information. Any a user receives a message on this site, chances are that it was sent by a "fake chat" operator. Since nobody can be trusted on this platform, the chances of arranging an erotic date are close to zero.
Let us know your ExtremeChat.com experience in the comments as well.