The result of our ErotiLink.com review: Our test on ErotiLink.com turned out to be an insufficient dating website.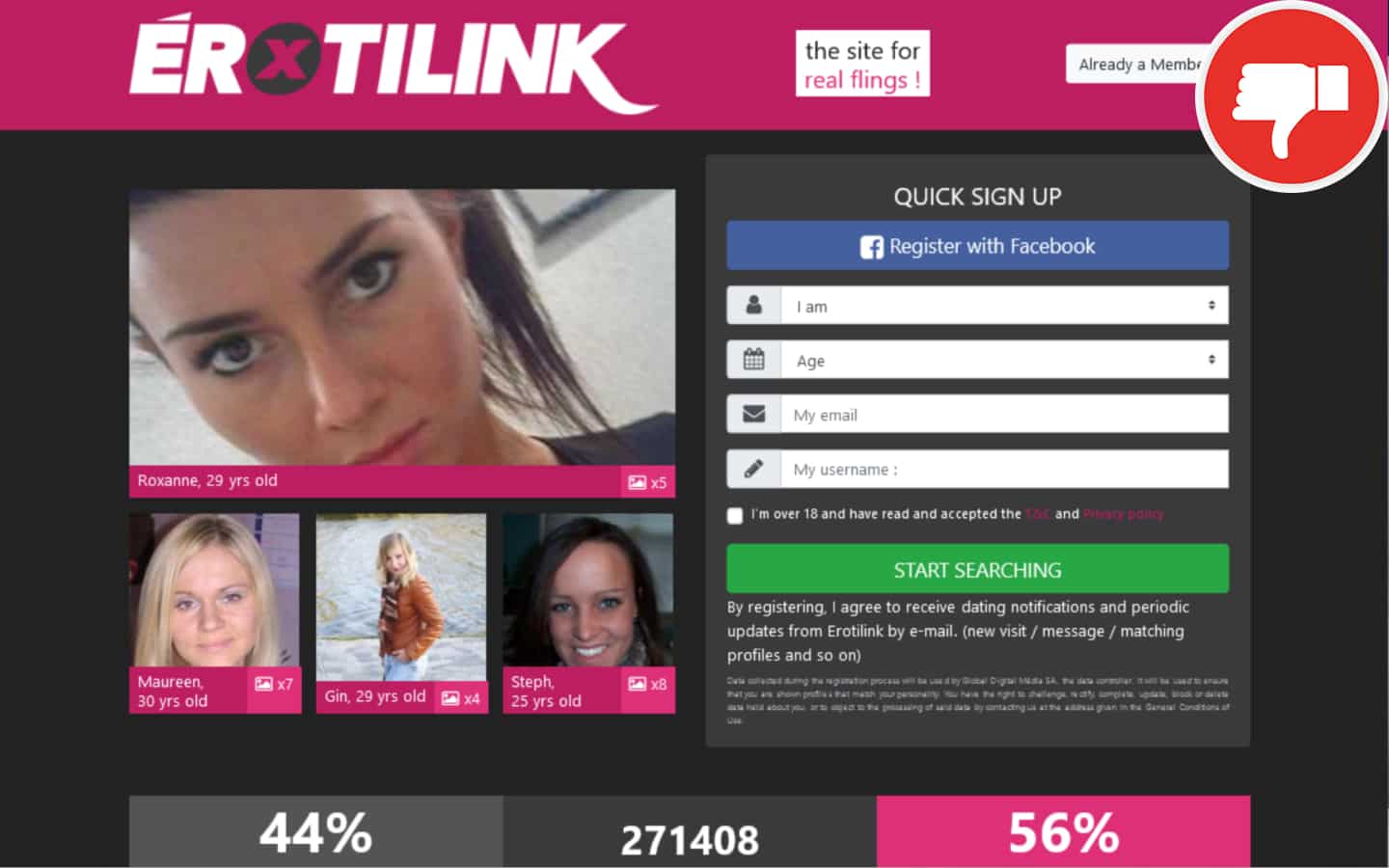 Report for ErotiLink.com review
The dating site ErotiLink.com offers free registration and advertises with a very high number of members, the majority of which are female. The lack of user reviews makes us question the seemingly high popularity of the site. You can find a few reviews for ErotiLink.com, but all of them are negative. The reason for this is a fake chat scam.
Non-paying members can like other profiles, but they cannot use the chat function. If you desire to get to know the other members, paying for a premium membership is the only way to go. After doing enough research, we can assure you that it is just not worth it. The other members do not appear to be real. Furthermore, the cheap trial membership is in fact a subscription trap. Global Digital Média SA, who are based in Genève, Switzerland, is the operator behind this scam.
Scroll down to read the details of our ErotiLink.com review.
Details on the ErotiLink.com review
The front page of ErotiLink.com shows us an impressive number. According to the operator, almost 300,000 users have registered this week alone. Most male users should also be delighted to see that there are more female than male users. We sign up to find out why so many people chose this site. Later, we are informed that male users unlike female users, must pay for a premium membership, if they want to chat. Most of the female member profiles are created by the operator. They use the chat for free and manage to make the male users pay.
The operator is trying to fool you
We try to find a statement concerning the usage of fake profiles in the terms and conditions, but we fail to do so. From experience we know that this does not mean a thing. Everything seems to indicate that this site is full of moderated fake profiles. We create an empty profile and receive messages from attractive female members, which is more than suspicious. There is a reason ErotiLink.com is a moderated dating service. The operator wants us to upgrade our membership for money, which is the only way to chat.
A clever way to get your money
The site's shop opens as soon as we click on a message in our mailbox. Apparently, we cannot even read our messages with our basic membership. The operator offers a short trial for users who hesitate to pay a lot of money for a regular paid membership. The trial membership lasts 3 days and costs one dollar. In the fine print we are informed that this membership does not only just expire, but transforms into an expensive membership.
The only way to avoid this is to submit a cancellation within the three days. There is a reason why this information is hidden at the bottom of the shop's page. The users are not supposed to find out. This dating site is a subscription rip-off operated by Global Digital Média SA. The company is situated in Genève, Switzerland. They are responsible for a big network of scam sites.
The conclusion from our ErotiLink.com review
The front page of ErotiLink.com is very convincing and makes you believe that this is a popular and legit dating site. The opposite is true. This site is a rip-off full of fake profiles. These fake profiles are moderated, which means that fake chat operators use them to chat with the users. Only male users who pay for their membership can use the chat. The cheap trial membership seems to be the right solution but turns out to be a trap.
Let us know your ErotiLink.com experience in the comments as well.