DivorcedHookup.com review
August 12, 2022
The result of our DivorcedHookup.com review: Our test turned out to be an insufficient dating website.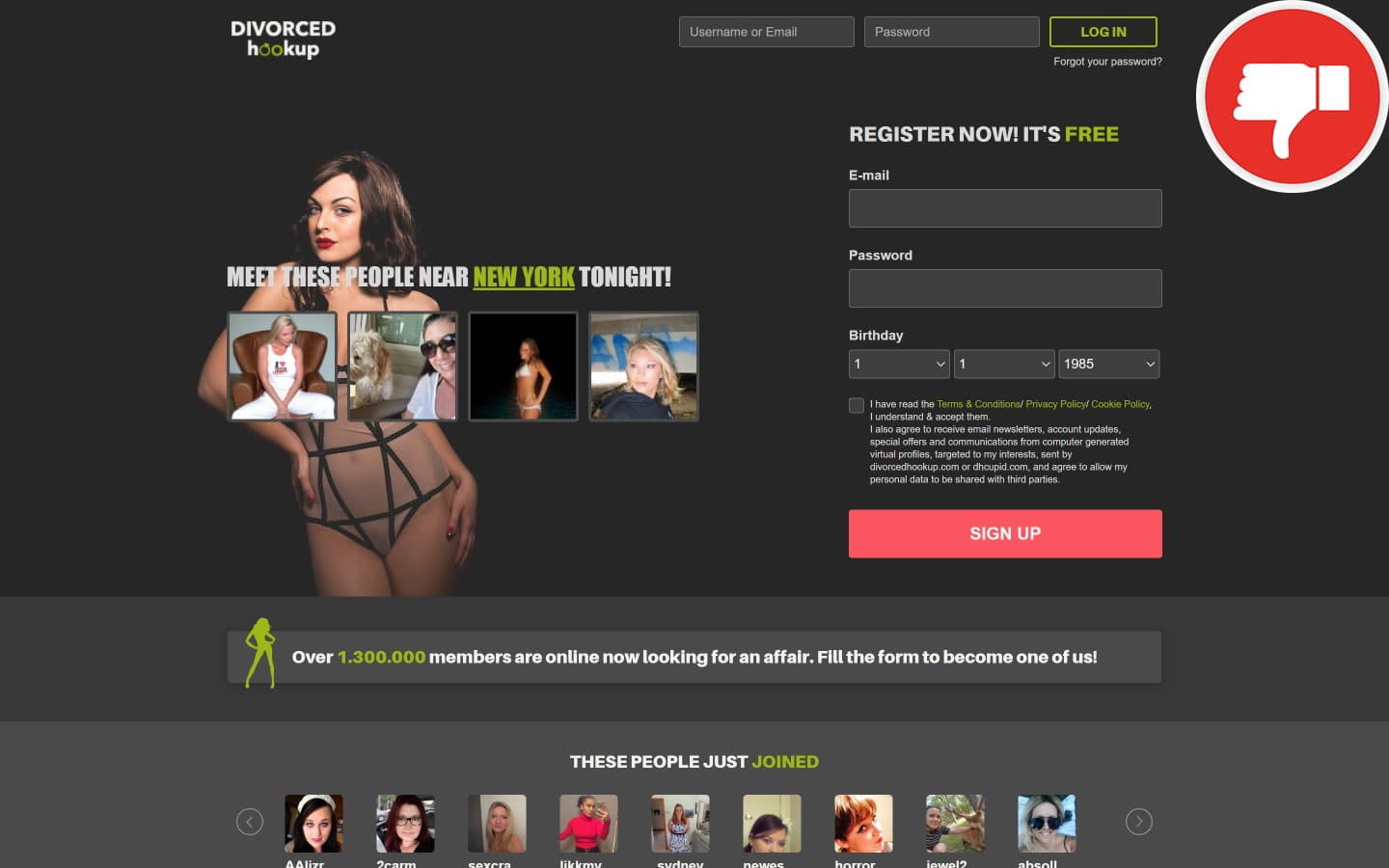 Report on DivorcedHookup.com review
The dating website DivorcedHookup.com advertises with a great offer. On the landing page, we can read that over 1 million members are online right now, looking for an affair. Apparently, a free registration is all that stands between you and your wildest dreams coming true. At first sight, it looks like they offer the ultimate online dating experience. Nothing is better than a free platform with a huge member pool of open-minded people, who are looking for exciting dates.
To verify the authenticity of these claims, we created a test profile, checked the legal documents, and searched the internet for former users' reviews. It turns out that DivorcedHookup.com is a fake chat scam, with a possible subscription rip-off. Most of the profiles that you will interact with do not correspond to any real member. They are created by the company, with the only purpose of luring you into purchasing a paid membership, which is suspected to be a trap. Contrary to what is stated on the initial page, DivorcedHookup.com is not free.
Learn Virtual Ltd is the operator of this platform. This company from Haverhill, UK, is responsible for a large network of untrustworthy dating websites. They also have a nasty reputation on the internet. They constantly receive negative reports from past users who complain about fake chats and dangerous subscriptions.
Is DivorcedHookup.com a rip-off?
We have already encountered this operator several times. All our previous experiences with them have been disappointing. DivorcedHookup.com is not any different. This platform is just another scam with a fake chat. In the Terms and Conditions, they acknowledge that you may interact with false profiles which are not marked as fictitious. These accounts are controlled either by real persons, who impersonate a fictional character, or by automated programs, the so-called 'chatbots'. In either case, your chances of arranging a real-life date are virtually non-existent.
Since it is impossible to distinguish fake profiles from genuine ones, you cannot trust anybody on DivorcedHookup.com. The ultimate goal of this dirty trick is to encourage you to purchase a premium membership. Without that, you cannot send messages. The company operates an automatic renewal billing policy. This means that all paid subscriptions will keep extending until cancelled by the user. According to what we read in the Terms and Conditions, the cancellation should be fairly easy.
Unfortunately, we have come across some reviews from former subscribers. They accuse this company of making the cancellation very difficult. Clear evidence is missing, but this sounds a lot like a subscription rip-off. Since spending money on DivorcedHookup.com is useless anyway, we recommend you stay on the safe side, and do not sign up for any of these premium memberships.
Scroll down to read the details of our DivorcedHookup.com review.
Registration on DivorcedHookup.com
To create a profile on DivorcedHookup.com, you must complete the registration form that you find on the landing page. The whole procedure takes less than a minute. All you need to do is provide a username, password, email, gender, age, and location. After that, you must write a short description of yourself, with a minimum of 5 words. Plus, you will be given the option of uploading a picture, which is not compulsory. You will not be asked to verify your email address.
The registration form briefly explains that you may receive communication and special offers from computer-generated virtual profiles. For anybody who is not familiar with dating platforms, this is not enough to realize that DivorcedHookup.com is a scam. Moreover, nothing is said about costs and subscriptions. This lack of transparency is another indicator that this operator should not be trusted.
Members' area on DivorcedHookup.com
The member area of DivorcedHookup.com makes a decent first impression. You can access all the most important sections from the menu at the top of the page. This makes it easy and straightforward to navigate the platform. However, some links, such as 'live cams' and 'sexy games' redirect to external platforms, which is quite annoying. The free basic registration allows you to see who is online, and who lives close to you. Also, you can to visit all the profiles, and see other members' pictures. But to communicate with other users, you must become a premium member.
Immediately after our registration, we received a lot of attention. In less than 10 minutes, we already had many messages from good-looking ladies, who were willing to chat with us. Since we did not upload any pictures, this is highly suspicious. The chances are, that all these messages are coming from fake profiles.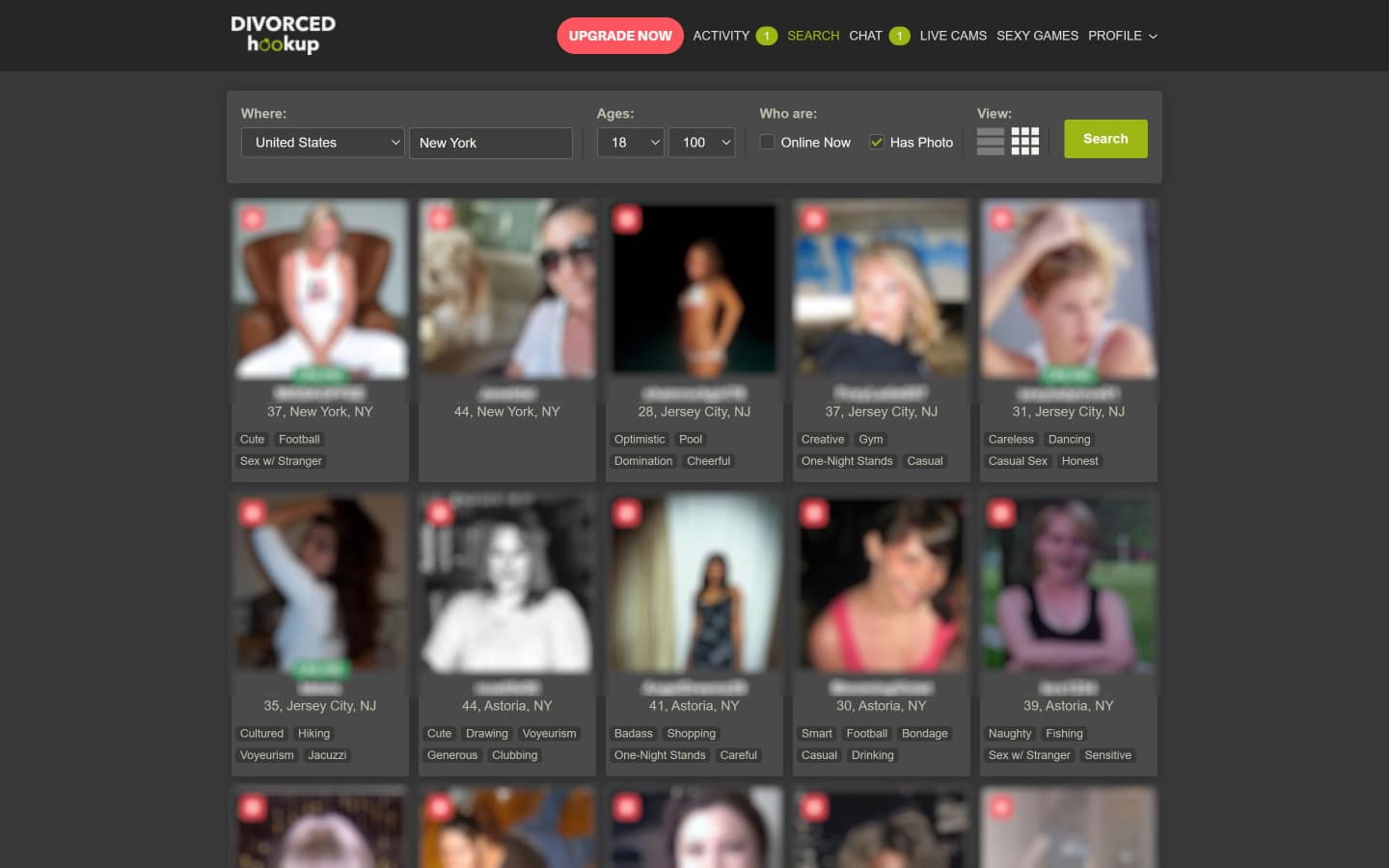 Terms and conditions of DivorcedHookup.com
Extract from the terms and conditions from the DivorcedHookup.com website. Current status of the terms and conditions as of August 12, 2022.
From time to time, while You use Our Services, You may interact with automated online accounts and/or false profiles, which all its content has been generated by either: a) real persons that have been only contracted or employed by Us for the purposes set-forth below; or/and b) by automated programs or scripts, which dialogues none really exist and have been generated exclusively by programming ("Automated Profiles").
Costs on DivorcedHookup.com
To unlock the chat features, you must buy a premium membership. DivorcedHookup.com offers 3 options. 1 month, at $29.95, 3 months, at $19.98 per month, and 6 months, at $16.66 per month. Payments can be made by credit card. As already explained, all subscriptions renew automatically. An automatic renewal policy is not a scam in itself. However, the bad reputation of the operator is enough for us to suggest that you not spend any money on this platform. Even if we couldn't find clear evidence, there are strong possibilities that this is a trap.
Conclusion from our DivorcedHookup.com experience
DivorcedHookup.com presents itself as the perfect place to get in touch with thousands of open-minded people, who are looking for fun and affairs. After extensive research, we can guarantee that this will never happen. The member's area of this platform is full of fictional profiles. These are not identified separately in the system. Since you can never be sure whether you are talking with a genuine member or not, your chances of meeting somebody in real life are close to zero.
Moreover, we have found several negative reviews about the site's operator, who are Learn Virtual Ltd, from Haverhill, UK. They always use a fake chat to entice members into a premium membership. This is suspected to be a trap.
Contact data of the operator of DivorcedHookup.com
Learn Virtual Ltd
Office A, Menta Business Centre
21-27 Hollands Road, Haverhill
Suffolk, CB9 8PU
United Kingdom
support@divorcedhookup.com
FAQs for DivorcedHookup.com
Here you can find the FAQ (Questions and Answers) for the dating website DivorcedHookup.com
What has attracted positive attention to DivorcedHookup.com ?
The landing page of DivorcedHookup.com looks quite promising. They advertise with free registration and a huge member's pool.
What has attracted negative attention to DivorcedHookup.com ?
DivorcedHookup.com is a scam with a fake chat and a possible subscription rip-off. The site's operator is already infamous for many other similar dating platforms.
What can I do on DivorcedHookup.com with a free account?
A free account allows you to create a profile, upload a picture, and navigate the member's area.
Can I really meet someone on DivorcedHookup.com ?
Since most of the profiles are fake, it is almost impossible to arrange real-life dates.
Is there moderators or bots on DivorcedHookup.com ?
In the Terms and Conditions, DivorcedHookup.com admits to using fake profiles, controlled by professional moderators and/or bots.
How can I cancel my account on DivorcedHookup.com ?
To delete your account, you must fill out the relevant form, which you will find in the 'help' section of the platform.
Let us know your DivorcedHookup.com experience in the comments as well.