The result of our DirtySexContacts.com review: Our test on DirtySexContacts.com turned out to be an insufficient dating website.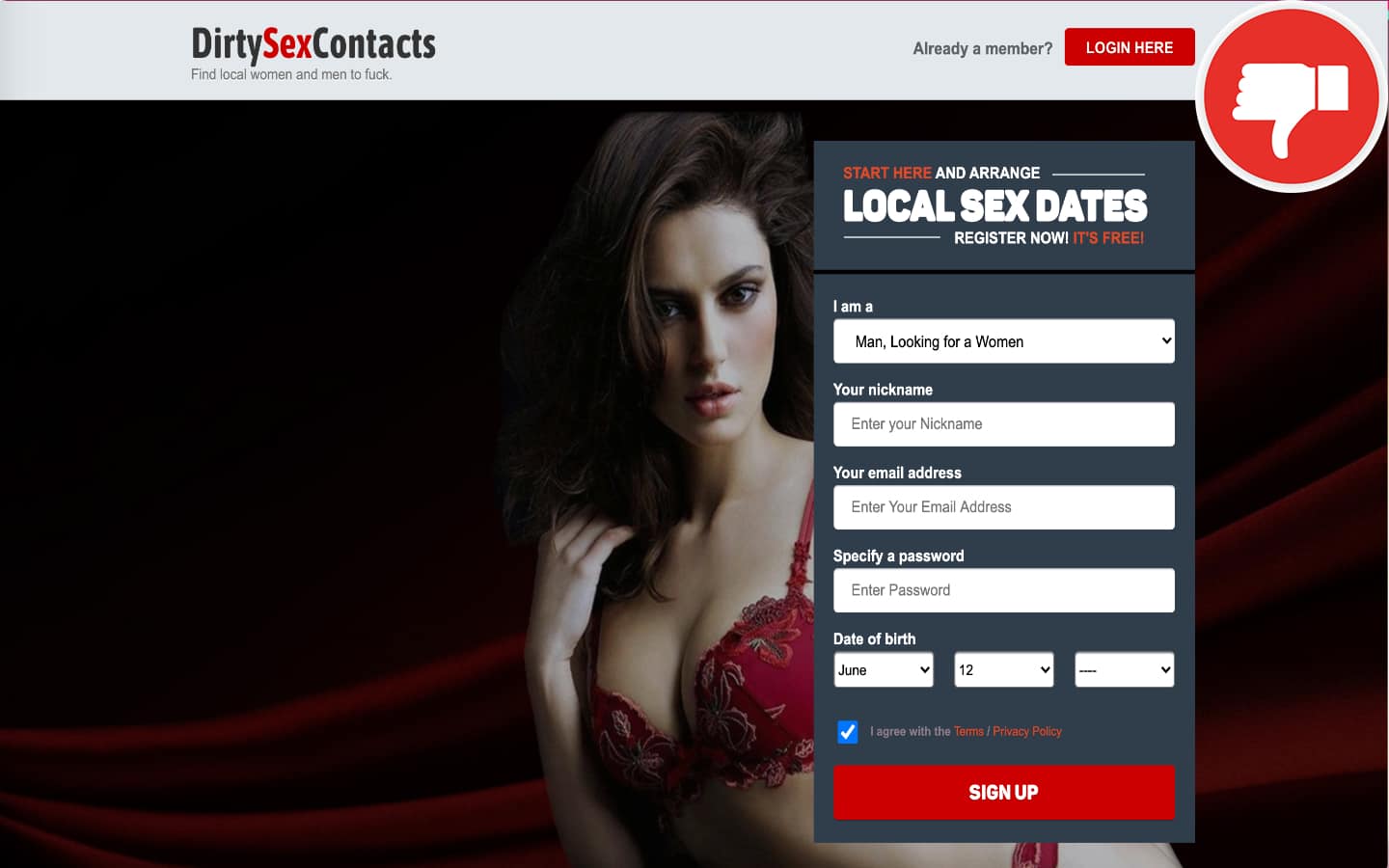 Report for DirtySexContacts.com review
Our test of DirtySexContacts.com has proven to be a poor excuse for a dating website.
An erotic landing page is what you first see when you arrive at DirtySexContacts.com. If you scroll down you see 90's style profile pictures of various members which doesn't look professional at all. They claim you can meet local women and men in your area. However, what we found is that this dating portal is a fake chat scam.
Scroll down to read the details of our DirtySexContacts.com review.
Details of the DirtySexContacts.com review
This site is a part of a network of dating sites, that all share one database of user profiles. When we see this we know that this is a sign of a scam. Many dating sites are connected through the same network and are therefore the same site. Sites, where they mention your city specifically, means that they are tracking your IP address. DirtySexContacts.com is a public site. Any person who visits this site can see your profile. If you need full privacy and discretion, this is not the site for you!
It's clear that nothing here is real. From the moment you set up an account, you immediately start to receive a ton of messages. Whether they come in the form of emails or messages directly to your inbox, it doesn't take long to find dozen of messages from hot girls looking to hook up.
However, this is where the scam begins. The moment you want to read or respond to any of the messages, you realize that you have to buy "coins" in order to do so. And, as it turns out, these messages are not even generated by real people. They employ third party contractors who use fictitious profiles or computer-generated bots. These contractors and bots are only there to entice the user into long and endless chats in order to get more money from them.
How do we know this for sure? By checking the terms and conditions. It clearly states that:
"In order to enhance your amusement experience, to stimulate you and others to use our Services more extensively, and to generally sprinkle some sparkle and excitement into the Services of DIRTYSEXCONTACTS.COM, we may post fictitious profiles, generate or respond to communications by means of automated programs or scripts that simulate or attempt to simulate your intercommunication with another real human being (though none really exists and any dialog is generated by programming), and we may employ or contract for the paid services of real persons who may interact with you as part of their compensated employment. While these communications may seem genuine, authentic, and personal, they may be broadcast simultaneously to a large number of persons and possess none of these qualities. While their contents may appear to be true, they may be quite false; while their contents may appear to sincere, they may be quite disingenuous."
The operator of DirtySexContacts.com looks to be purposely hidden. They seem to be located in the US, but we cannot say for certain. When you see something like this it is a dead giveaway of a company being fraudulent and a scam.
These are enough signs for us to know that this a rip-off and an untrustworthy company.
The Conclusion from our DirtySexContacts.com review
DirtySexContacts.com is a fake chat scam. The website may advertise local steamy dates, but in the end, it is filled with fake profiles that are operated by bots and/or third-party contractors. There's nothing good about this dating site and you're never going to bang anyone ever. It is nothing but a scam and a rip-off!
Let us know your DirtySexContacts.com experience in the comments as well.