DirtyMuffin.net review
November 25, 2022
The result of our DirtyMuffin.net review: Our test turned out to be an insufficient dating website.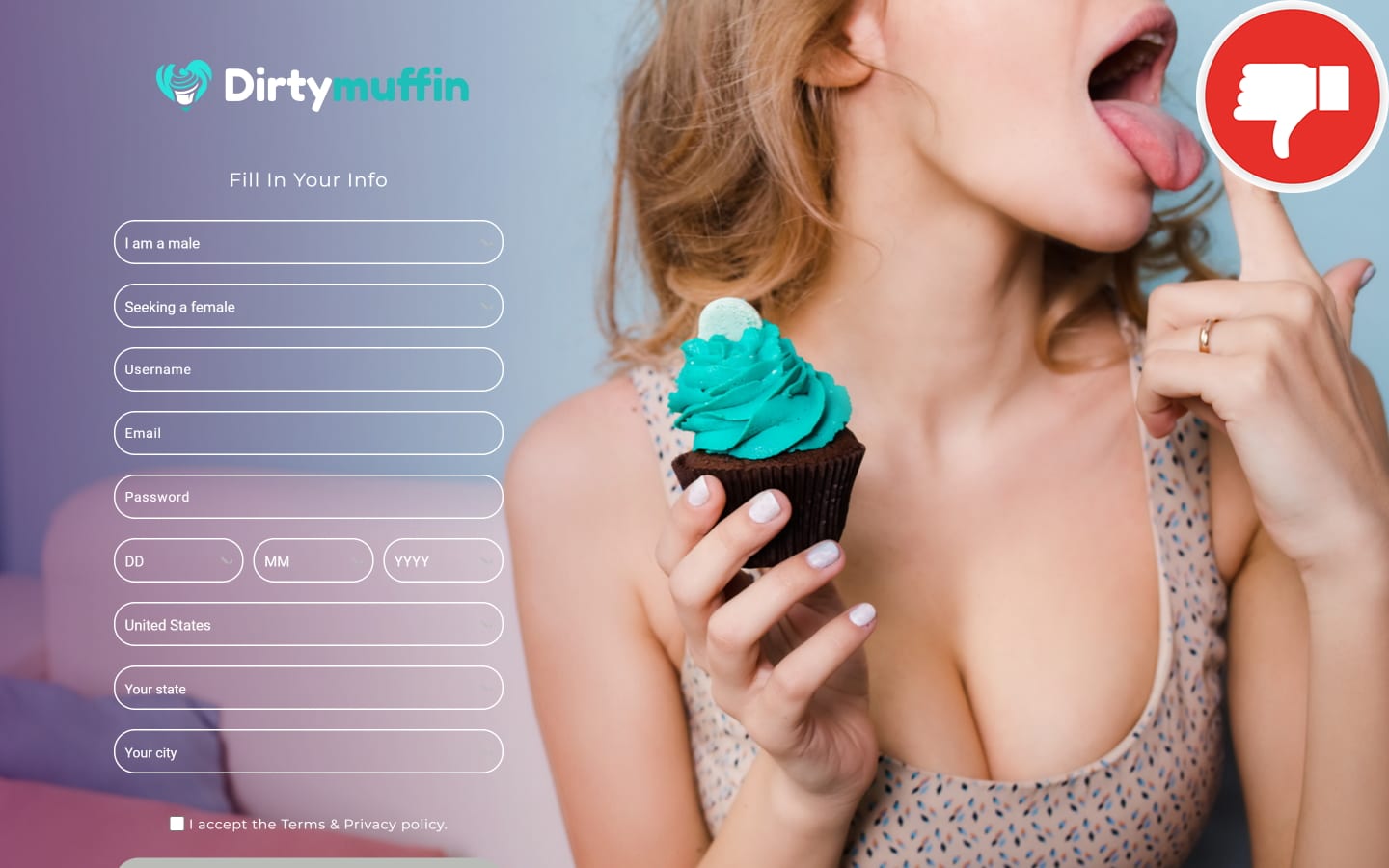 Report for DirtyMuffin.net review
DirtyMuffin.net advertises a fun and exciting experience, for people who are looking to meet local dates. It offers fast and free registration, and states that it is easy to start chatting and having fun on the site. The layout and design of the homepage is visually appealing, which makes the site seem like a solid platform. Looking at the Terms and Conditions, we noticed that the website operator is Take Two Digital Ltd, which is a company based in Paphos, Cyprus.
This operator has a bad reputation with both us and other reviewers on the internet. They are known for conducting rip-offs with fake chat scams. Sadly, our review found that DirtyMuffin.net is no different. In our experience investigating the site, we discovered that it employs fake chat operators, who run fictitious profiles. This is based on numerous user reviews, as well as our own observations. Overall, we concluded that the chances of finding a real date here are low.
We also found that this website is not free to use. The site misleads users into thinking that there are no extra charges associated with their services, but there are. Sending messages here is expensive, as users must pay for each message they send, with virtual "coins." Therefore, you could end up spending a fortune in just one conversation, with a fake chat operator.
Scroll down to read the details of our DirtyMuffin.net review.
Details on the DirtyMuffin.net review
In our experience reviewing DirtyMuffin.net, we discovered it to be a fake chat scam. The operator of this website is notorious for running a large network of similar rip-off dating websites. Though DirtyMuffin.net presents itself as a reliable and exciting place to find local hookups and dates, this is not the case.
We investigated the Terms and Conditions and found that operator hires employees, to chat with real members. Also, each message you send on this platform requires a payment. The operator of this website is Take Two Digital Ltd, from Paphos, in Cyprus. We have previously written negative reviews about multiple sites from this company.
Fictitious profiles and chatbots
We thoroughly looked over the Terms and Conditions of the site. The operator admits to using fictitious profiles, referred to as "system profiles." It states that these accounts are either employees who impersonate the people shown in the profiles, or are automated chatbot, which are computer programmed. Furthermore, the terms state that these profiles are meant to enhance the "entertainment" of users. They do this by sending messages and engaging them in conversation.
This is a scam because most people cannot tell a fictitious profile apart from a real one. They may believe that they are paying to send messages to a person who they can meet in real life. In fact, it is a computerized bot, or employee of the site. Users are not adequately notified that they are engaging in a fantasy and entertainment service, and not a dating platform. Since there is no way to meet these in genuine profiles for real dates, this is a rip-off.
From the Terms and Conditions
The Company operates system profiles (i.e. profiles connected to Accounts which have been created by the Company and which are either operated by contractors of the Company who impersonate the persons portrayed in such profiles or by a system designed to interact with users) and expressly reserves the right to chat with users through such system profiles in order to enhance the users' entertainment experience. Physical contact with individuals behind such system profiles is strictly prohibited.
Expensive virtual currency
To chat on this website is not free. If you try to send a reply or message to another member, who is likely fictitious, you will quickly notice that you need to buy some virtual currency first. The currency on this site takes the form of 'coins' and is very expensive. Members must purchase a bundle of coins, which they can then use to pay for every single message they want to send.
From the Terms and Conditions
In order to be able to communicate with other users you must spend coins. Such coins may be purchased in coin packages in prices displayed on the Site.
The conclusion from our DirtyMuffin.net review
In our experience on DirtyMuffin.net, run by Take Two Digital Ltd, from Cyprus, we found that it is a fake chat scam. We researched the website thoroughly and discovered that the operator has many negative reviews and accusations of being a rip-off. The terms of service reveal that the site uses fictitious accounts, which are operated by the website staff, or an automated program. These profiles will send out enticing invitations to chat, but users must buy an expensive virtual currency to chat with them.
Let us know your DirtyMuffin.net experience in the comments as well.