The result of our Cum2Date.com review: Our test on Cum2Date.com turned out to be an insufficient dating website.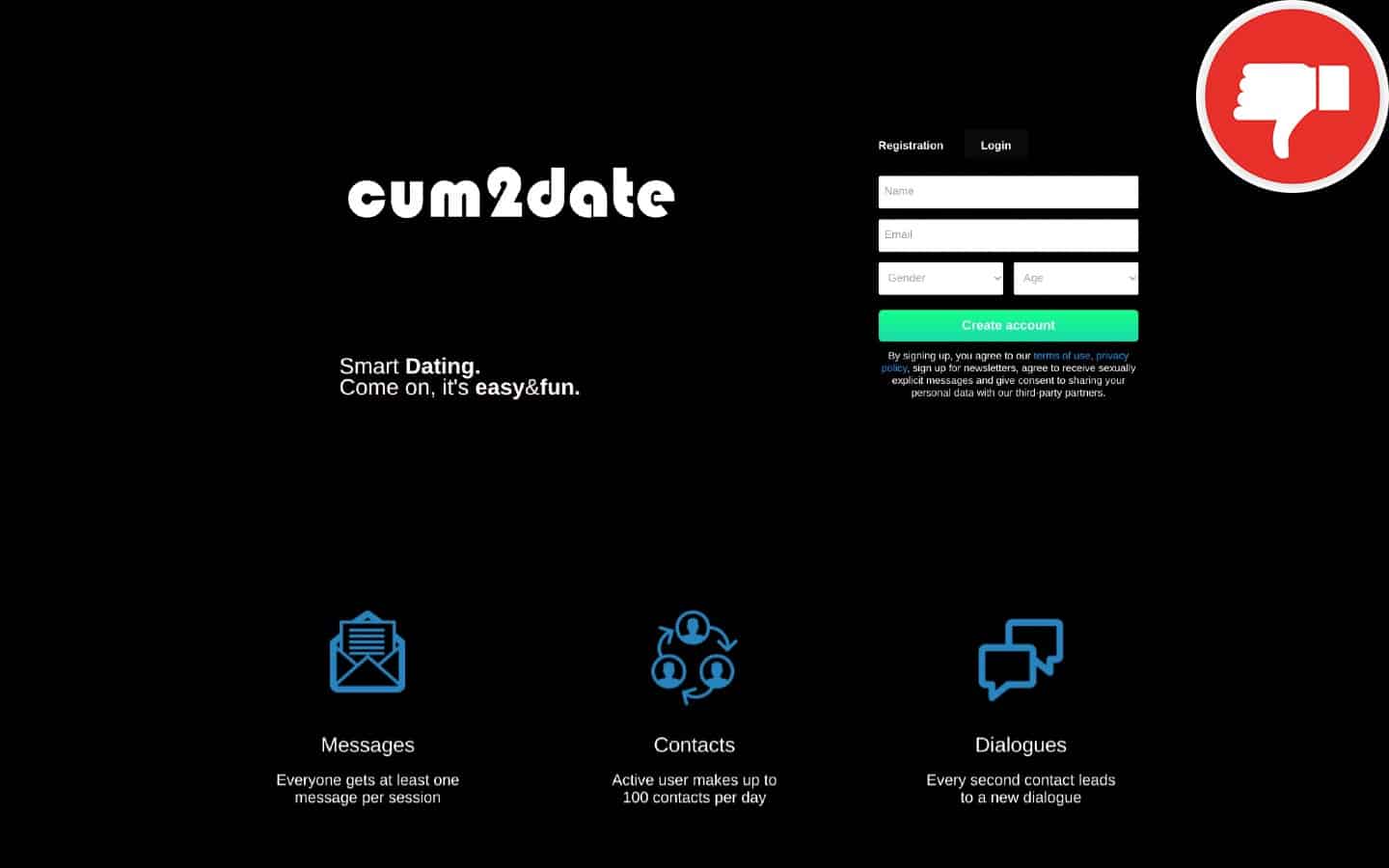 Report for Cum2Date.com review
Cum2Date.com advertises with free registration. More information is not provided on the landing page. So, we did some research on the internet and found many negative reviews. This online dating portal has a poor reputation. This website appears to be a fake chat. Former users had the experience of chatting with a moderated fictional profile.
We know for certain that this website is a subscription rip-off. On the internet, we found many reviews about that. Plus, the operator of the website is well-known for this kind of scam. By using simple tricks, the user is persuaded to make a purchase. The premium-membership is a trap and will extend again and again. Digital International Inc is the company operating this site.
Scroll down to read the details of our Cum2Date.com review.
Details on the Cum2Date.com review
The online dating portal Cum2Date.com does not offer a lot of information on the landing page. We only know that the registration is free. Plus, the operator claims that you will find a lot of erotic fun here. But we did not read about actual dates. So, we had to do some extra research to find out more about this portal. We found many reviews about the site. Unfortunately, those reports were all negative. Former users were not satisfied with the service of the site. They mention fake profiles which are controlled by fake chat operators.
According to information on the internet, the members´ pool is full of fake profiles. Fake chat operators manage the profiles that show fictional people. They stimulate new users to make a purchase. But the fake chat operators will not identify as a fictional person, and fake profiles are not marked as such. In the legal information, we read that this website is for "entertainment" only. That is a common expression for moderation. In this case, it is a fake chat because the user does not get any information about it. Plus, moderation is only mentioned with a synonym.
We found the following
statement
in the terms and conditions
b.In addition to the preceding paragraph and other provisions of this Agreement, any statement that may be posted on the Service is for informational and entertainment purposes only and is not intended to replace or substitute for any professional financial, medical, legal, or other advice.
This website is not good at all
The purpose of moderation is not the entertainment of the user. As we see it, the actual purpose is to lure new members into a subscription trap. Costs will occur after the free registration for a premium-membership. This will renew automatically if it is not terminated in time. That is nothing bad, in general. On a dating portal which uses moderated fake profiles, it is senseless to pay. Moreover, the membership appears to be a subscription rip-off, according to the reviews on the internet. The operator of the site is Digital International Inc, who are based in Washington, USA.
The conclusion from our Cum2Date.com review
Cum2Date.com is a scam with a fake chat and a subscription trap. According to the information on the internet, costs will occur for an expensive membership which will end in a trap. Plus, the profiles on this website are fake and controlled by fake chat operators. They will stimulate new users into a chat. But the user does not know about moderation. The reputation of this site is awfully bad.
Let us know your Cum2Date.com experience in the comments as well.