The result of our CitySweeties.com review: Our test on CitySweeties.com turned out to be an insufficient dating website.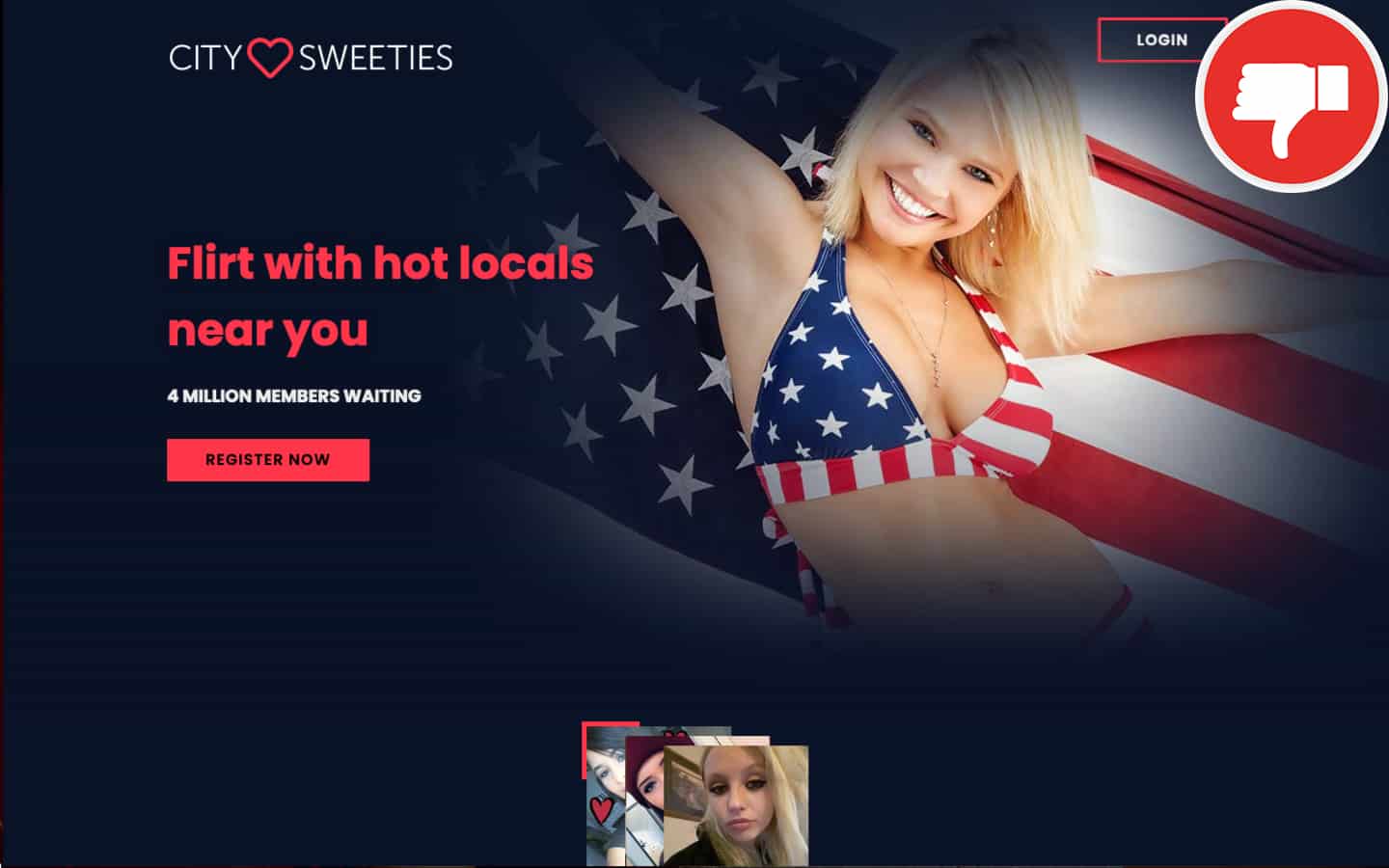 Report for CitySweeties.com review
The dating website CitySweeties.com advertises free registration and the possibility of flirting with hot locals. Since there is not much to be read on the front page, signing up seems like a good way to learn more. Before doing so, we conduct further research online and find out that CitySweeties.com is merely a scam.
It is pretty much impossible to get in touch with other members without spending a dollar. We must convert our real money into virtual credits which can then be used to send messages in the chat. Just like the other scam websites operated by Meteor Interactive B.V. based in Utrecht, this one is full of fake chat operators who rip off the users.
Scroll down to read the details of our CitySweeties.com review.
Details of the CitySweeties.com review
The front page shows a photo of an attractive girl holding the flag of the USA. It seems obvious that this website aims at people living in the United States. According to the operator around 4 million people have registered so far, which is quite a lot. We do not believe this number to be true. A website that popular would surely have left its traces online. However, we only find a few reviews for CitySweeties.com and all of them are negative.
To really find out what is wrong with CitySweeties.com, you must read the terms and conditions. This is where the operator announces that CitySweeties.com is just a fantasy entertainment Service that consists of fictional profiles. These profiles are taken over by professional fake chat operators who work for the company.
This is how the operator describes it in the terms and conditions
You also understand that this is a fantasy entertainment Service and that (i) the profiles are fictional and your interactions will be with operators;
If you scroll down to the bottom of the front page you can find a link that leads to a pricing list. Users can purchase credits which are needed to use the chat function. For each message you send to another member you pay one Credit. The price for a credit varies between 1 USD and 1.50 USD depending on the credit package you buy. Users are encouraged to buy many credits at once to get a discount.
Although chatting on CitySweeties.com is far too expensive, this is not what truly makes this a scam. The previously mentioned fake chat operators work in favor of the operator, that is why they send seductive messages to the users. By doing so, they can entice them to send many expensive messages in the chat. Since they use fake profiles as a cover, they do not reveal who they truly are, which makes this kind of rip-off successful.
Our experience with the operator
CitySweeties.com is operated by Meteor Interactive B.V. This is not the first time we have written a review for one of the scam websites that belongs to the company which is based in the Dutch city Utrecht.
The Conclusion from our CitySweeties.com review
CitySweeties.com turned out to be one of many scam websites that are operated by this Dutch company. Everything seems to be fine until you find out that you must pay a lot of expensive credits just to maintain a nice conversation. What many users do not find out, is the fact that CitySweeties.com is crowded with fake chat operators. That make CitySweeties.com an expensive rip-off.
Let us know your CitySweeties.com experience in the comments as well.