ChatIW.me review
March 17, 2022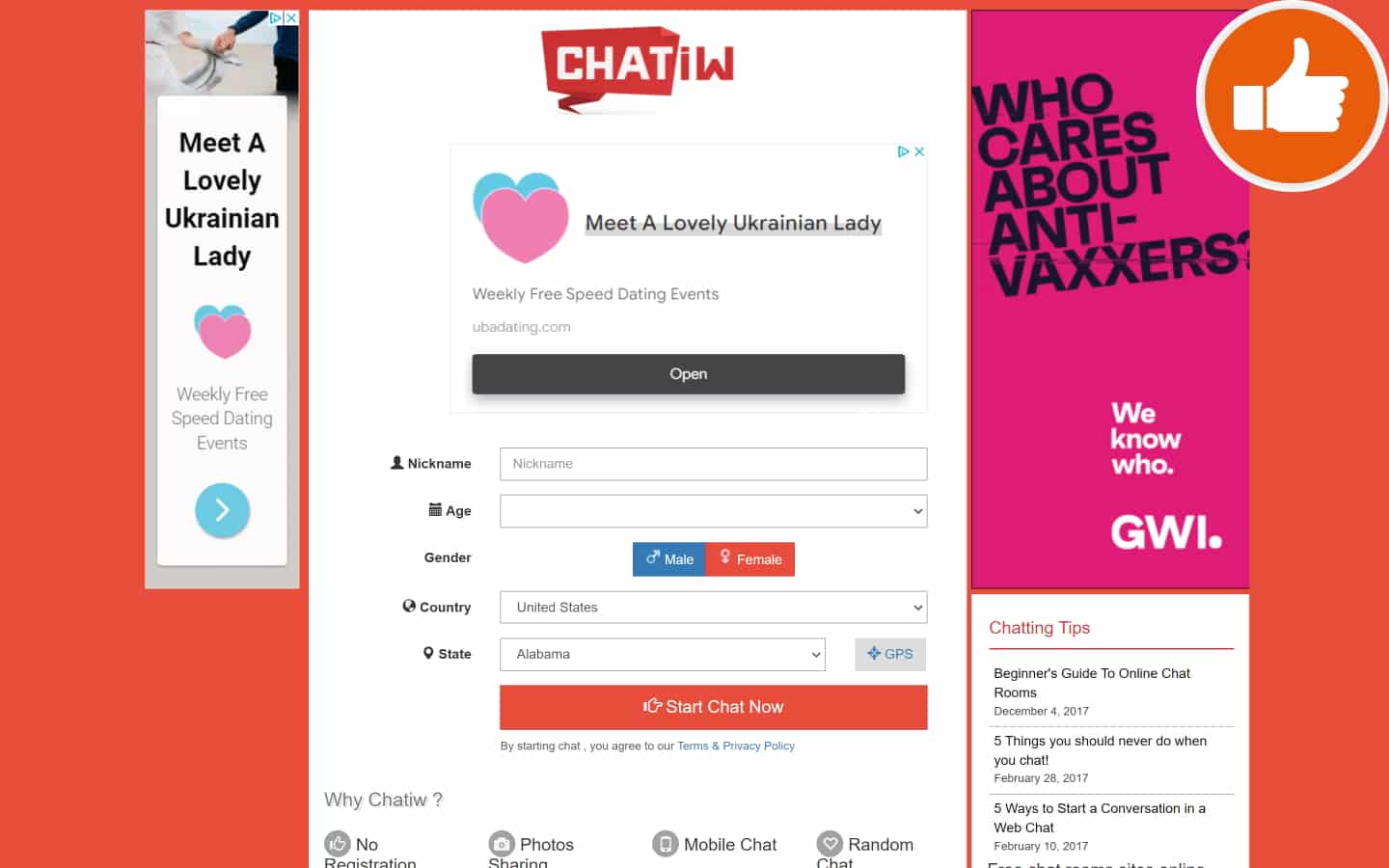 Multiple languages available

The desktop version is slow
Report for ChatIW.me review
ChatIW.me is a free chat platform that lets you connect with other people quickly and easily. You can evidently use this website to find new friendships and online flirts. The most appealing aspect of this platform is that it is absolutely free of charge. Users can send and receive unlimited messages to and from anyone. Additionally, there is no requirement to create a profile.
We did some research to see whether ChatIW.me is effective and safe. According to the few users' reviews we read online, this portal is a fun way to spend time chatting with strangers. However, the chances of arranging a real date are very limited. The operator of this website is unknown. When a company that runs a dating platform hides its identity, we immediately suspect a possible scam. But since ChatIW.me doesn't require any payment, there is no risk of falling victim to any rip-off.
Scroll down to read the details of our ChatIW.me review.
Details on the ChatIW.me review
As soon as we land on the initial pages of ChatIW.me, we feel as though we have been transported back in time. It looks as though everything stopped in the mid-90s, when the first chat rooms appeared on the internet. There were simple tools than with a poor graphic interface that allowed you to connect with people from different cities and countries. There was not much to do apart from chatting, but at that time the experience was really exciting. Everything is still like this on ChatIW.me, except that nowadays it doesn't sound as appealing as it once was.
The design of the initial page isn't at all impressive. Moreover, the desktop version has some obvious technical problems that should be fixed as soon as possible. Accessing the chatroom or refreshing the page sometimes takes ages. Luckily, it has a mobile app that works a lot better. We really liked the fact that users can change the language at the bottom of the initial page quickly. For an entity that claims to connect people from every corner of the world, this is a crucial feature that we didn't have back in the day.
How does it work?
Using ChatIW.me is very simple. Users have to provide a nickname, their age and their location. An email address is not required and there is no verification process. This means you don't need to create an account, and each time you want to access the chatroom you can choose a different nickname. The downside of websites like this is that anyone can sign up and start chatting at any time, with the risk that someone might not be there with the best intentions.
According to the online reviews we read, some profiles might be fake. However, ChatIW.me is not responsible for any scam, since it states clearly that it cannot verify the authenticity of details provided by users. As a rule of thumb, we recommend our readers avoid sharing personal information and exercise caution if anyone asks them to move to a different website, which could well be a rip-off.
The conclusion from our ChatIW.me review
ChatIW.me is a safe and secure website as long as it is used for its intended purpose: having casual conversations with strangers without expecting these to lead to physical dates. The fact that it is free comes with a drawback. The navigation experience is quite poor, especially on the desktop version, unless you are nostalgic for those old times when it took ages to use a chatroom like this one.
Let us know your ChatIW.me experience in the comments as well.