ChatDate.app review
October 7, 2022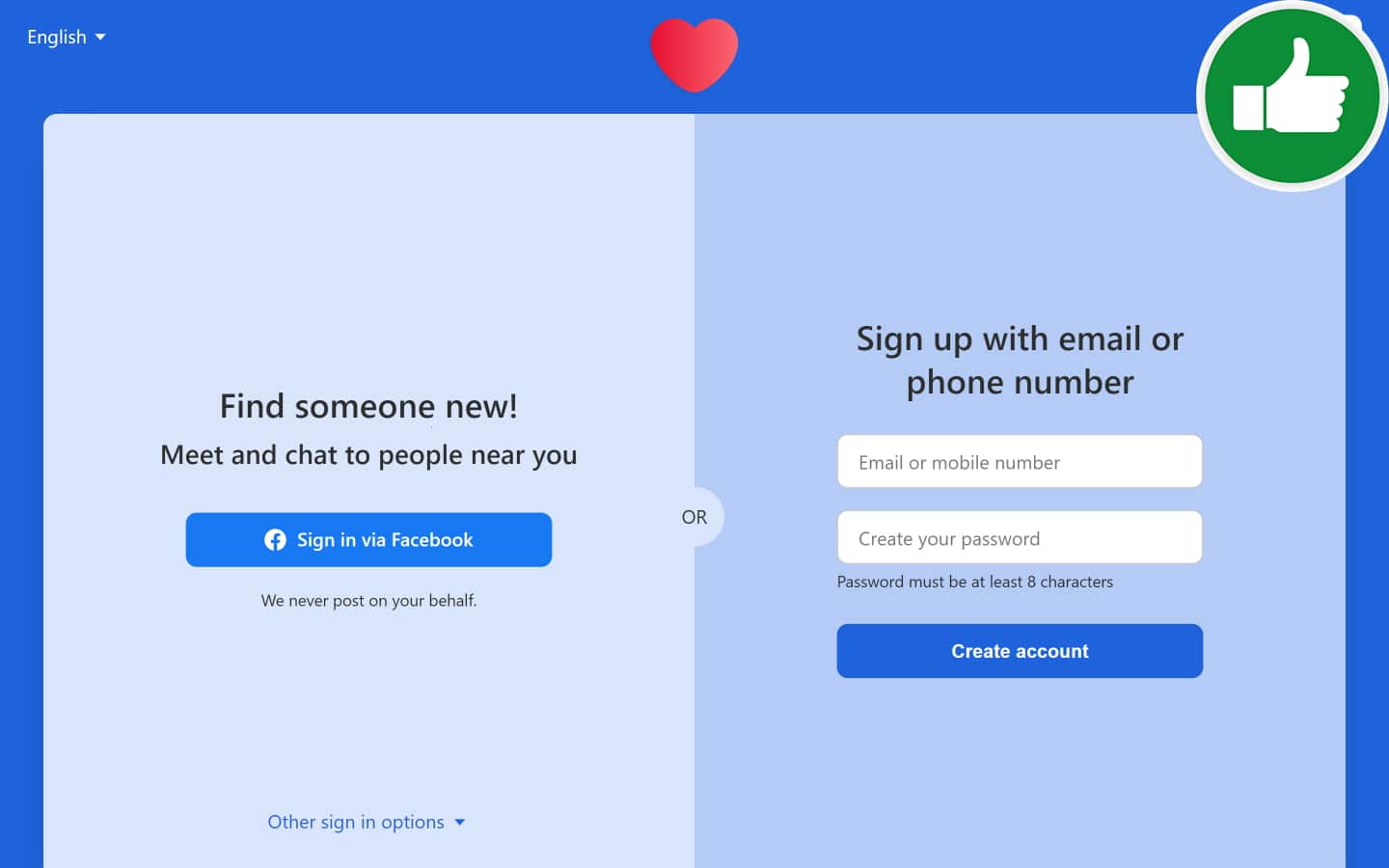 User-friendly and easy to navigate
Report for ChatDate.app review
ChatDate.app is a website and mobile application. They claim to help users find dates, friendships, and love. It advertises itself as easy to use and equipped with safety features. Overall, it seems like a great place for meeting new people. The operator of ChatDate.app is Badoo Trading Ltd, who are a company based in London, in the United Kingdom. This company is renowned for their other dating portals. They have many positive user experience reviews published on the internet. We took a deeper look into ChatDate.app, to see for ourselves, if this portal is a rip-off scam, or trustworthy.
ChatDate.app offers their basic dating services for free. This includes chatting, browsing profiles, liking, and adding profiles to your favourite's list. For an additional cost, members can purchase a premium membership, or Chat & Date credits, to access other features. Like other popular dating platforms, this site utilizes a swiping function, called 'Encounters.' This can be used to show interest in someone's profile. Additionally, a user's matches are suggestions, based on their dating preferences and personal interests. This site also employs a double authentication process, for verification.
We reviewed the Terms and Conditions, user reviews, and made an account of our own, to test out this dating service. In our experience, we view ChatDate.app as a trustworthy dating service. Many previous users of this site say they have found relationships and dates on ChatDate.app. It is free to use, and all the basic dating features and many profiles are verified. So, this seems like a reliable portal for chatting and meeting people.
Scroll down to read the details of our ChatDate.app review.
Details on the ChatDate.app review
ChatDate.app is available to use both as a website and mobile application. It presents itself as a reliable and safe dating platform, which helps users meet new people. In our experience reviewing this dating portal, we gained a good impression of their services.
Chatting is free
ChatDate.app offers a free membership. This includes access to their basic dating features. Therefore, every member can send messages to matches, view profiles, and send likes. In our experience, this is a very positive sign. If ChatDate.app was a scam or rip-off portal, they would charge users, to chat, in some way. Users with a basic membership can browse all the available profiles and send unlimited messages to their matches. They also have access to the 'Encounters' feature, which they can use to show interest in other users, by swiping to the right.
Additional payments are not required to meet and chat with other members of ChatDate.app. However, extra features are available through the purchase of "credits" or a premium membership. By buying credits, users can have their profile promoted, and shown to more people. With a premium membership, they can see who has liked their profile, undo swipes, chat directly with popular users, and more. These are not necessary for finding a date. They are supposed to increase your chances.
Profiles are verified
Another positive fact about ChatDate.app is their strict regulation of verified profiles. To have a verification badge shown on your profile, users must submit two types of proof of identity. This means that the likelihood of coming across fake profiles, is much lower than a lot of the other dating services out there. Users can feel more secure and spend more time chatting with new people, instead of worrying about chatbots.
Reliable operator
The company who operates ChatDate.app is Badoo Trading Ltd, who have their headquarters in London, in the United Kingdom. This company is well known for being a provider of reliable and safe dating services. They have received positive reviews from many users and there is a wide array of success stories amongst them.
The conclusion from our ChatDate.app review
We found ChatDate.app to be an honest and trustworthy dating portal. It is free to match and chat with members, browse profiles, and send likes to users who you are interested in. Though you can make additional purchases to boost the promotion of your profile, this is not required, nor necessary. Many past users have remarked on the positive dating experiences that they had here. Overall, it seems like a good choice for meeting new people and finding dates.
Let us know your ChatDate.app experience in the comments as well.