BuddyGays.com review
April 25, 2022
The result of our BuddyGays.com review: Our test turned out to be an insufficient dating website.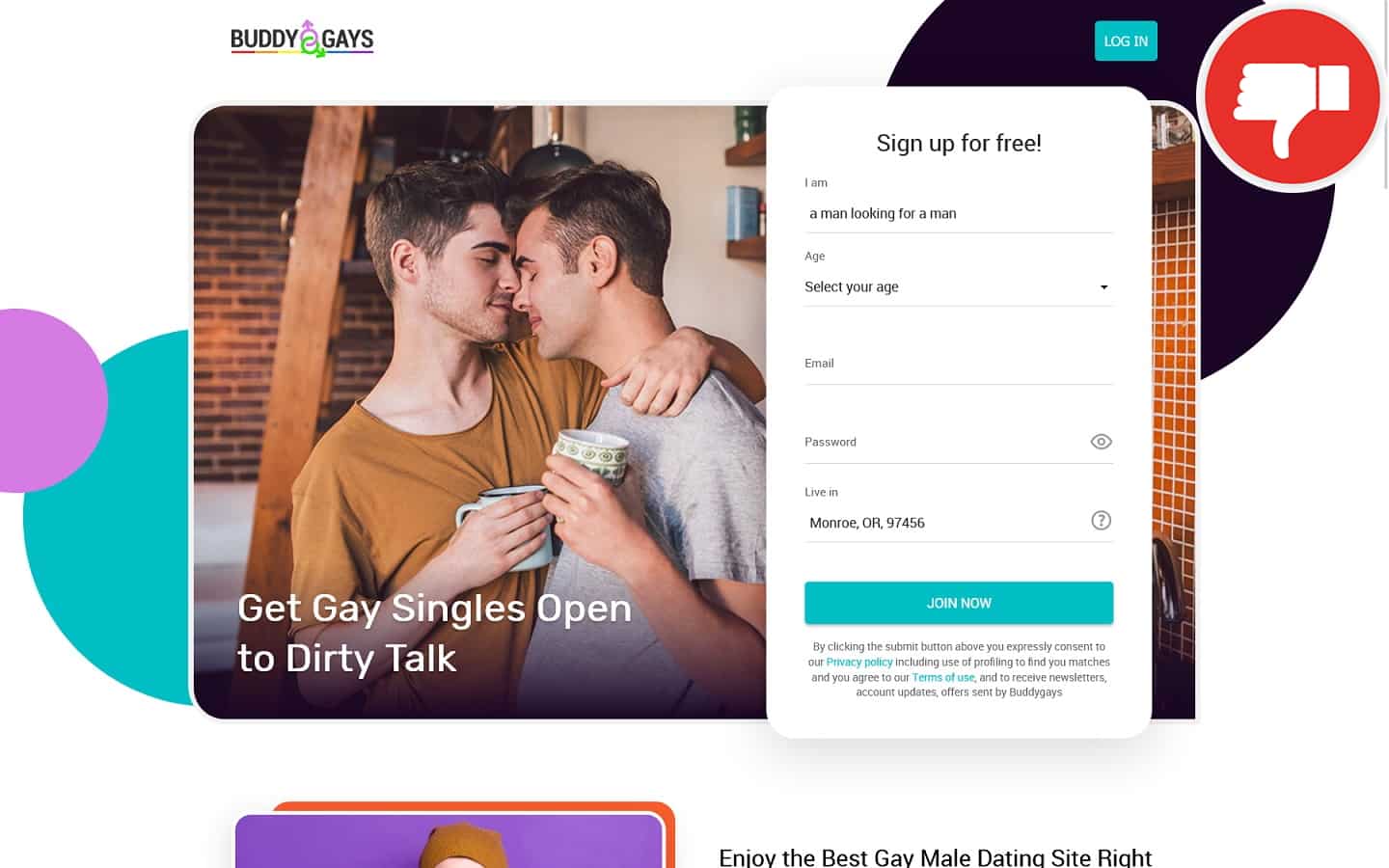 Report on BuddyGays.com review
BuddyGays.com looks like a great choice. This website goes for one target group. Here, men can find a male match for a date. It seems to be a matchmaker, but casual dates are not excluded. In a nutshell, this site is the perfect choice for all gay men in the US. On the landing page, we see an image of a young gay couple in love. Additionally, we see the screen for registration. This is free and done within only a few minutes.
This is stated on the landing page. Also, this website offers quite a lot of information on the homepage. Of course, this is a positive feature. Transparency is important. According to our experience, it can be a hint of a reliable choice. In general, this site makes a trustworthy and promising first impression. On the landing page, we read some testimonials. Regarding those, this website offers a great service.
The operator of the site is Marbore Web Solutions Ltd, who are based in Sofia, Bulgaria. Now, we must mention two points. First, this location is not very reliable. We have reported about other dating site operators from there. Most of the time, these companies tried to scam users. Second, we know the operator. Additionally, the operator is well-known on the internet. We found quite a lot of reviews about this company. Former users were not happy at all. According to their experience, this website is a horrible choice.
Is BuddyGays.com a rip-off?
Yes, the online dating website BuddyGays.com is a scam. A subscription for a premium membership is needed. The subscription is a cheeky trap. Also, we found many reviews about a fake chat. But legal proof of a moderated chat is missing. Anyway, before we explain our experiences regarding moderation, we explain the cheeky subscription rip-off.
While registering, a trial membership is offered. This is the first hint of a trap. Payments can be made before seeing the actual website. Surely, this is not a sign of a reliable dating site. However, it is possible to skip the payment. In general, we advise you to never purchase anything too soon, especially if the terms of the trial membership are not displayed with the offer. In the end, it is a trap. The trial membership will extend automatically to a premium membership. A user has no chance of avoiding that.
As mentioned before, it is possible to skip the purchase while registering. Later on, the operator will use tricks to encourage new members to purchase a paid membership. Right after the registration, we received many messages from other users. Those messages must be fake. We did not provide one piece of useful information about ourselves. There is no chance that a new profile, without any personal information, receives two messages within the first minute. This is a clear sign of a fake chat. Reviews on the internet complain about fictitious profiles and a fake chat as well.
But the operator does not mention anything about moderation in the terms and conditions. We did not find a note about fictitious profiles. Fake chat operators are not stated. Also, not even the purpose of entertainment is used to denote moderation. However, all signs suggest a moderated chat. We assume that bots send us messages. The goal is to encourage us to make a purchase. Only members with a premium membership can send messages.
It is still possible to purchase the trial membership. As explained before, it is the actual trap. But there is more to mention. The operator makes the termination generally difficult. Letters of termination will be ignored or declined. That is reported by former users. As the premium membership renews automatically as well, it is a trap. In the end, the operator ensures that the deadline for the termination will be missed. The payment recurs again and again.
Scroll down to read the details of our BuddyGays.com review.
Registration on BuddyGays.com
The registration on this website is as easy as pie. On the landing page, we see the screen for registration. Within a few steps, a new profile can be created. This website is for one target group only. The name of the site explains everything already. Here, men can look for men. Other choices are not available. Additionally, a valid e-mail address, a password, our age, and location are required. This is all mandatory information. More details can be provided, afterwards. But the user is free to decide how much information will be shared.
In the next step, we see an offer of a trial membership. This offer is displayed before we actually entered the site. In general, this does not make a good impression. It looks like a subscription trap. We advise you to never make a purchase before seeing the actual product. Especially, in this case. The membership is some kind of subscription. But the terms of the subscription are not displayed. So, we do not know any facts about the trial membership. This looks very suspicious. However, it is possible to skip the payment and continue with the registration.
After this step, we can add some more details to our profile. We have the chance to upload a profile picture. But this is not obligatory. We skipped all the following steps and completed the registration. Now, this might sound like a smooth and easy registration. Well, the registration is done within a few minutes. But this is not an advantage for the user. It is possible to create a profile without any information. Other users will not know what we look like. Also, we did not share any information about our sexual preferences.
This is bad, in general. Profiles like ours lower the quality of a website. Imagine a member pool that is full of profiles which do not contain one piece of personal information. Even worse, we do not have to verify our account. So, it is possible to register and see all other profiles with a verified account. This lowers the safety of other users dramatically. We were able to see all profile pictures, and visit each profile, to find out more about a certain person. This is a lack of data protection. A missing verification process leads to fake profiles.
Members' area on BuddyGays.com
After we finished the registration, we checked out the members´ area. There we see a huge selection of profiles. This platform appears to be full of interesting matches. Also, most of the members come from our region. So, the chances of finding a match must be high. As this website claims to have an open-minded community, dates will happen on a regular basis. Another aspect that speaks for that is that we receive a lot of notifications right after our registration. But this is not a good sign, as we will explain later.
First, we want to mention a few other aspects of the site. The portal has a modern and appealing design. This ensures a simple use. Also, we have a great overview of the site and its areas. At the top, we see all sections of the site. It is quite intuitive to handle. All functions and features are self-explanatory.
It is possible to see all profile pictures. Now, there is something to mention. It is not just that we did not upload a profile picture, but we still did not verify our account. It is even possible to visit each profile to read further personal information. This is a risk for others. Scammers can create fake profiles easily. Plus, the user's personal data is not safe at all. Anyway, it turns out that the profiles are fake. First, we assumed that some profiles are fake. Second, we found reviews about fake profiles on the internet.
Besides the high chance of a members´ pool that is full of fake profiles, all signs suggest a fake chat. Within the first minute after our registration, we received a few notifications. Also, other users contacted us right away. Surely, this makes a promising impression. But it is a clear sign of a fake chat. The proof of a fake chat from the terms and conditions is missing. However, the many messages are proof enough.
The messages come from bots. We assume that computer programs replace fake chat operators. The bots will take the first step and actively animate us into a chat. We can read messages, but costs will arise for replying. Now, we assume that the fake profiles are controlled by bots, as their job is simple. It does not matter what kind of purchase the user will make, it will end in a trap.
Terms and conditions of BuddyGays.com
Extract from the terms and conditions from the BuddyGays.com website. Current status of the terms and conditions as of April 25, 2022.
Unless canceled, your 1-day trial membership plan will automatically convert to our monthly package after the end of your 1-day trial period.
Costs on BuddyGays.com
The website advertises with free registration. While registering, a trial membership is offered straight away. In general, this is a bad sign. According to our experience, this already implies a rip-off with a subscription trap. Anyway, it is possible to skip the payment. Then, a new member will receive a free basic membership.
The free basic membership allows quite a lot of freedom. We were able to visit each section of the site. Also, it is possible to see profile pictures. Even more, we were able to visit each profile and read further information about a certain member. This works without a verified profile, which is not good at all. It is horrible personal data protection. Anyway, a free basic membership allows reading messages as well. This is quite useful as we receive plenty of messages right after registration. Well, those messages are a part of the scam.
Costs will arise if we want to send messages. It does not change if we want to reply, or actively start a chat. As we receive many messages, the interest in a paid membership rises fast. The trial membership, especially, appears to be a good choice. It costs only 0.99 USD and runs for just one day. Within this time, it could be possible to reply to some messages and arrange a date. But this does not work here. First, the profiles are fake and moderated. Actual dates are impossible. Second, the trial membership is a trap.
It is stated in the payment section that the trial membership will renew automatically. According to reviews on the internet, this will happen anyway. In the legal information, we found a note about the deadline for termination. All terminations must made 72 hours before a subscription ends. Actually, this sounds fair. But, this subscription runs for one day only. It is simply not possible to terminate it in time. Additionally, the deadline is useless, as the operator generally makes the termination difficult.
All kinds of membership will extend automatically, if the user does not terminate it in time. A premium membership is available for one week, one month, and three months. The one-week premium membership costs 0.56 USD per day. Then, the premium membership for one-month costs 1.52 USD per day. Last but not least, the three-month premium membership costs 0.77 USD per day. In our point of view, the rates are displayed confusingly, for a reason. This way, users will assume that costs are low, which is not true. The three-month subscription costs 69.30 USD, summed up every 90 days.
Payments can be made with a credit card. It is the only way of paying. Other options are not available. Your credit card will be charged more than just one time. Former users explain that letters of termination will be either ignored, or declined, without a reason.
Conclusion from our BuddyGays.com experience
BuddyGays.com is a rip-off with a subscription trap. Also, all signs indicate a cheeky fake chat. We received countless messages from other members. Those messages were fake for many reasons. They did not make sense at all. Especially, when we did not upload any information about ourselves. Plus, we received plenty of likes which were fake as well, obviously. However, the operator does not state moderation in the terms and conditions in any way. Still, we are sure about that.
The fake chat is used to lure new members into a trap. While registering, a subscription trap is set up already. If users with caution avoided this trap, the fake chat is another risk. A trial membership is offered, which is the actual trap. It will extend to a normal premium membership anyway. Additionally, the operator generally makes the process of termination difficult. On the internet, we found many reviews about that. The operator of the site is well-known for this cheeky scam. This website is operated by Marbore Web Solutions Ltd, who are based in Sofia, Bulgaria.
Contact data of the operator of BuddyGays.com
Marbore Web Solutions Ltd
76a James Bourchier Blvd
Floor 3, Office 4A
Sofia
Bulgaria
support@buddygays.com
Phone: 1 800 764 9523
FAQs for BuddyGays.com
Here you can find the FAQ (Questions and Answers) for the dating website BuddyGays.com
What has attracted positive attention to BuddyGays.com ?
The website has a modern appearance and a great sounding offer.
What has attracted negative attention to BuddyGays.com ?
This website is a fake chat scam. All signs tell of moderated fake profiles. Also, the subscription is a trap.
What can I do on BuddyGays.com with a free account?
A free account allows a lot of features. But for sending messages, costs will arise.
Can I really meet someone on BuddyGays.com ?
No, this site uses fictitious profiles. According to reviews, all profiles are fake.
Is there moderators or bots on BuddyGays.com ?
Yes, all signs imply moderation. According to our experience, bots control the fake profiles.
How can I cancel my account on BuddyGays.com ?
To cancel your premium membership, please contact the customer support.
Let us know your BuddyGays.com experience in the comments as well.