BootyCallz.com review
November 29, 2022
The result of our BootyCallz.com review: Our test turned out to be an insufficient dating website.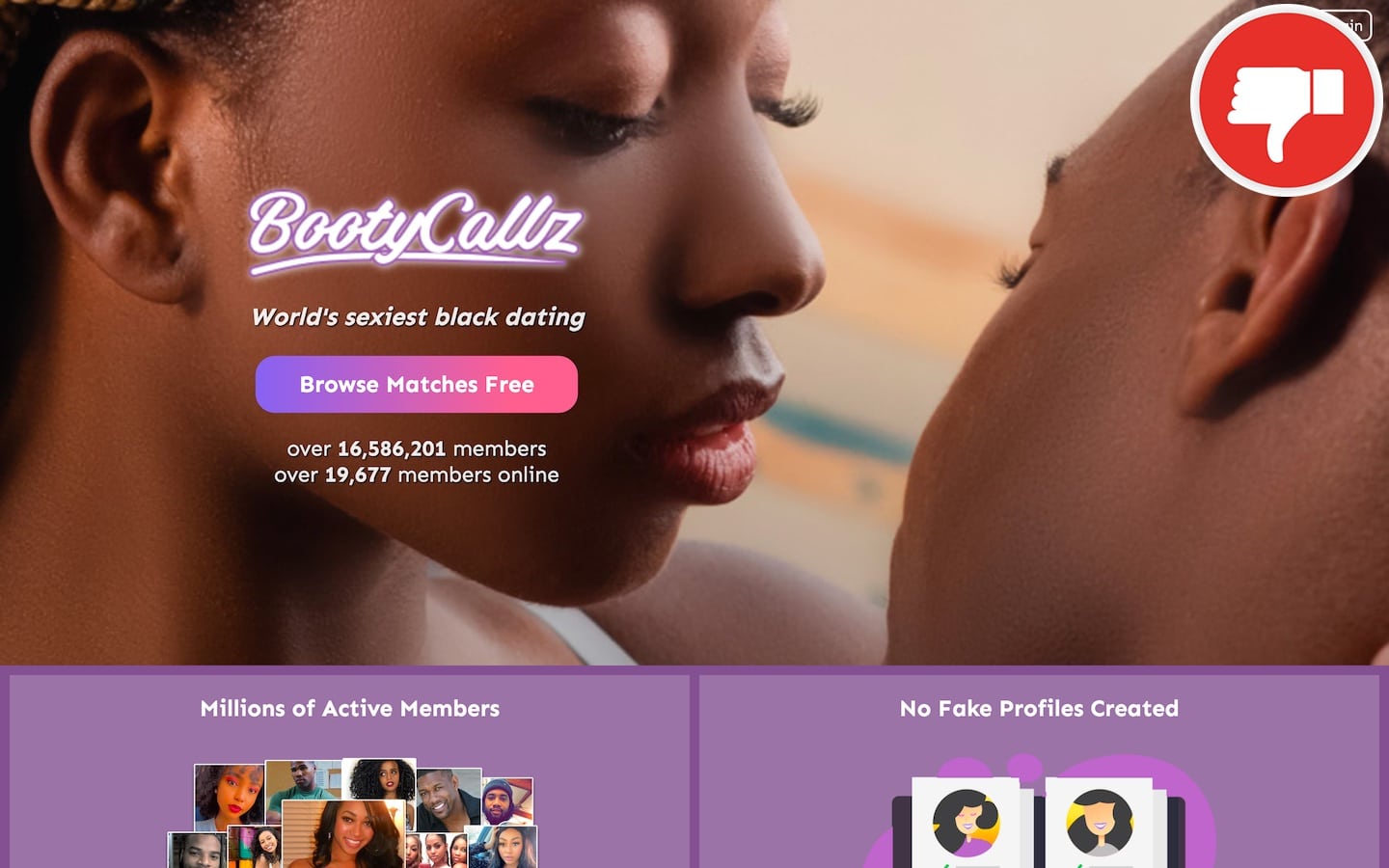 Report for BootyCallz.com review
BootyCallz.com defines itself as the world's sexiest dating platform. According to what was written on the landing page, the website was created with the idea that online dating should be easy, fun, and exciting. BootyCallz.com guarantees to be the best black dating site, whether you are looking for a serious relationship or just a casual erotic experience. They promise that their advanced search functionalities and the variety of chat features will allow users to find exactly the person they are looking for.
BootyCallz.com advertises a great offer. The landing page invites users to join and browse potential matches for free. Allegedly, the member's area contains an astonishing number of 16 million people, many of whom use the platform on a daily basis for finding new partners. At first sight, it seemed like this was a legit and safe website where users shouldn't have any problem making their dreams come true by meeting someone who is right for them.
We did some online research, and it turns out that BootyCallz.com is just a scam with a subscription rip-off. On the internet, we came across several reviews from former users that suggest the site's premium membership is a trap. According to first-hand experiences by those users, the company makes the cancellation process for subscriptions almost impossible to carry out. The single operator of BootyCallz.com is Lawrence G. Walters, who is based in Longwood, Florida.
Scroll down to read the details of our BootyCallz.com review.
Details on the BootyCallz.com review
BootyCallz.com claims to be the perfect dating platform for meeting black singles within the area. On the landing page, BootyCallz.com promises that they will never create fake profiles that will increase the number of members or for entertainment purposes. In addition, there are no fake profiles that will engage with users of the site or for any other purpose.
They also explain that their award-winning fraud team protects users from fake profiles, catfishes, and other scams. Moreover, they pride themselves on having the best customer support within the online dating industry. A 24/7 team can be reached in case of any problem by phone, IM, or email. This sounds too good to be true. It probably is.
Such a horrible reputation
On the surface, it looked like there was no reason not to believe the website's enticing promises. Luckily, we already knew of the site's creator which gave us the advantage of finding all the right details and warning our readers about the dangers of signing up here. Apart from BootyCallz.com, Lawrence G. Walters runs a few other similar websites, all of which are constantly receiving negative reviews from former and current users alike. No one should trust anything that this company from Longwood, FL, has to say.
Purchasing a subscription is the main source of concern regarding this site. To be able to read and send messages, users are required to sign up for a premium membership that renews automatically. According to what many people have said, cancelling these memberships is practically impossible. The company ignores any termination request without even giving a reasonable explanation. We checked the cancellation policy on the terms and conditions and the procedure for doing so is not clearly explained. As we experienced the site for ourselves, we can guarantee that this could lead to a costly subscription rip-off.
More complaints
Despite what was promised on the landing page, the site's operator is suspected of creating fake profiles to lure members into the subscription trap. Within 5 minutes after registering to BootyCallz.com, we received an unjustified number of messages from hot ladies willing to chat with us. This was quite weird because an empty profile like ours shouldn't get any attention. Clear evidence was missing, but it was clear to us that this could be a fake chat scam.
The conclusion from our BootyCallz.com review
BootyCallz.com makes a great first impression. The landing page is full of inviting promises. Upon further inspection, however, we cannot recommend anybody to sign up here. The site's operator, Lawrence G. Walters, is already known for many other untrustworthy dating platforms. To unlock the chat features, users must become premium members by purchasing a paid subscription that renews automatically and is almost impossible to cancel. Moreover, there is a strong chance that BootyCallz.com contains fake profiles.
Let us know your BootyCallz.com experience in the comments as well.