The result of our BlackScene.com review: Our test on BlackScene.com turned out to be an insufficient dating website.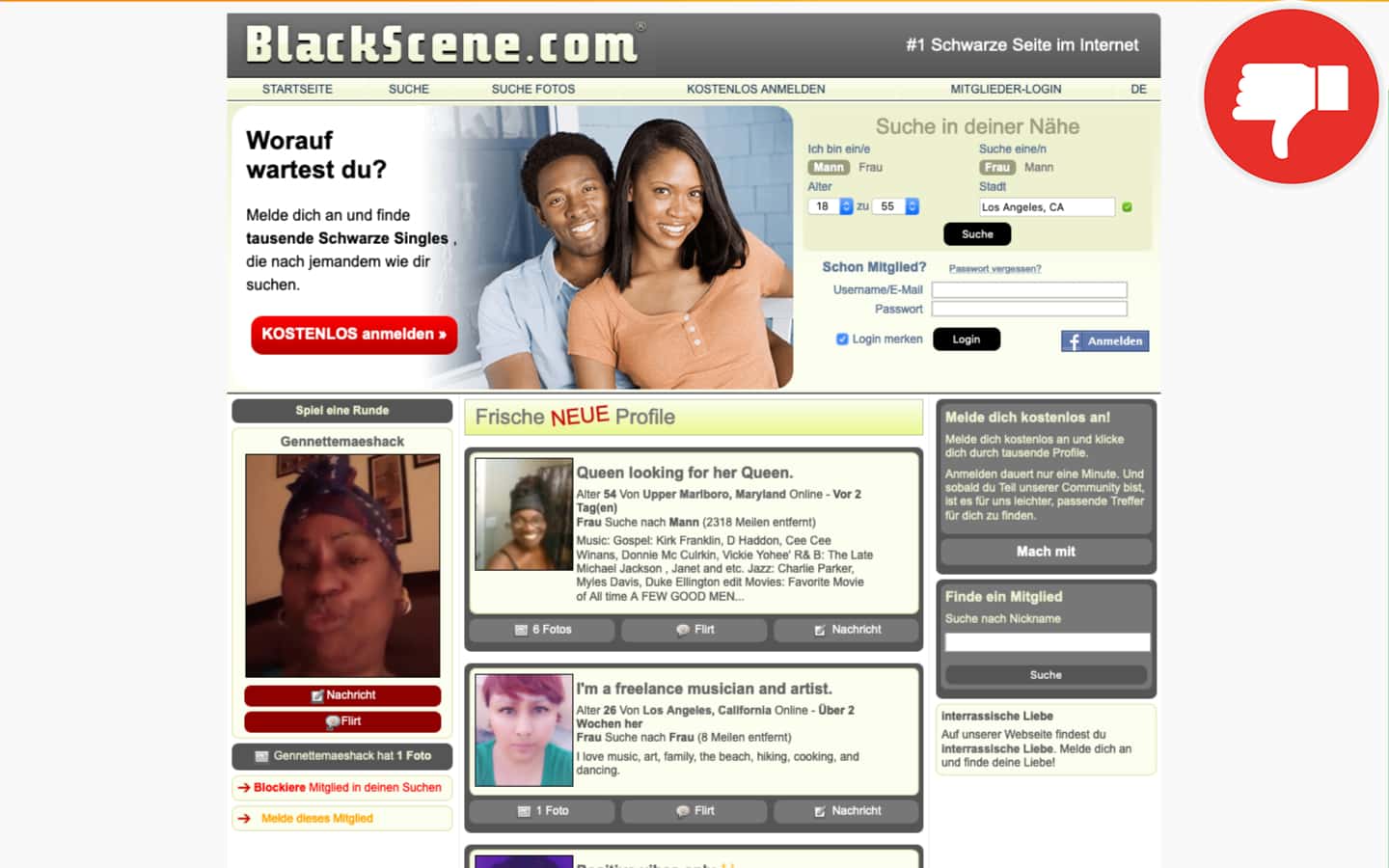 Report for BlackScene.com review
BlackScene.com is an ebony dating community which offers free registration. The site is run by Dating Media Group, a company based in Plantation. They operate a network of different dating sites. Although BlackScene.com does not seem to be a fake chat scam, we cannot recommend this site. If you are not careful, you can lose a lot of money here.
Users are supposed to purchase a premium-subscription which makes chatting on BlackScene.com possible. The cheapest option is a very short trial membership. This membership must be cancelled in time, otherwise, it renews automatically and becomes a lot more expensive. According to a few reviews, we could find online, cancelling your subscription on BlackScene.com is quite a hassle.
Scroll down to read the details of our BlackScene.com review.
Details of the BlackScene.com review
Just as the name suggests, BlackScene.com is a site for ebony dating. Judging by some of the profile pictures that are shown on the landing page, BlackScene.com can be used by people of all kinds of ethnicities who want to date black singles. The front page does not look very modern but provides us with a lot of information. What the operator does not tell us upfront is the fact that nothing really seems to work without a paid subscription.
Dating Media Group is the operator responsible for BlackScene.com. This company, based in Plantation, United States, operates many dating sites. According to several user reviews they all seem to work the same way. As far as we can tell, BlackScene.com is not a fake chat scam. The company has found another way to get hold off the users' money.
Only paying members can unlock the chat function
At first nothing seems to work on BlackScene.com. Users are not allowed to send messages to other members, which makes successful online dating pretty much impossible. The operator offers a solution. Users can become premium-members to unlock the chat function as well as other functions. This membership is a subscription, which renews automatically and continuously until you cancel it. Many users do not want to pay for a long-lasting membership without knowing what the site has to offer. For this reason, the company introduces a cheap trial membership.
Subscription rip-off
The trial membership is only 5 days long and costs very little money. Just like the other membership, the trial membership turns out to be a subscription as well. If you do not cancel within the 5 days, this membership turns into a long-lasting and expensive premium-membership. This is a typical subscription trap. Furthermore, the operator often seems to charge too much money. They even ignore cancellations that have been submitted in time.
The Conclusion from our BlackScene.com review
Once again, we came across another scam site that belongs to Dating Media Group. Only premium-members can have a chat with the other members of the site. The trial membership seems to be a cheap option, unfortunately it turns out to be a trap. BlackScene.com seems to be nothing but a subscription rip-off.
Let us know your BlackScene.com experience in the comments as well.