The result of our BikerOrNot.com review: Our test on BikerOrNot.com turned out to be an sufficient dating website.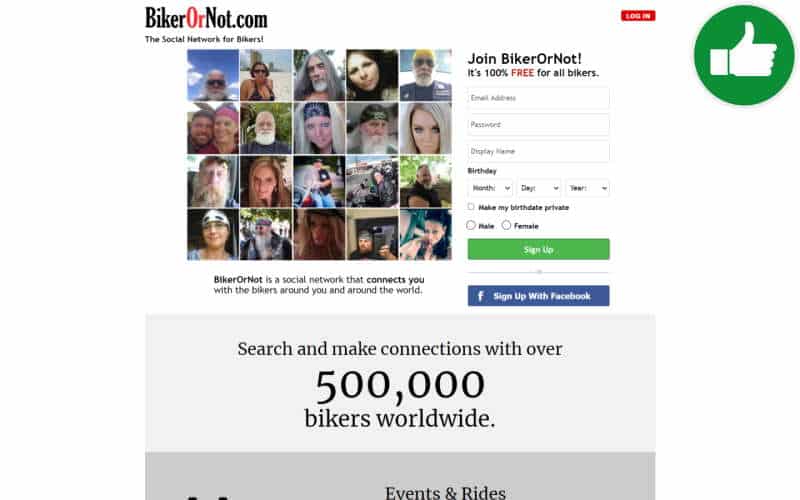 Members from all over the world
Report for BikerOrNot.com review
As the name suggests, BikerOrNot.com is an online community of bikers. This means a community of motorcycle enthusiasts. The platform welcomes people of any race, colour, gender or nationality. Although they do consider themselves as an online community, they also mention that the site can be used as a dating site for those singles interested in meeting like-minded people. In our review, we did not find any scam or any rip-off on this platform.
The website is operated by Marco Polo Publications Inc, based in Florida, United States. We have found some reviews from users of the platform. Some of them were negative and complained about the behaviour of specific users. Therefore, we consider the site to be legitimate.
Scroll down to read the details of our BikerOrNot.com review.
Details on the BikerOrNot.com review
The platform BikerOrNot.com is only for bikers. The site welcomes anyone, irrespective of their race, gender or nationality, as long as they are motorcycle enthusiasts. The operator, Marco Polo Publications Inc, does not consider the website to be just a dating platform. Although they understand that singles may use the site as a dating platform, they insist that here it is also possible to find friends, events or to just get in touch with like-minded people.
Almost free
The platform is free and, according to the operator, will remain free forever. However, they offer a premium membership for those who want to use the ad-free version. In addition, they charge for sending virtual gifts and for promoting events on the site. Nevertheless, the main income comes from publicity and from selling items in the website store.
We do not consider the premium membership to be a subscription rip-off. Furthermore, during our research, we could not find any negative reviews about the subscriptions on this platform, and our experience with the site was good enough to consider that this site is not a rip-off.
Some fake and irritating profiles
The site does not look like a fake chat scam. There is no evidence of fictitious profiles, and we did not receive any suspicious messages as normally happens on most fraudulent platforms. Unfortunately, we did find a few negative reviews complaining about fake profiles. According to these reviews, these fake profiles are created by users who try to scam other platform members.
Although we cannot blame the operator for these fake profiles, it is always a problem when using a platform filled with these kinds of profiles. But in this case, it seems that the number of these fake profiles is limited, and most of the profiles here seem to be real. Therefore, the site should not be considered a scam either.
The conclusion from our BikerOrNot.com review
Our experience with BikerOrNot.com has been positive. The site is almost completely free, and there are no hidden rip-offs. Although the site is legitimate, there are still a few things that could be improved, like the old interface or the problem with users who create fake profiles. In general, it is an acceptable platform.
Let us know your BikerOrNot.com experience in the comments as well.