BeNaughty.com review
March 31, 2022
The result of our BeNaughty.com review: Our test turned out to be an insufficient dating website.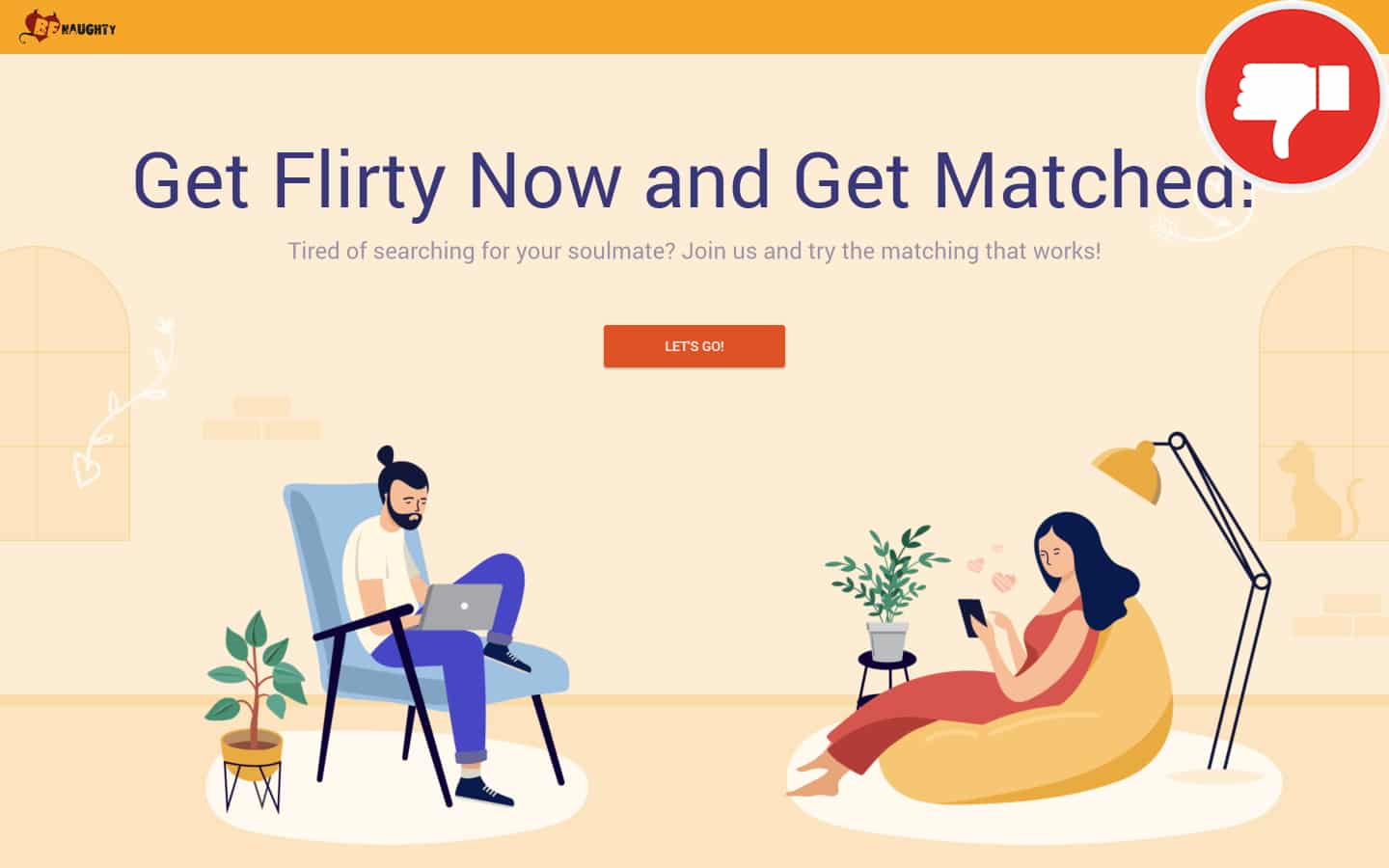 Report on BeNaughty.com review
BeNaughty.com advertises with an interesting offer. The landing page has a modern and very appealing design. We found information there about the claims made by this website. This platform boasts millions of users. The online dating portal offers free registration. According to the information on the homepage, the platform community is open-minded. This website is a casual dating platform.
The landing page has an appealing design. The website also offers a lot of content for viewers to read. But there are only a few details about the portal. In a nutshell, this site is not very transparent, which is not a good sign. Transparency is important: it is the first sign of a reliable choice. On this basis, the platform leaves a negative impression. The operator of the website is Kaleton Web Sro, which is based in Bratislava, Slovakia.
Is BeNaughty.com a rip-off?
BeNaughty.com is a rip-off with a subscription trap. Additionally, there are a few hints of a fake chat scam. Some profiles on the platform appear to be fake. Fake chat is not mentioned in the terms and conditions. In a nutshell, legal proof of moderated chat is missing. However, we found reviews on the internet from former users. We also received messages just a few moments after registration. These messages are a clear indication of fake chat.
However, the real problem is the automatic renewal of the subscription. Trial membership will be offered, which is the actual subscription rip-off. It renews automatically, as it cannot be terminated in time. It will extend later to normal premium membership. The operator makes cancellation difficult. First, paid membership is not worth its price. Second, it is a cheeky trap. The operator ignores cancellations made in time or declines them without any reason.
Scroll down to read the details of our BeNaughty.com review.
Registration on BeNaughty.com
Registration is free for women and men. It takes only a few minutes to create a profile. We indicate our gender and what sex we are looking for. We also have to indicate our age. This website will show erotic content. So users have to be older than 18. A valid e-mail address, a username and a password are needed as well. Those are the details requested to create a profile here.
The whole process is easy as pie. There are not too many details that have to be provided. A profile picture is not needed. A profile picture will naturally bring some advantages. Profiles which have an image are much more likely to be matched. However, we skipped uploading a picture. It is necessary to activate your account by verifying your e-mail-address. After this is done, the user can visit all parts of the platform.
Before your profile is activated, trial membership can be purchased. This trial membership costs only 0,99 USD. Trial membership runs for one day. It appears at first to be a good offer. After looking again, we spotted a scam. Trial membership is a trap. Anyway, we will explain the tricks used by the operator later. For now, we completed registration, so we could check out the members' area.
Members' area on BeNaughty.com
The online dating portal has a modern design. And the design of the site is not its only appealing feature. The profiles in the members´ area also look great. Navigation is easy and very intuitive. All sections of the site are visibly and effectively marked. So we did not have to search for certain features of the site.
It only took a few minutes before we were familiar with every section of the platform. This is not a critical point. The website has a lot to offer. But thanks to its great overview and navigation, we found our way around in no time.
We could visit all profiles and read personal information. Moreover, we saw a lot of users from our region. So the website has a very promising appearance. But that does not change the fact that this website is a rip-off. The profiles on the site look great. Perhaps they look a little too promising. And we already received three messages from other members immediately after registration. This is a clear sign of fake chat. The only problem is the missing proof in the terms and conditions.
Terms and conditions of BeNaughty.com
Extract from the terms and conditions from the BeNaughty.com website. Current status of the terms and conditions as of March 31, 2022.
Please be aware that any notice of intention to cancel shall take effect upon receipt by us. It is a breach of these terms and conditions to provide your account details to any other person or third party company. Therefore, only cancellations requested by you as a genuine user of the Services will be effective. A cancellation initiated by any other party or entity, will not be considered a valid cancellation and you will continue to be charged.
Costs on BeNaughty.com
Costs will arise from premium membership. Neither coins nor credits are offered. Premium membership is offered with different terms. As we see it, the rates are not overpriced. But the subscription is a waste of money. The chances of finding a match here are around zero. Users can pay via a Visa credit card or Mastercard.
Another critical aspect is that the rates are displayed confusingly. Users can purchase premium membership, which runs for three months. The user has to calculate the full price himself. In the payment section, the subscription for three months shows a daily price only. In our view, this is a cheeky trick. By showing the daily rate only, the prices appear to be quite low. As said before, the costs are not too high. Still, this is a cheeky trick. Moreover, the user is lured into a trap. This site is nothing but a rip-off.
Fake profiles appear in the members´ pool. Either fake chat operators or bots control these fake profiles. We appreciate that legal proof in the terms and conditions is missing. But we received a lot of messages during our review. This is proof enough for us. Fake messages have a certain purpose. They encourage new members to chat, for which costs will arise.
Conclusion from our BeNaughty.com experience
BeNaughty.com is a scam with a subscription trap. Costs will arise after registration. Premium membership is needed to chat. The profiles on the site seem to be fake. Proof of this is missing in the terms and conditions. However, we received a lot of messages from other profiles in just a few minutes. This is a clear sign. The fictitious profiles are moderated. Either fake chat operators or bots control these profiles that show fictitious people. The goal is to encourage new members to purchase paid membership. The trial membership offered is the real trap.
This will renew as a normal subscription afterwards. The rates for normal premium membership are very confusing. This is another trick used by the operator. Last but not least, the operator makes termination of the subscription difficult. So even the termination of a normal subscription is more than difficult. The website has a bad reputation on the internet. Former users had bad experiences. We found a lot of negative reviews on the internet. The operator of the website is Kaleton Web Sro, which is based in Bratislava, Slovakia.
Contact data of the operator of BeNaughty.com
Kaleton Web Sro
559/37 Obchodna Str.
Bratislava, 811 06
Slovakia
support@benaughty.com
Phone: (1)800 014 754
FAQs for BeNaughty.com
Here you can find the FAQ (Questions and Answers) for the dating website BeNaughty.com
What has attracted positive attention to BeNaughty.com ?
The portal has a modern design and easy navigation.
What has attracted negative attention to BeNaughty.com ?
Fake profiles, fake chat operators or bots and the subscription ends in a trap.
What can I do on BeNaughty.com with a free account?
See profiles, use the search function, read messages.
Can I really meet someone on BeNaughty.com ?
No, the chances of meeting someone via this platform are very low. According to reviews, all profiles are fake.
Is there moderators or bots on BeNaughty.com ?
Legal proof of fake chat is missing. But we received a lot of messages within a few minutes of registration. The profiles are either moderated by bots or by fake operators.
How can I cancel my account on BeNaughty.com ?
Details about deleting your profile and cancelling your account are provided in the profile settings. Additionally, customer service is the first place to terminate your subscription.
Let us know your BeNaughty.com experience in the comments as well.