AssTok.com review
July 11, 2022
The result of our AssTok.com review: Our test turned out to be an insufficient dating website.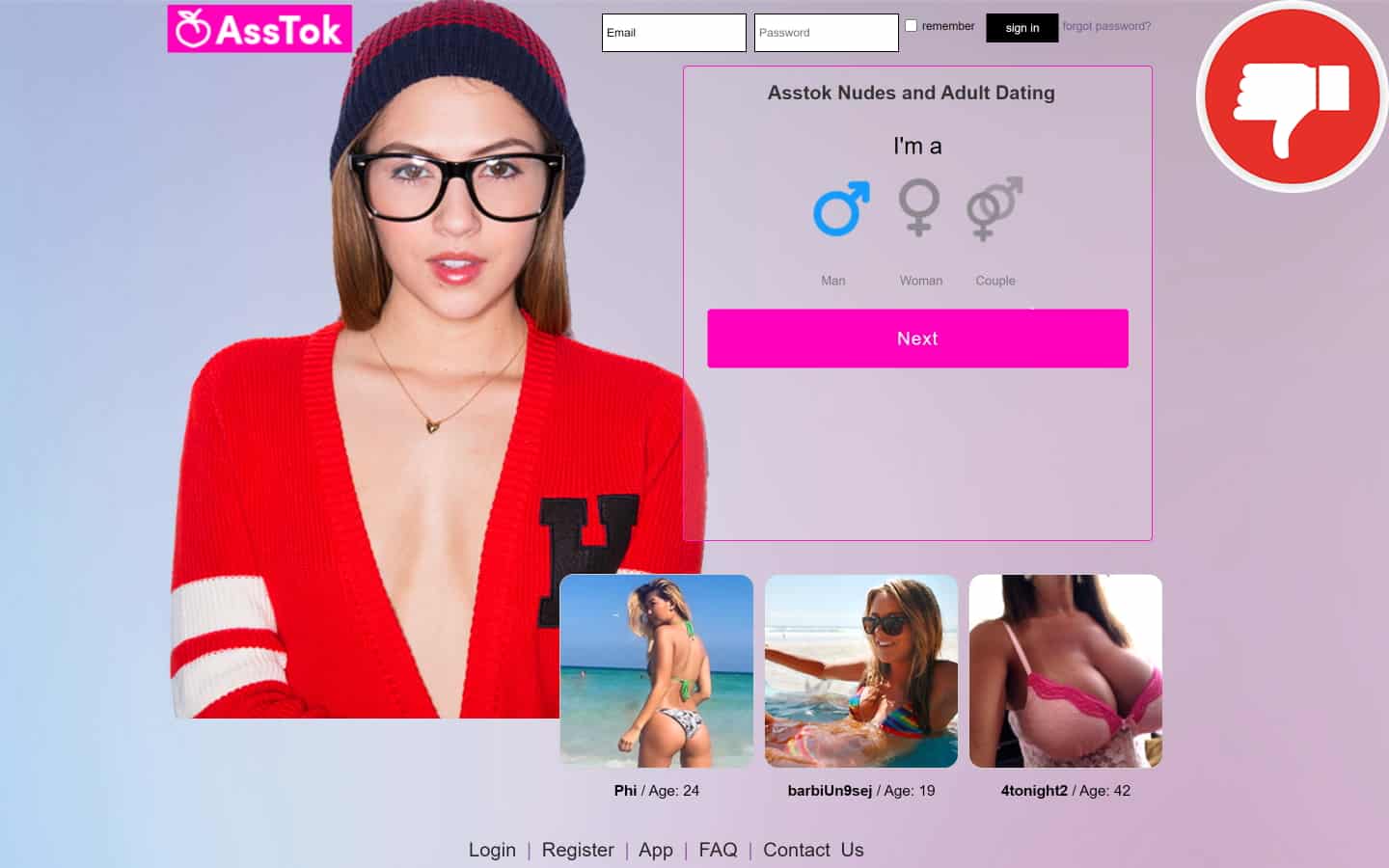 Report on AssTok.com review
The advertising for the dating website AssTok.com offers free registration and a huge number of active members. On its landing page, it claims more than 5 million people have already signed up with a 59% male: 41% female gender distribution. As it points out, that's a lot of hot milfs and college girls. It promises you can join AssTok.com free of charge with just 3 clicks. This is supposed to be enough for you to connect with countless horny ladies available for casual sex in your local area.
Our review will prove to you that none of these promises will ever come true. AssTok.com is in fact just a scam with a subscription rip-off. Contrary to what it says on the initial page, you have to be a premium member to use the chat facility. According to first-hand accounts based on the experience of former users, paid subscriptions are almost impossible to cancel.
Moreover, most profiles are thought to be fake. We did some research and found that AssTok.com tricks its members by using an automated messaging system. The company that hides behind this platform is Global Personals LLC, which is based in Longwood, Florida.
Is AssTok.com a rip-off?
The site operator has a nasty reputation online. It is responsible for a huge network of untrustworthy websites. We have already written several reviews to call it out for its incessant scams. AssTok.com is just like all the other platform it runs. The paid subscriptions which are renewed automatically are the biggest issue.
The site's terms and conditions state initially that you can terminate your membership at any time. But then the operator seems to change its mind and demands 24-hour advanced notice of termination. This deliberate lack of clarity is intended to confuse members and push them into slipping up.
AssTok.com offers 2-day trial membership. In this situation, it's almost impossible to meet the termination deadline and avoid recurring charges. Many former users complain that this is a subscription rip-off. Moreover, they swear that all profiles are fake and that real-life meetings are therefore impossible. We didn't find any clear evidence to confirm this latter allegation. However, AssTok.com admits using an automated messaging system. This means there is no guarantee that messages you receive are genuine, even if they come from real members.
Scroll down to read the details of our AssTok.com review.
Registration on AssTok.com
Registration on AssTok.com is quick and easy, just as is promised on the landing page. All you need to do is to create your personal account by filling out a simple registration form that consists of just a few required fields. The system tracks your device location to make sure it corresponds to the one you provide. If you don't enter the correct one, your registration will fail. Afterwards, you will be given the option to upload a picture, but this step can be skipped.
An activation link will be then sent to your email. Once you click it, you'll be directed to the members' area and can start searching for a partner. Up to this point, nothing is said about subscriptions or costs. On the contrary, there are multiple references to the platform being free. The lies told about this crucial detail are a major indicator that AssTok.com is not a safe dating platform.
Members' area on AssTok.com
The first impression created by the members' area on AssTok.com is already negative. The layout is quite confusing and it's not easy to understand where to start, especially for those using a dating platform for the first time. But at least it's now obvious that this one is not free. There are banners all over the place inviting you to purchase premium membership. The menu on the left of the page contains the tools you need to refine your search.
Free membership allows you to see who is online and who lives near you. You can also view the entire profile of any member and their picture. Unfortunately, you cannot communicate with anyone on this basis. Expect to receive a lot of messages as soon as you access the members' area. As we have already explained, these are automated messages, also known as 'icebreakers'.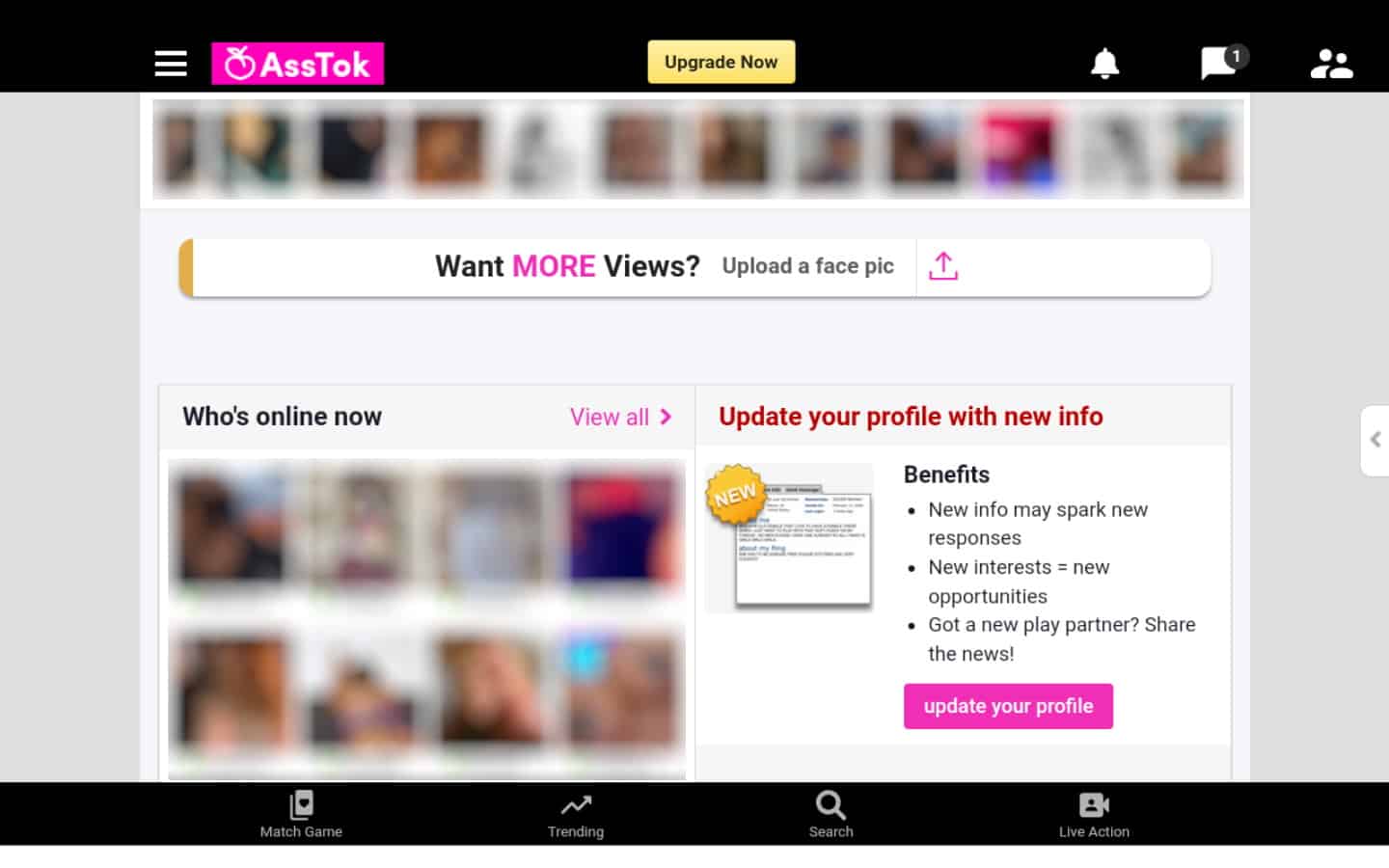 Terms and conditions of AssTok.com
Extract from the terms and conditions from the AssTok.com website. Current status of the terms and conditions as of July 11, 2022.
You may cancel your membership at any time by clicking here. You must cancel your membership at least twenty-four (24) hours before your monthly anniversary date to avoid being charged for another month of membership.

The Site may, from time to time, offer an automated message system for users to contact other users that meet at least one interest that the user is interested in. Such automated messages are labeled "Icebreakers".
Costs on AssTok.com
When it comes to premium memberships, AssTok.com offers a lot of options, ranging from 2 days to 12 months. The longer the duration, the cheaper the monthly cost. All major credit cards are accepted, but there is no other payment method. All subscriptions are subject to automatic renewal, which means they will keep being extended unless you decide to terminate the contract. According to several former users, this is mission impossible.
Conclusion from our AssTok.com experience
After extensive research, we can assure you there is no valid reason to sign up on AssTok.com. Too many people have already become victims of its scams. The site operator is notorious for making cancellation of premium memberships extremely difficult. According to several former users, this will always lead to a subscription trap. Moreover, most messages you receive are fake. Even if they come from real profiles, they have actually been generated by a piece of software.
This is not our first encounter with Global Personals LLC, the company from Longwood, FL, that runs AssTok.com. All our previous experiences with it have been equally disappointing.
Contact data of the operator of AssTok.com
Global Personals LLC
195 W. Pine Ave
Longwood
Florida 32750
USA
support@gpnethelp.com
Phone: 1-888-617-2001
FAQs for AssTok.com
Here you can find the FAQ (Questions and Answers) for the dating website AssTok.com
What has attracted positive attention to AssTok.com ?
AssTok.com has a huge members' pool that supposedly contains more than 5 million users.
What has attracted negative attention to AssTok.com ?
AssTok.com is a scam with a subscription rip-off. Moreover, it uses automated messages to lure members into spending money on the platform.
What can I do on AssTok.com with a free account?
A free account allows you to create a profile, upload a picture, browse the members' area and view pictures from other users.
Can I really meet someone on AssTok.com ?
It's unlikely that you can meet anyone on AssTok.com.
Is there moderators or bots on AssTok.com ?
AssTok.com doesn't seem to contain profiles controlled by moderators or chatbots. However, a lot of messages are still fake, even when they come from genuine members. These messages are called 'icebreakers'.
How can I cancel my account on AssTok.com ?
You can cancel your account from the settings panel of your profile.
Let us know your AssTok.com experience in the comments as well.