The result of our Anal-Lovers-Dating.com review: Our test on Anal-Lovers-Dating.com turned out to be an insufficient dating website.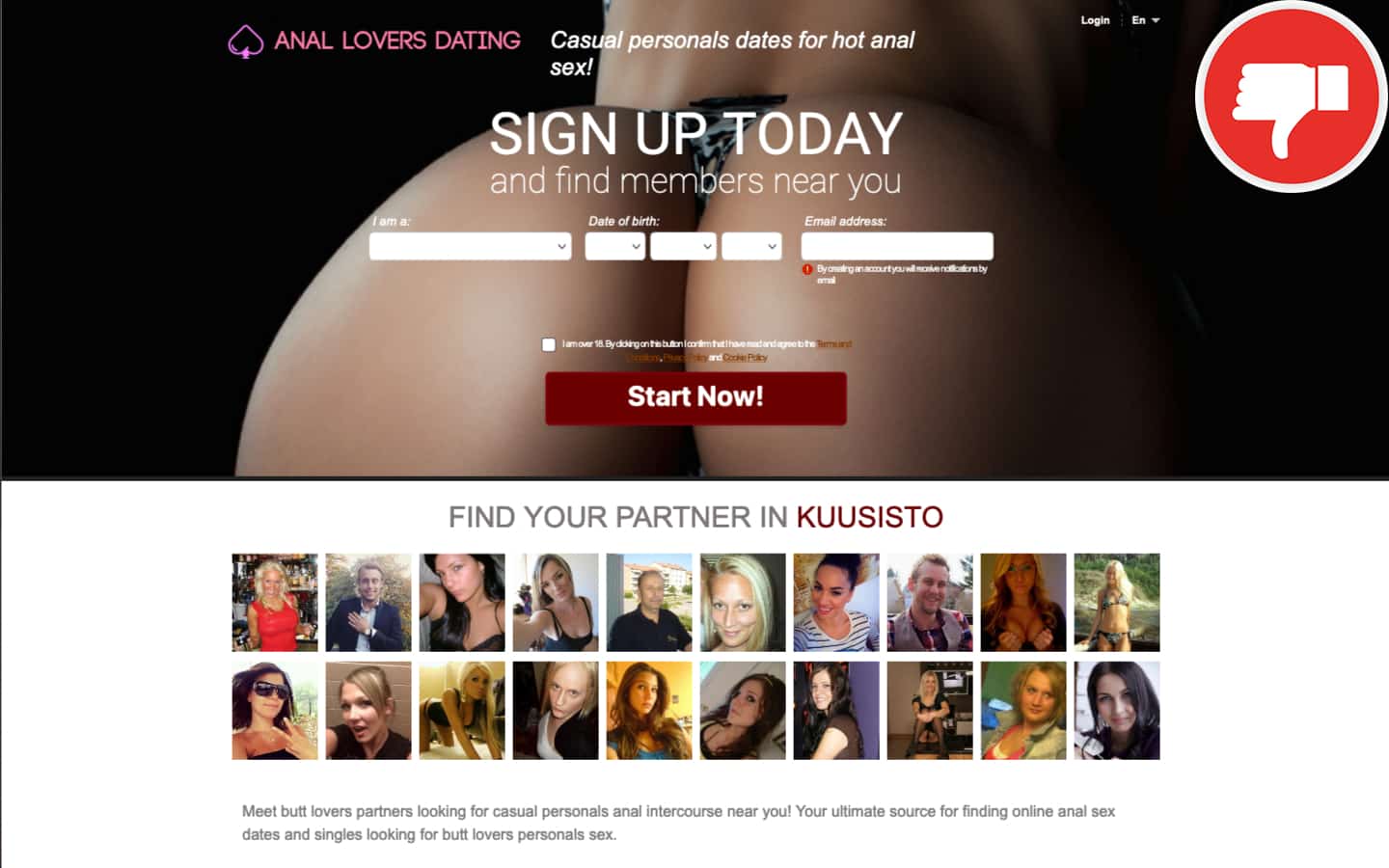 Report for Anal-Lovers-Dating.com review
The online dating platform Anal-Lovers-Dating.com advertises with a free registration and partners for casual sex dates. Anal-Lovers-Dating.com does not only target people from English-speaking countries but can be used by people from all around the world. This platform is part of a huge dating network that belongs to Tyche Technologies AG. This company is based in Zug, Switzerland. Since we know this company, we are not surprised to find out that this platform is a rip-off.
If you sign up on here, you also agree to the terms and conditions, where it says that some of the profiles are fictitious. The operator also explains that these profiles send generated messages to communicate with the users. By doing this, the users are enticed to use the chat where a paid membership is required to send messages. Apparently, it is quite difficult to cancel your membership.
Scroll down to read the details of our Anal-Lovers-Dating.com review.
Details on the Anal-Lovers-Dating.com review
The front page shows a registration form and a selection of members who live in the same city. There is also a list that lets you find members in the country you live in. Apparently, Anal-Lovers-Dating.com has members from every continent except for Antarctica. According to the operator, this dating platform is for "butt lovers" who want to find like-minded singles. In fact, the other member profiles are fake and part of a bigger scam.
The proof for the existence of fake profiles is given in the terms and conditions. We are not only told that these profiles are fictitious, but also that they send generated messages to start conversations with the users. The use of fake profiles is supposed to trick the users into thinking that they are the center of attraction and can easily flirt with attractive members.
Excerpt from the terms and conditions
You acknowledge and agree that some of the profiles posted on the website that you may communicate with as a member may be fictitious. The purpose of our creating these profiles is to provide our members with entertainment, to allow members to explore our Service and to promote greater participation in our Service. The messages they send are computer generated.
Fake profiles as a promotional tool
The operator explains that fake profiles play a role in "entertaining" the users, who are supposed to participate in the chat. Users who want to send messages have no choice but to pay for a VIP membership, which unlocks the chat. This membership keeps on renewing until you submit a cancellation on time. Former users share their negative reviews about this company online. They also report that cancelling your membership is not that simple. Therefore, we consider this platform to be a subscription scam.
The infamous Dating Factory network
Anal-Lovers-Dating.com is operated by Tyche Technologies AG located in Zug, Switzerland. Several lawyers have published information about the company's subscription rip-off. The so-called "Dating Factory" run by the operator is even better known. Countless users complain about the dating platforms that are part of this network. All of them seem to work with fake profiles that are used as a tool to sell the expensive VIP membership.
The conclusion from our Anal-Lovers-Dating.com review
After doing some research, we found out that Anal-Lovers-Dating.com is a fake chat scam. The operator even gives us evidence for the existence of fake profiles. These send computer generated messages to entice the users to chat. The VIP membership is a requirement to send chat messages. Since cancelling your membership seems to be difficult, you should not pay money to upgrade your membership in the first place. We agree with the users who share their negative experiences online.
Let us know your Anal-Lovers-Dating.com experience in the comments as well.