The result of our AmericanSexDate.com review: Our test on AmericanSexDate.com turned out to be an insufficient dating website.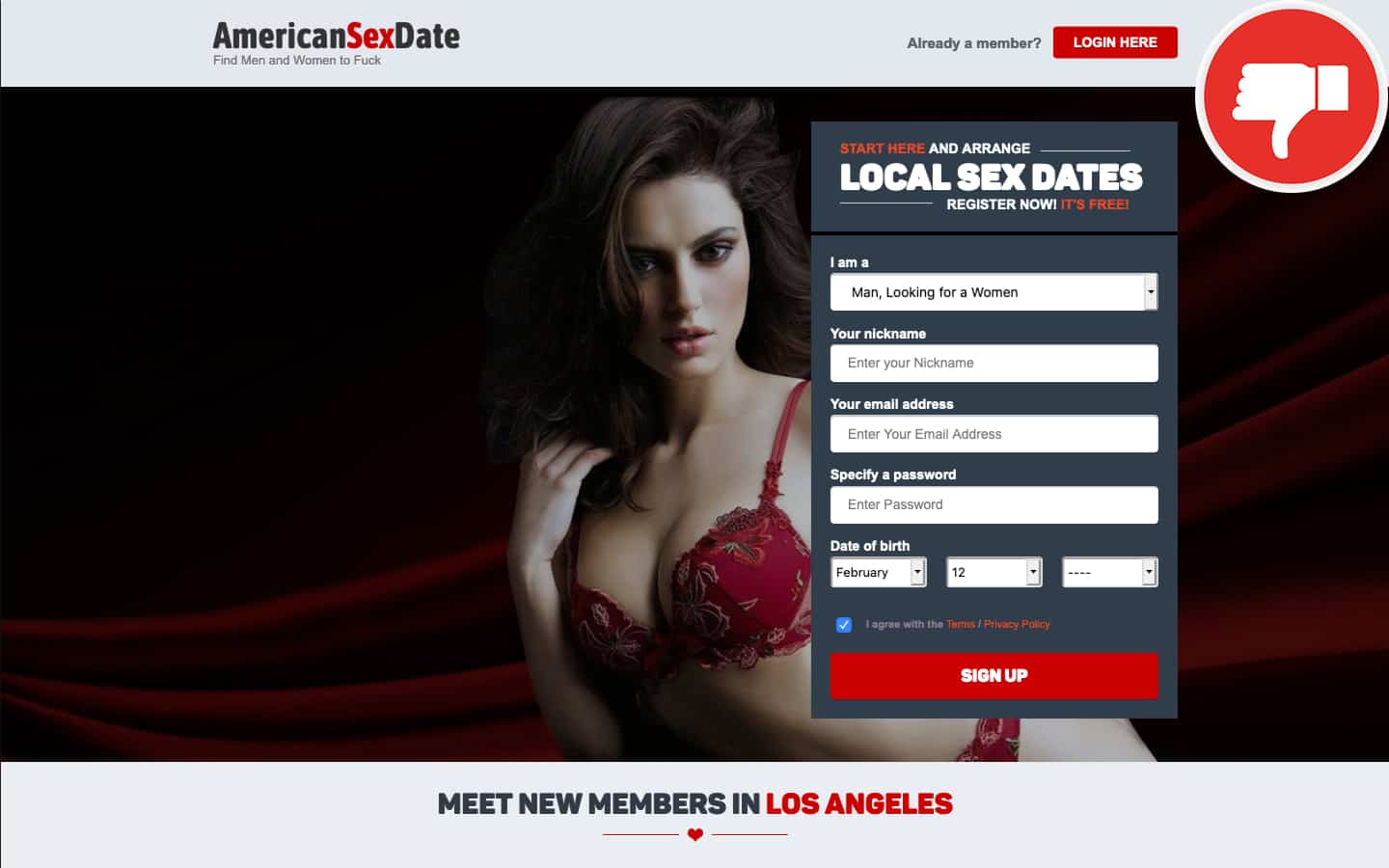 Report for AmericanSexDate.com review
AmericanSexDate.com is an online platform for local sex dates which advertises with free registration. We searched the internet for user reviews and read the terms and conditions. We found out what AmericanSexDate.com truly is: A fake chat scam. The operator, who remains unknown, only wants to get the users' money.
What makes AmericanSexDate.com a rip-off is the fact that users must pay for every message they send in the chat. Most users do not know that the members' area is full of fake profiles. These are operated by so-called fake operators. They work for the company in charge of AmericanSexDate.com. They entice the users into chat by sending seductive messages to them.
Scroll down to read the details of our AmericanSexDate.com review.
Details of the AmericanSexDate.com review
On the front page of AmericanSexDate.com we read about sex dates and a free registration. We also get to see some of the members who live in our area. After signing up it is easy to get in touch with female members from the same city. Unfortunately, these profiles are fake and part of a scam that makes you lose a lot of your money.
Looking at the imprint of a dating platform can tell you a lot about what you can expect. We know plenty of notorious companies that operate a network consisting of various scam platforms. AmericanSexDate.com has no imprint, so we took a closer look at the terms and conditions. The name of the company is not given here, but we notice something quite alarming.
In the terms and conditions, the operator announces the following
"6. In order to enhance your amusement experience, to stimulate you and others to use our Services more extensively, and to generally sprinkle some sparkle and excitement into the Services of AMERICANSEXDATE.COM, we may post fictitious profiles, generate or respond to communications by means of automated programs or scripts that simulate or attempt to simulate your intercommunication with another real human being (though none really exists and any dialog is generated by programming), and we may employ or contract for the paid services of real persons who may interact with you as part of their compensated employment."
It seems that many female members want to chat with you. Their profiles are not real, and they contain made up information. The profile photo does not portray the person controlling the profile. Fake chat operators are hiding behind these fake profiles so that they can chat with the users anonymously. It is the users fall for this trick the fake operators can manipulate them more easily.
How they get your money
While conducting research online we were able to find a few reviews which describe how the rip-off works. Users must purchase credits that are the virtual currency of the platform. On AmericanSexDate.com you cannot chat for free. For every message you send you lose a few of your credits. Fake chat operators try to flirt with the users to increase the company's income. AmericanSexDate.com is just another fake chat scam.
The Conclusion from our AmericanSexDate.com review
AmericanSexDate.com is not a legit dating platform. The other members might appear charming, but they are not who they pretend to be. They work for an operator who prefers to remain unknown. Sending messages to other members costs a lot of money. This is the reason fake chat operators flirt with the users.
Let us know your AmericanSexDate.com experience in the comments as well.